Run a Brands Consortium play
Key Partners
Key Activities
Value Propositions
Customer Relationships
Customer Segments
Key Resources
Channels
Cost Structures
Revenue Streams
The business model canvas was designed by Business Model Fondry AG and distributed under a Creative Commons license.
How: Identify what activities are similar across brands and work on them together to achieve economies of scope. Isolate activities and elements that are specific to each brand perception, and carry these out separately.
Why: Achieve significant economies of scope across brands and/or across country borders.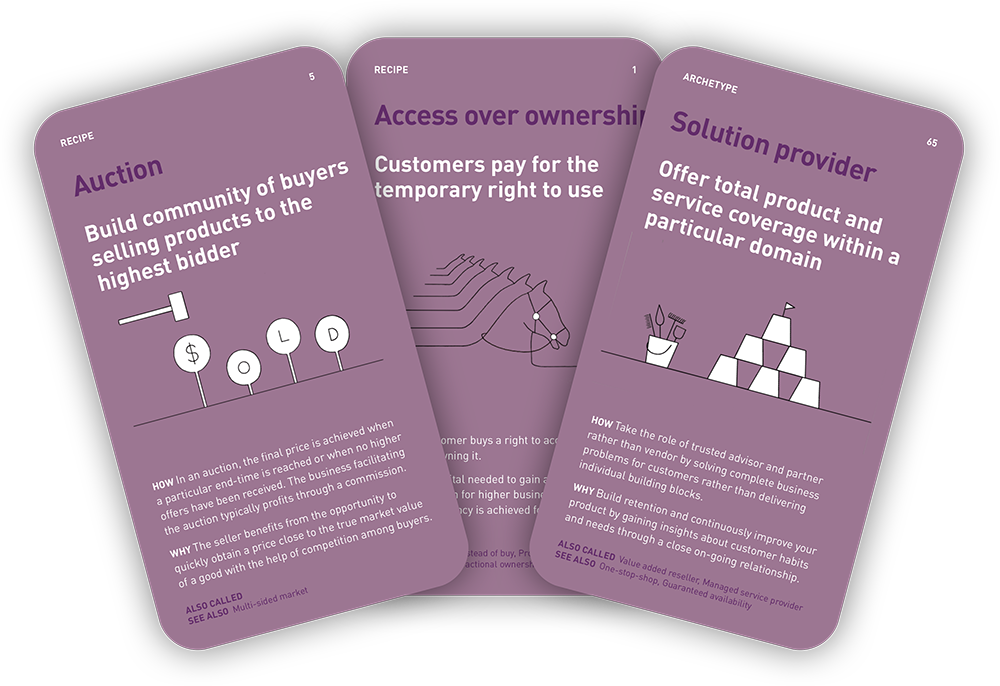 This business model is part of the Business Model Patterns printed card deck.
A collection of business models that will help you understand the key drivers of business model success. The card deck will be ready for purchase in the end of 2023 and is now undergoing rigorous testing.
Reserve your deck!
Understanding Consortiums
A Brands Consortium is a collective entity comprising of two or more individuals, companies, or governments that unite to attain a shared objective. Each member of the Brands Consortium pools their resources but remains independently liable for their obligations as stipulated by the consortium agreement. Consequently, members retain autonomy in their regular business operations and have no influence over the operations of other members that are not related to the consortium.
One of the most renowned for-profit Brands Consortiums is the airline manufacturer Airbus Industrie GIE. European aerospace manufacturers collaborate within the consortium to produce and sell commercial aircraft. However, the complexity of such arrangements is illustrated by the fact that the four partner companies in Airbus (British Aerospace, Aérospatiale, Construcciones Aeronáuticas SA, and DASA) were simultaneously subcontractors and shareholders of the consortium. This resulted in conflicts of interest, inefficiencies, and eventually led to the consolidation of the original consortium members and a reduction in overheads through the formation of Airbus SAS in 2001.
Applying the Brands Consortium business model
The Brands Consortium business model is a novel and successful way of conducting business that is gradually taking root. The consortium business model is premised on the belief that businesses should work together to achieve a common goal. This model differs from the traditional business model in that the companies within the consortium are not rivals but instead work together to achieve a shared objective. The advantages of a consortium business model are manifold, including increased efficiency, innovation, and competitiveness.
Forming a consortium
The first step in implementing a consortium business model is the formation of a consortium. This is a group of businesses that have agreed to work together to achieve a shared objective. To form a consortium, the members must concur on the objective and, importantly, on how they will achieve it. The members of the consortium should possess a shared vision and an understanding of the benefits of working together.
Identifying and achieving goals
Once the consortium is formed, the next step is to identify the goals. These goals should be specific, measurable, and achievable. They should also be relevant to the members of the consortium and to the marketplace in which they operate. Once the goals are identified, the members of the consortium must work together to find a way to achieve them. This process can be challenging, but it is essential if the consortium is to be successful.
Why form brand consortium?
The Brands Consortium business model is an innovative business model that enables businesses to work together to achieve common goals. Consortiums offer a variety of benefits to businesses, including increased efficiency, cost-savings, and collaboration.
The Brands Consortium business model is based on the concept of shared resources and shared goals. Groups of businesses work together to achieve a common goal, such as developing new products, increasing sales, or expanding into new markets. To maximize the benefits of the consortium model, businesses must carefully select a consortium partner that shares their vision and goals.
The advantages of the consortium business model are numerous.
Increase efficiency. A consortium can increase efficiency by sharing resources (such as marketing resources or manufacturing facilities) and expertise. This can save businesses money on costs such as salaries, rent, or equipment. Additionally
Expand into new markets. A consortium can help businesses expand into new markets by sharing resources and knowledge. By working together, businesses can create a competitive advantage that other businesses cannot match.
Selecting a consortium partner is crucial to success in the consortium business model. A good consortium partner will share the same vision and goals as the business, and will be willing to work together to achieve common goals. Additionally, a good consortium partner will be able to provide the necessary resources and expertise to support the business.
Trigger Questions
Can you offer significant and sustainable advantages by combining forces across brands or borders?
Are you willing to expose your legacy assets in order to exploit them?
Examples
Zillow
Through a list of real estate brands (Trulia, HotPads, etc.), Zillow owns a more than 50% share of US real estate visits.
Nike
Sharing distribution and marketing for a portfolio of brands, including Hurley and Converse, provides economies of scope.
Hulu
In the United States, the video streaming service Hulu is a consortium of big media companies including Comcast, Time Warner, the Walt Disney Company, and 21st Century Fox.