Run a Credits play
Key Partners
Key Activities
Value Propositions
Customer Relationships
Customer Segments
Key Resources
Channels
Cost Structures
Revenue Streams
The business model canvas was designed by Business Model Fondry AG and distributed under a Creative Commons license.
How: Allow customers to buy or earn credits, letting them purchase on the account without paying cash. Grant discounts for buying larger credit-packs or give out time-limited extra credits following delivery of an initial purchase.
Why: Credits help build both negative working capital and separate the time of purchase from time of use. This makes it possible to apply scarcity tactics (fear of missing out) to get customers to buy more now rather than later.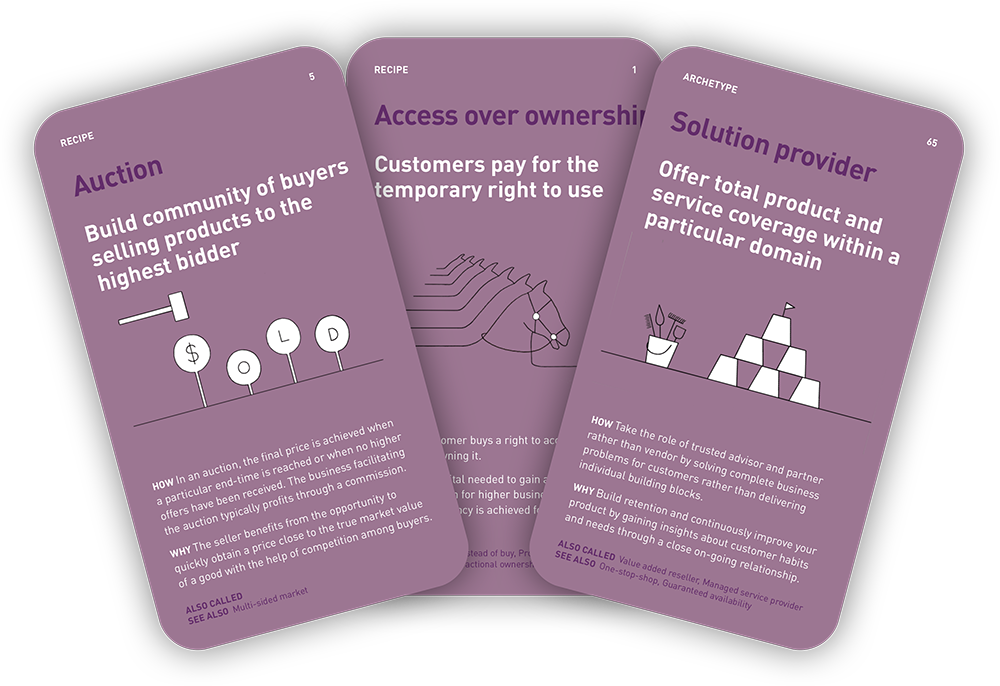 This business model is part of the Business Model Patterns printed card deck.
A collection of business models that will help you understand the key drivers of business model success. The card deck will be ready for purchase in the end of 2023 and is now undergoing rigorous testing.
Reserve your deck!
Why implement Credit-based purchasing?
From a user's perspective, the psychological effect of credits is substantial. The deferred payment system allows users to be more liberal with their spending, as the direct connection between payment in a known currency (e.g., dollars) and the spending in credits is lost over time.
This leads to a decrease in the discomfort associated with making payments. Additionally, credit-based purchasing is the model of choice for many popular stock photo websites today, even though some services may not replicate the model in its original form. For example, Shutterstock does not sell credit packs, but their images are still priced according to different plans. Lastly, annual plans offer the best value for money, but come at the cost of a long-term commitment. Ultimately, whether users are willing to make this investment depends on their anticipated number of future purchases.
Where did the Credits business model pattern originate from?
The evolution of the credit-based purchasing model can be traced back to the early days of microstock photography websites. It was iStockphoto, a pioneer in the industry, that first introduced the concept of credits as a payment option. The idea was to encourage users to buy more photos by offering a deferred payment system. This pricing model quickly caught on and was replicated by a host of other similar stock photo services, such as 123RF, Adobe Stock, and Dreamstime. Today, it persists as the dominant payment model for many online stock photo services.
Applying the Credits business model
The concept of credits is relatively straightforward. Clients wishing to purchase photos must first acquire a credit pack, which they can then use to make subsequent purchases. The economy of credit packs is governed by a simple principle: the larger the credit pack, the lower the price per credit. This incentivizes users to make bulk purchases, as they can save money in the long run.
Trigger Questions
How can you use a credit system to get customers to buy in bulk?
How can you entice customers to come back, doling out credits toward future discounts.?
Examples
iStockphoto
The stock photo database sells credit packs toward future purchases. The larger the pack, the larger the discount.
Audible
Subscribers pay in advance for audiobooks as they are granted at least one new credit per month toward purchasing any book.
Canva
Canva is a design website that offers a wide variety of templates and images, which can be purchased using their credits system.
PlayStation Plus
PlayStation Plus is a gaming service offered by Sony that provides online gaming and other features through a monthly subscription, as well as the option to purchase individual games or add-ons using credits.
Starbucks
Starbucks uses a rewards program that allows customers to earn "stars" for each purchase, which can then be redeemed for food and drink items at the store.