Run a Curation play
Element
Also called: Curated retail
Key Partners
Key Activities
Value Propositions
Customer Relationships
Customer Segments
Key Resources
Channels
Cost Structures
Revenue Streams
The business model canvas was designed by Business Model Fondry AG and distributed under a Creative Commons license.
How: Collect available options and guide customer choice by identifying the best. Profit through Hidden Revenue streams like ads, affiliate fees, or sponsorship. Revenue is typically proportionate to your readership size.
Why: Profit from the best collection of content rather than from manufacturing goods.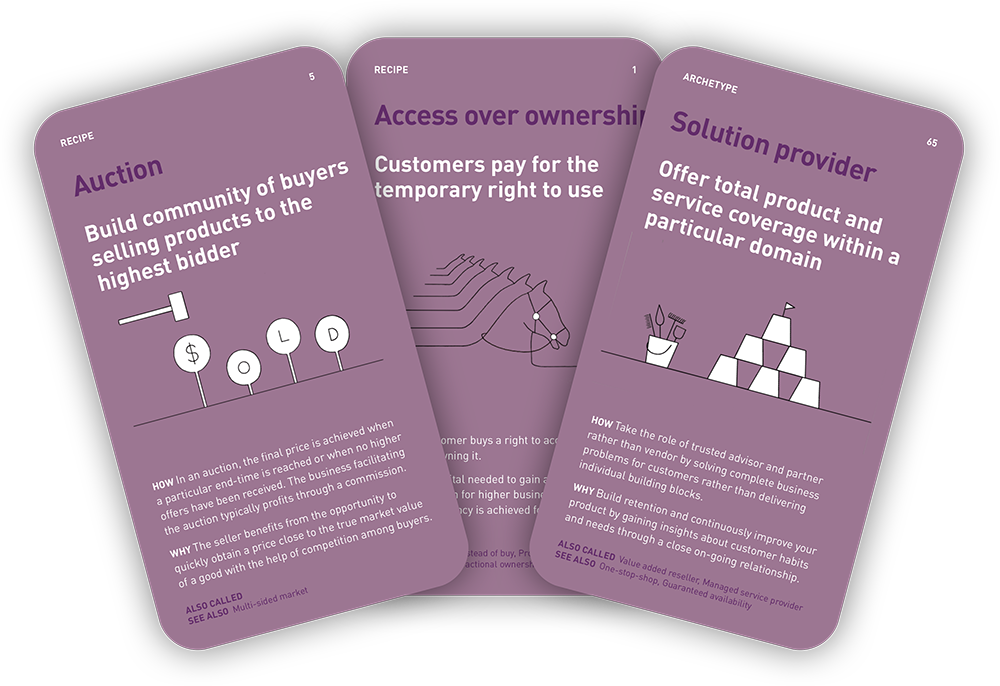 This business model is part of the Business Model Patterns printed card deck.
A collection of business models that will help you understand the key drivers of business model success. The card deck will be ready for purchase in the end of 2023 and is now undergoing rigorous testing.
Reserve your deck!
In the face of this information overload, the curation business model offers a solution by collecting and presenting a selection of products and assisting consumers in making informed decisions. This can be done online, eliminating the need for physical showrooms or even the need to purchase the products oneself. By providing recommendations and potentially earning a commission through affiliate links, a business can thrive by guiding consumers towards the best options available.
There are a variety of reasons why creators, influencers, and brands may choose to curate content, including building a personal brand or audience, filling a market need, creating a new category within an existing business, or generating additional revenue.
With the abundance of creators, content, and choice available, consumers may find themselves in a state of "analysis paralysis," unable to absorb all of the information presented to them. In this environment, the true scarcity is not content, but attention. Consumers must pick and choose what is most important to them or seek out individuals who can curate the information for them. As the market for credible curators grows, so does the willingness of consumers to pay for high-quality content. The Everything Bundle, created by Nathan Baschez and Dan Shipper, is a prime example of the success that can be achieved through intentional bundling in a climate of "unbundling."
Applying the Curation business model
There are various ways to monetize curation, such as paid newsletters, blogs, ebooks, e-commerce stores, and consulting or speaking engagements. There are several factors to consider:
Initial cultivation of traction
Shifting focus from the individual to the media brand
How to continue scaling and keep adding value
Unfortunately, many individuals and websites attempt to curate products in a haphazard or superficial manner. Simply listing links to a variety of products without providing guidance on how to choose the right one or establishing principles for selection can result in a disorganized catalogue or a collection of outdated affiliate links for unavailable items. Successful and popular curation involves careful selection and thoughtful presentation to assist the reader in making informed decisions.
Trigger Questions
How can you communicate your expertise and trustworthiness to get customers to follow your lead?
How can you tailor curations to specific segments or individuals?
Examples
Jetsetter
Jetsetter collects and curates the most interesting travel deals and earns affiliate fees for any customer taking the bait.
Stitch Fix
With more than 3000 stylists, customers receive a monthly box of clothes curated to the style of the individual customer.