Run a Experience Selling play
Key Partners
Key Activities
Value Propositions
Customer Relationships
Customer Segments
Key Resources
Channels
Cost Structures
Revenue Streams
The business model canvas was designed by Business Model Fondry AG and distributed under a Creative Commons license.
How: Increase perceived value by creating a great customer experience. Fine tune and align the experience across promotions, shop fittings, packaging, consumption, follow-up communications, etc.
Why: Increase customer demand and in turn prices charged or number of items sold. A unique experience is hard to copy.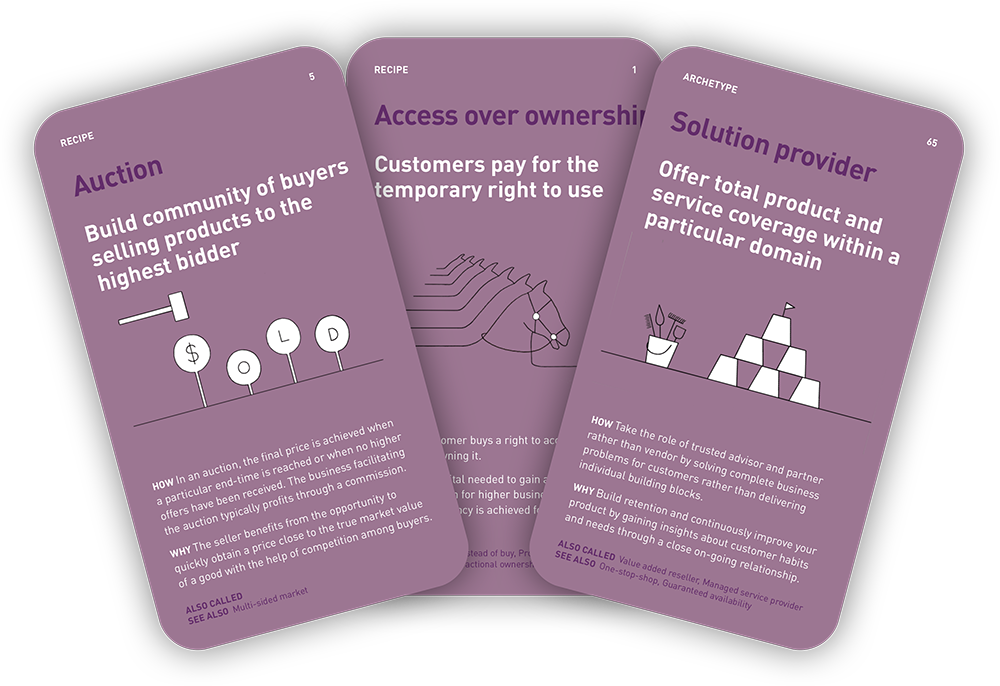 This business model is part of the Business Model Patterns printed card deck.
A collection of business models that will help you understand the key drivers of business model success. The card deck will be ready for purchase in the end of 2023 and is now undergoing rigorous testing.
Reserve your deck!
The Experience Selling business model is a business approach that seeks to enhance the value of a product or service by offering an additional, enriching experience alongside it. A bookstore, for instance, may provide a variety of amenities such as coffee shops, celebrity book signings, and workshops to create a more comprehensive experience for its customers.
This model is closely linked to marketing, as it involves creating not just products or services, but also experiences and impressions that differentiate a company from its competitors in a saturated market. By actively shaping its customers' observable environment, a company that employs the Experience Selling model aims to stand out from the competition and forge stronger connections with its clientele.
The sale of experiences can make customers more loyal and willing to purchase additional products at a higher price, particularly when the experiences being offered are deemed valuable. As such, the Experience Selling model has the potential to increase customer loyalty and revenue for a company.
Where did the Experience Selling business model pattern originate from?
The Experience Selling model was extensively detailed in Pine and Gilmore's 1998 book "The Experience Economy." The authors reference Alvin Toffler's "Future Shock," which, published in 1970 amid the Cold War, anticipated that consumers in the future would increasingly spend their money on unique, positive experiences. German sociologist Gerhard Schulze made a significant contribution to Experience Selling theory with his coinage of the term "Erlebnisgesellschaft" ("thrill-seeking society") in 1992, and Rolf Jensen later contributed to the subject with his writings on the "dream society."
Several companies have effectively implemented the Experience Selling model. Harley-Davidson, the well-known American motorcycle company founded in 1903, used the film "Easy Rider" (1969) to associate the feeling of unrestrained freedom with its brand. Philip Morris's cigarette brand Marlboro employs similar associations of limitless freedom and adventure through the smoking "Marlboro Man" cowboy to sell its products. Restoration Hardware, a chain of stores founded in 1980 that sells timeless, updated classics and authentic reproductions of historic furniture and home decor, was also an early adopter of the Experience Selling approach. Customers are drawn in by the soothing, nostalgiciac atmosphere of the stores, which evokes a desire for a simpler life in a complex world.
Applying the Experience Selling business model
To effectively utilize the Experience Selling model, a company must manage all activities that impact its customers' experiences in a cohesive manner. This includes promotions, retail design, sales personnel, product functionality, availability, and packaging. It is also essential that customers receive a consistent experience regardless of which branch of the business they interact with.
Retail competition is fierce and companies are constantly seeking ways to win the loyalty of their customers. Experience Selling offers a powerful means of achieving this goal by allowing retailers to differentiate themselves from their competitors and form a direct bond with their clients through the provision of a holistic experience.
Retailers who employ the Experience Selling business model often find that their customers are more likely to spend more time and money in their stores, as well as visit them more frequently. By providing an immersive, memorable experience, retailers can foster a deeper connection with their customers and encourage brand loyalty.
Trigger Questions
How can you enhance a customer experience so that it truly aligns with your brand?
How can you infuse a customer experience with positive emotions that will help convert visitors into customers?
How can we ensure that all members of our company are committed to the principles of Experience Selling?
How do we clearly articulate the experience that our product offers?
How can we generate positive emotions in our customers and turn them into tangible sales?
Examples
Harley-Davidson
Selling the emotions associated with the bike rather than the bike itself, the price becomes less important.
Chanel
Shopping at flagship Chanel stores is a consultation process often accompanied by Champagne and photo moments.
Starbucks
In addition to offering a range of food and beverages, including gourmet-style drinks like caffè lattes and iced coffee, Starbucks also provides a variety of features, products, and services that contribute to the unique Starbucks experience. This includes amenities such as WiFi, relaxing music, a cozy atmosphere, and comfortable furniture. By adopting the Experience Selling model and offering more than just coffee, Starbucks has gained popularity and customer loyalty, ultimately leading to increased revenue.
Barnes & Noble
In addition to selling books, many of which are offered at discounted prices, Barnes & Noble provides customers with a variety of other products and services as part of the overall Barnes & Noble experience. This includes coffeehouses, events, special author appearances, and book readings. Many Barnes & Noble retail outlets also sell DVDs, video games, gifts, and music. By offering a diverse range of products and services, Barnes & Noble has differentiated itself from the competition and attracted customers with the convenience and unique experience offered by its stores.
Red Bull
Red Bull is an Austrian company founded in 1987 that is best known for its eponymous energy drink, which is the most popular of its kind in the world. The Red Bull brand is heavily marketed throughout the world and is associated with active lifestyles and extreme sports like Formula One, motocross, windsurfing, BMX, and snowboarding. Red Bull is also known for supporting unusual and extreme events like Felix Baumgartner's jump from the stratosphere and boxcar races. These associations with the Red Bull brand help to create an overall Red Bull experience that encourages people to engage with the lifestyle themes as well as the drink itself. As a result, Red Bull is able to charge higher prices for its products because customers want the entire experience, not just the drink.