Key Partners
Key Activities
Value Propositions
Customer Relationships
Customer Segments
Key Resources
Channels
Cost Structures
Revenue Streams
The business model canvas was designed by Business Model Fondry AG and distributed under a Creative Commons license.
How: Take ownership of a customer's value chain to allow better availability and minimal downtime.
Why: Expertise in vertical integration of the value chain and economies of scale can enable lower operational costs and deliver availability.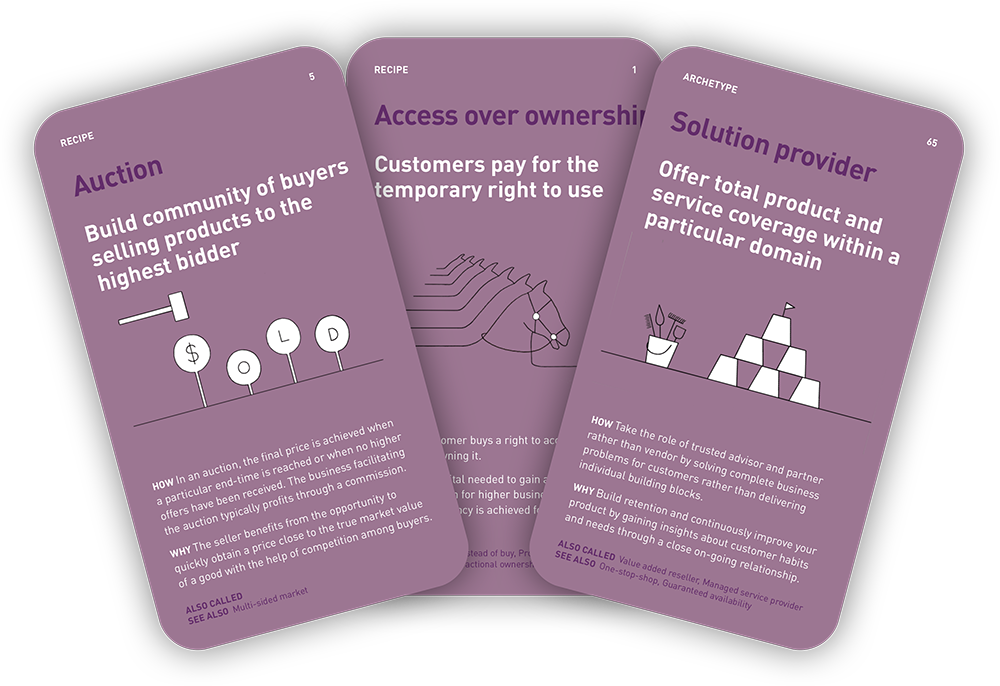 This business model is part of the Business Model Patterns printed card deck.
A collection of business models that will help you understand the key drivers of business model success. The card deck will be ready for purchase in the end of 2023 and is now undergoing rigorous testing.
Reserve your deck!
The primary goal of the Guaranteed Availability business model is to minimize the expenses incurred due to technical equipment failure by striving for near-zero downtime.
This approach typically involves the implementation of a Flat Rate contract, which entitles customers to receive all necessary services for maintaining constant product availability. These services may include the provision of replacement equipment, as well as repair and maintenance services.
Due to the high value placed on steady availability by customers, businesses that adopt this pattern often establish strong, long-term relationships with their clients.
Where did the Guaranteed Availability business model pattern originate from?
The origins of the Guaranteed Availability model are somewhat mysterious, but it can be inferred that it has been in existence for a considerable period of time. In ancient China, for instance, doctors were paid not to cure patients, but rather to maintain their overall health. A doctor's proficiency was judged by the number of healthy patients under their care. The Chinese proverb, "The superior doctor prevents sickness; the mediocre doctor attends to impending sickness; the inferior doctor treats actual sickness," speaks to this concept.
The Guaranteed Availability model has gained popularity in the private sector through the implementation of fleet management techniques, which involve the planning, oversight, and control of collections of vehicles such as trucks, cars, ships, or trains. One of the first companies to offer fleet management services was PHH Corporation, an American firm that provides leasing and fleet management for over 580,000 vehicles based on the Guaranteed Availability model. PHH Corporation offers comprehensive management of a company's entire fleet of vehicles, ensuring that the customer has access to the necessary number of vehicles at all times. This includes handling acquisition, finance, maintenance, safety, insurance, security, vehicle tracking, and all logistics and administration related to the customer's fleet. By leveraging its extensive experience and expertise in fleet management, PHH Corporation is able to offer its services at competitive rates, thereby increasing its customer base and revenue. Customers are drawn to the ready availability of vehicles and the outsourcing of fleet management to industry specialists. Fleet management has now become a vital aspect of the business operations of transportation and logistics companies.
Applying the Guaranteed Availability business model
If your industry places a premium on availability, you may want to consider implementing the Guaranteed Availability business model. This model is particularly well-suited to the B2B context. If both of these conditions apply to your business, you can use the pattern to cultivate long-term relationships with large customers and command a premium price for your services.
To excel at this business model, it is essential to be adept at expertly handling unforeseen customer crises.
Trigger Questions
How can you build efficient maintenance and recovery processes?
How will you handle the reputational damage if you fail to deliver the Guaranteed Availability you promised?
What measures can we take to mitigate the risk of technical product failure?
Is it financially feasible to implement this business model?
Can we efficiently oversee inventory and maintain a surplus of equipment to exchange for damaged items?
How should we craft penalties to address the potential consequences of product failure?
Examples
McFit
Its fitness centres manage to stay open 24/7 through a completely Self-Serviced offering with minimal staff needed.
IBM
In the 1990s, the rapid decline in computer prices put the company in financial difficulty, culminating in a record $8.1 billion loss in 1992. To ensure the company's survival, CEO Lou Gerstner transformed IBM from a product vendor to a solution-oriented service provider, focusing on offering integrated Guaranteed Availability solutions to customers. This approach allowed IBM to maintain greater flexibility and independence within the competitive computer market, and today the company is once again highly profitable, with only 20% of its profits coming from hardware sales.
Hilti
The Liechtenstein-based tools specialist, introduced its Hilti Fleet Management scheme for hammer drills over a decade ago. Similar to a vehicle fleet manager, Hilti takes charge of maintaining its customers' tool fleet, providing immediate repairs or replacements in the event of damage. This reliable service is highly valuable to customers in the construction industry, where downtime costs due to equipment breakdowns can be significant.
MachineryLink
Customers can rent harvesters and other farming equipment and have access to the FarmLink analytics data service, which improves performance by providing up-to-the-minute harvest information on weather, market prices and trends, crop conditions, and more. By renting equipment from MachineryLink, customers can allocate capital to other areas of their business rather than having to purchase machinery outright. These benefits have helped MachineryLink become one of the leading providers of combine harvesters in the United States.
ABB
Customers using any of ABB Turbo System's 200,000 turbochargers have access to a 24-hour worldwide service network. Customers select a service plan giving them access to more than 100 service stations connected via a computer network to the company's central headquarters in Baden. ABB Turbo Systems proactively plans necessary maintenance activities to ensure optimal availability of its products and spare parts, allowing customers to save money by outsourcing maintenance and repair tasks.
Elevator Industry
Customers who subscribe to full service contracts with elevator companies such as Otis, Mitsubishi Electric, or Schindler are guaranteed a certain percentage of availability for their elevator systems. This is essential in office buildings like the Willis Tower in Chicago, where 12,000 employees arrive for work every morning. A malfunctioning elevator system in a high-rise building like this could lead to costly disruptions and unhappy tenants. By guaranteeing a certain level of availability, elevator companies can attract and retain customers while also minimizing the potential for costly downtime.