Run a Licensing play
Key Partners
Key Activities
Value Propositions
Customer Relationships
Customer Segments
Key Resources
Channels
Cost Structures
Revenue Streams
The business model canvas was designed by Business Model Fondry AG and distributed under a Creative Commons license.
How: Develop the best possible solution to a specific problem. Protect your intellectual property through patent, copyright, trademark, or trade secret to prevent other people from using it.
Why: Avoid execution risks while retaining ownership by letting licensees finance and operate the commercialization of your intellectual property.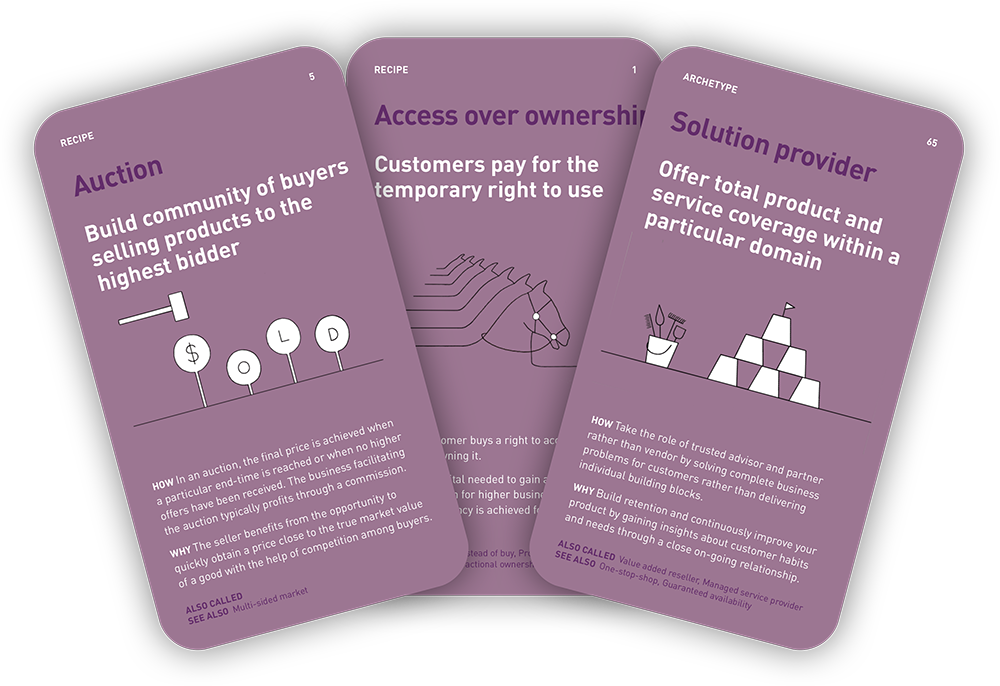 This business model is part of the Business Model Patterns printed card deck.
A collection of business models that will help you understand the key drivers of business model success. The card deck will be ready for purchase in the end of 2023 and is now undergoing rigorous testing.
Reserve your deck!
The Licensing business model involves granting third parties the right to use intellectual property in exchange for payment. The main emphasis is on monetizing these rights rather than creating and exploiting the intellectual property itself.
One significant benefit of licensing is that the rights can often be sold to multiple buyers. This serves to diversify a company's revenue streams and reduce the risks it faces. Additionally, the rapid dissemination of products and services under licensing agreements can lead to increased brand recognition and customer loyalty. On the downside, license fees are typically lower than if the intellectual property were sold outright. However, the quick dissemination of the products and services can lead to more overall sales.
Another advantage of licensing is that it allows a company to focus solely on research and development, without needing to also have expertise in production or marketing. These tasks are instead handled by the purchasers of the rights. Conversely, licensing eliminates the need for costly, time-consuming, and uncertain research & development efforts.
Where did the License business model pattern originate from?
The concept of licensing can be traced back to the Middle Ages, when the Pope granted licenses to local tax collectors to allow them to be officially affiliated with the Catholic Church. The practice of transferring rights in exchange for a license fee has continued throughout history, with examples including two English ladies of nobility allowing a cosmetics manufacturer to brand a range of products with their names in exchange for a share of the profits.
Historical case 1: Anheuser-Busch and licensing
Anheuser-Busch is an American brewing company founded in 1852 by German businessmen Adolphus Busch and Eberhard Anheuser. The company is best known for producing Budweiser beer. In order to establish a strong brand identity and encourage customers to buy Anheuser-Busch products, the company licensed out its name to manufacturers of various products, such as calendars, bottle openers, knives, and corkscrews. While Anheuser-Busch only received limited revenue from these licensing fees, the wide distribution of products bearing its name helped to establish a strong brand and had a positive impact on revenue and profits.
Historical case 2: Mickey Mouse and licensing
One of the most well-known examples of licensing is the cartoon character Mickey Mouse, created by Walt Disney in 1928. In 1930, Disney licensed the rights to a company which produced Mickey Mouse schoolbags. This was followed by a range of films, video games, and other merchandise featuring the character. Through this licensing model, Walt Disney was able to build a strong brand and earn immense profits from his creation.
Applying the License business model
The licensing business model is particularly well-suited for knowledge- and technology-intensive contexts. It provides a way to monetize products and technologies that are not central to a company's core business. Rather than letting these products and technologies go to waste, a licensing model can create a consistent source of revenue for the company. It's worth noting, however, that strong patents are a necessary prerequisite for successful licensing. In addition to generating revenue, licensing can also be used to increase product or brand awareness and accelerate global distribution.
Before licensing can be utilized as a business model, certain prerequisites must be met.
The intellectual property in question must be protected through a patent, copyright, trademark, or trade secret in order to prevent others from using it.
The licensee must have a need for the intellectual property in order to solve a specific problem.
The Licensing business model offers a number of benefits for the owner of the intellectual property.
Firstly, the owner does not have to finance the commercialization process. This frees them up to focus on their next innovation and avoid the need to create and operate a company. The innovation is also likely to reach the market more quickly due to the experience of the licensee, and may reach more markets if the licensee is a large, well-funded enterprise. The owner also avoids the need to build and manage a commercialization team and bears less execution risk. Additionally, if the licensing agreement is properly written, the owner is protected from product liability issues and retains ownership of the intellectual property.
While licensing may seem like an attractive option, it is important to carefully evaluate whether to grant an exclusive or non-exclusive license, the level of technical support needed, and the desired royalty rate. It is also important to carefully review the terms of the licensing agreement to ensure that the rights and responsibilities of all parties are clearly defined.
Trigger Questions
Will your invention function as only one element of a complete product?
Is your competitive advantage in developing intellectual property over manufacturing and sales?
Which products or solutions that are not central to our business could potentially be licensed to other companies?
Are our patents robust enough to prevent partners from developing their own solutions?
Would licensing our products to partners enhance our product or brand awareness?
Examples
Electrolux
With a 50+ brand portfolio, including AEG and Zanussi, licensed appliances range from solar power to consumer electronics.
Disney
Driven by its hit films and television programs, Disney is one of the top global licensors to retail sales.
IBM
The company licenses its intellectual property, particularly technologies that cannot be directly applied to new products in-house. generating around $1.1 billion in revenues from Licensing, strong and rigorous patenting is crucial for the success of Licensing, which is why IBM places great importance on patenting strategies.
Carl Zeiss Vision
Rather than producing lenses at its own large manufacturing sites, the company licenses the technology to small laboratories to enable individualized lens production.
BASF
BASF is the world's leading chemical company, offering a range of products including chemicals, plastics, performance products, crop protection products, and oil and gas.