Run a Omnichannel play
Element
Also called: Bricks & Clicks
Key Partners
Key Activities
Value Propositions
Customer Relationships
Customer Segments
Key Resources
Channels
Cost Structures
Revenue Streams
The business model canvas was designed by Business Model Fondry AG and distributed under a Creative Commons license.
How: Extend in-store retail shopping (bricks) to include home delivery and online ordering (clicks) with in-store pickup, customization, and exclusive offers.
Why: Provide extra layers of convenience to customers as they can see and try a product before committing, have a product delivered at a convenient time and place, or reserve and pick up a product the same day.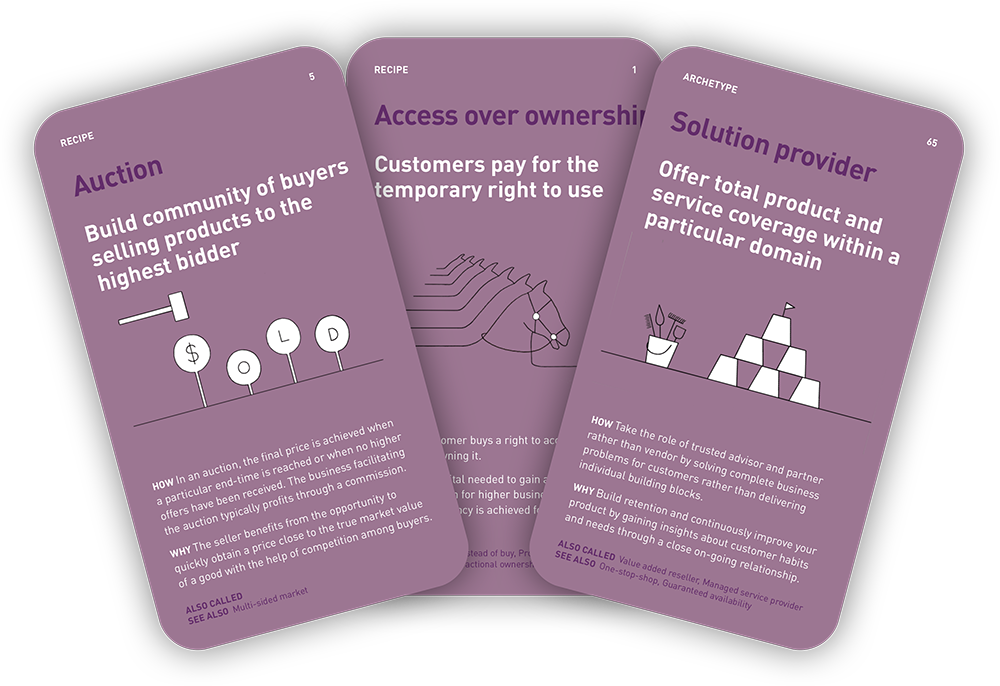 This business model is part of the Business Model Patterns printed card deck.
A collection of business models that will help you understand the key drivers of business model success. The card deck will be ready for purchase in the end of 2023 and is now undergoing rigorous testing.
Reserve your deck!
Why should you pursur the Omnichannel business model?
One of the key advantages of the omnichannel model is that it allows customers to shop in a way that suits them best. For example, a customer may prefer to visit a physical store to see a product before purchasing it, while another may prefer the convenience of ordering online and having the product delivered. Supermarkets, in particular, have found that offering an omnichannel model can help to attract a wider range of customers and increase sales.
Another advantage of the omnichannel model is that it can reduce costs for businesses. For example, a customer who can return items to one of the organization's physical stores will not have to pay for shipping for undelivered or returned items. This is one of the reasons why traditional retailers, with their extensive logistics and supply chains, have been some of the first to adopt the omnichannel model.
Maintaining a physical presence can be expensive
While the omnichannel business model offers a number of benefits, it also comes with some drawbacks. One of the main concerns for companies is cost control. Maintaining a physical presence can be expensive, and businesses need to ensure that their online channels are driving enough sales to make up for the additional costs. Additionally, coordinating different channels and keeping them in sync can be challenging, and it can be difficult to create a seamless customer experience across all channels.
Where did the Omnichannel business model pattern originate from?
Brick-and-mortar (B&M) businesses, with their physical presence in one or more structures, have long been a staple of the retail industry. However, in recent years, the rise of online shops and mobile commerce has led to a shift towards omnichannel business models. These models integrate offline (bricks) and online (clicks) presences, along with additional channels such as catalogues, telephone ordering, and mobile apps. The Omnichannel business model is also called Bricks & Clicks.
Applying the Omnichannel business model
The rise of mobile technology has added a new level of complexity to the process of retail reinvention. Previously, consumers were faced with a simple choice: shop online from their computer or head to a physical store. Now, almost everyone has a smart mobile phone that is connected to the Internet almost everywhere, almost all the time. Even when a customer enters a physical store, they can easily see if there is a better deal available online or at another nearby store.
In response to these challenges, many large retailers have opened online stores in an attempt to attract customers directly, rather than having them go to Amazon and its smaller online rivals. However, this strategy has not been entirely successful, as many retailers are struggling to make enough money online to compensate for what they are losing offline.
Even some retailers that have reported relatively positive results, such as Walmart, have experienced slow growth in their online sales. Studies have also shown that consumer experience of online shopping and buying is still fraught with frictions, with less than 20% of retailers having a good grade on how easy it is for consumer to shop, buy and pay.
The retail industry is currently facing significant challenges, with a decline in foot traffic and the rise of mobile technology making it increasingly difficult for retailers to compete. While some retailers have been able to adapt to these challenges, many are struggling to make up for losses in offline sales through online channels.
To remain competitive in this rapidly changing landscape, retailers will need to continue to innovate and find new ways to improve the customer experience, both online and offline.
Trigger Questions
How can you allow users to seamlessly transfer an offline retail experience to digital and back?
How will you follow up digitally after an offline sale?
Examples
Argos and eBay
The UK catalogue shop, Argos, worked with eBay to allow third party goods to be collected in a brick & mortar location.
Best Buy
Not only does the electronics retailer allow pick-ups of online orders, but also dropping off of online purchases for repair.
PC World
Specializing in electronic products, with a focus on computers, PC World has numerous stores worldwide and also operates an e-business system for customers to purchase products online. As customers create an account on the store's website, PC World is able to keep a record of their purchases and payment, which helps them to assist customers in managing any fraudulent transactions. Furthermore, customers can make purchases in person with cash at the stores and have repair services or exchanges done on products purchased online.