Run a Open Business Model play
Recipe
Also called: Adaptive model
Key Partners
Key Activities
Value Propositions
Customer Relationships
Customer Segments
Key Resources
Channels
Cost Structures
Revenue Streams
The business model canvas was designed by Business Model Fondry AG and distributed under a Creative Commons license.
How: Search for novel ways to collaborate with suppliers, customers, or complementing partners to open and extend their business and add to your value creation.
Why: Leverage more ideas in value creation by including a variety of external concepts and allow greater value capture by utilizing each business's key assets, resources, or position.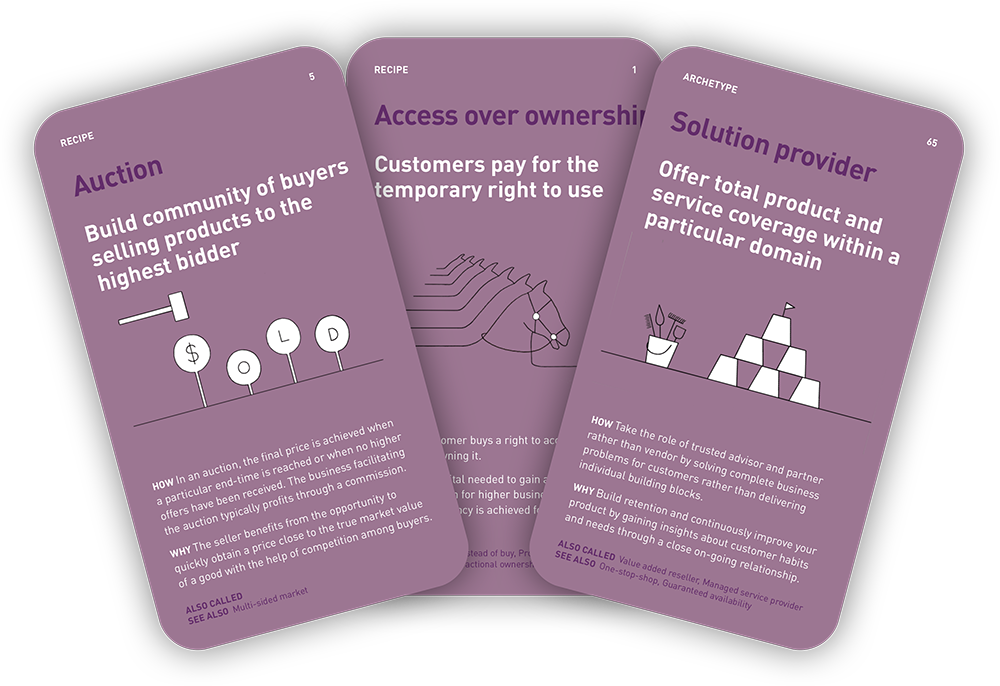 This business model is part of the Business Model Patterns printed card deck.
A collection of business models that will help you understand the key drivers of business model success. The card deck will be ready for purchase in the end of 2023 and is now undergoing rigorous testing.
Reserve your deck!
Adoption of the Open Business model often marks a fundamental paradigm shift in a company's business logic. Openness refers to the inclusion of outside partners into normally closed value creation processes such as research and development. The precise form such cooperation takes is not set in stone, but being based on the concept of collaboration tends to differ substantially from classic customer–supplier relationships.
Leveraging the Ecosystem
Companies pursuing the Open Business model try to leave profitable niches for potential partners within the model to enable them to engage in independently gainful business activities. Not without reason is a healthy business ecosystem often made up of firms that co-exist peacefully using different business models thriving through cooperating. Such ecosystems often develop around the focal company's products and services - akin to 'keystone species' in biological ecosystems - whose disappearance would destroy the whole ecosystem.
Identifying Opportunities
Embracing an Open Business model involves the systematic identification of areas in the value creation processes where other parties can contribute their own resources or use existing resources in new and innovative ways. The aim of opening up a business in this way is to improve efficiency, gain a share of new markets and/or secure strategic advantages. The design of an Open Business model requires special consideration on two counts: first, the original business model, and particularly its value chain, must be both internally coherent and attuned to the business models of future partners. Second, it is important to ensure that the added value created also benefits the original business. In other words, the conflict of goals existing between one's own profitability and partners' objectives must allow a win–win solution.
Where did the Open Business Model pattern originate from?
Henry Chesbrough (2006) was one of the first researchers to conceive of the Open Business model as an independent pattern as opposed to a closed business model. As such, the creation of this pattern is closely related to Chesbrough's Open Innovation, that is to say the opening up of a business's typically closed innovation activities to allow for the purposeful in- and outflow of knowledge.
Harnessing the Power of Collaboration: Procter & Gamble's Connect + Develop
Rather than working on innovations behind closed doors, firms network and harness the potential of joint ideation. Consumer goods giant Procter & Gamble took these principles to heart when it launched its Connect + Develop programme in 2000. Aiming to improve its own innovative capacity, the company actively seeks out product ideas and knowledge from partners which they can then bring to market together.
The Mr. Clean Magic Eraser traces back to an industrial melamine foam developed by BASF. It was sold as an all-purpose sponge in Japan and noticed by a Procter & Gamble 'scout'. An agreement with BASF secured the technology for use at Procter & Gamble. The Mr. Clean brand benefited greatly from this new product, and rapidly spawned a whole range of cleaning products developed in collaboration with Butler Home Products. Butler provided product ideas and production capacity, while Procter & Gamble contributed with its brand name and distribution network.
Stories of such mutually beneficial partnerships are a dime a dozen at Procter & Gamble, for over half the corporation's new products are developed through such collaboration and partnerships. They have by no means been limited to exchanging technologies, ideas and production capacities: distribution networks and brands are all shared, exemplifying the progression from Open Innovation to a fully Open Business model.
Applying the Open Business Model
Opening up your business model and integrating partners into the value creation process is a key element for future growth and competitive advantage. In an increasingly connected world where industries are converging, you will need to open up to stay successful.
Consider developing an entire ecosystem to create the kind of value for your customers that none of the participating companies could provide independently. In order for such ecosystems to function, all partners must generate sufficient revenue and benefit from collaboration.
The Open Business model will allow you to tap into the resources and capabilities of a diverse range of partners, allowing you to stay nimble and responsive in an ever-changing market. Furthermore, by leveraging the strengths of other companies, you can focus on your own core competencies and drive innovation in new areas. In short, an open business model is essential to remaining competitive in today's interconnected world.
Trigger Questions
What new products or services can you offer customers by partnering with other businesses?
How will you split revenue between partners?
In which aspects of our organization would an infusion of external knowledge and collaboration be most advantageous?
How should the responsibilities and positions of various partners be defined within the ecosystem?
How can all parties involved derive mutual benefit from the ecosystem we foster?
Examples
Procter & Gamble
Its Connect + Develop program expands innovation capacity by identifying and matching internal and external innovation.
Apple iPhone
By creating the App Store platform for an ecosystem of innovation, Apple benefited from the investments of others in the platform.
Eli Lilly
Eli Lilly founded the InnoCentive platform in 2001, which serves as a venue for researchers from all around the world to contribute to and be financially rewarded for solving the company's current challenges. InnoCentive was spun out of Eli Lilly in 2005 and it is now open to all businesses looking to solve innovation problems.
IBM
In its transformation from product to service provider, IBM decided to stop developing its own operating system and actively participate in advancing the Linux Open Source system. With this move, IBM reduced its development costs by 80 percent, and its server business received a healthy boost, contributing to the companies turnaround in late 1990s.
Valve Corporation
The video game developer and distributor benefits from its Open Business model in two ways. First by making it possible for technically minded players to easily create mods for the game, which led to the creation of a successful ecosystem of developers, including the creators of Counter-Strike. Second, by allowing any game developer to use their digital video game distribution platform in exchange for a share of the turnover, this private company is now valued at over $3 billion.
Holcim
Based on an Open Innovation initiative launched in 2010, Holcim is constantly seeking new ways of collaborating with external partners to create additional value for its customers, one tangible outcome being the community of Los Olivos – the first integrated social and sustainable community in the country.
ABRIL Moda
Created by 29 small textile companies based in Costa Rica forming a consortium and united their efforts to create a single fashion brand under which to market their products, using social media platform hi5 and support from their partner Barrabes.