Run a Product as Point of Sale play
Recipe
Also called: Object as Point of Sale
Key Partners
Key Activities
Value Propositions
Customer Relationships
Customer Segments
Key Resources
Channels
Cost Structures
Revenue Streams
The business model canvas was designed by Business Model Fondry AG and distributed under a Creative Commons license.
How: Move the point of sale of consumables to the point of consumption.
Why: As the point of sale shifts away from competing products, a lock-in effect is generated that helps increase customer retention and decrease price sensitivity.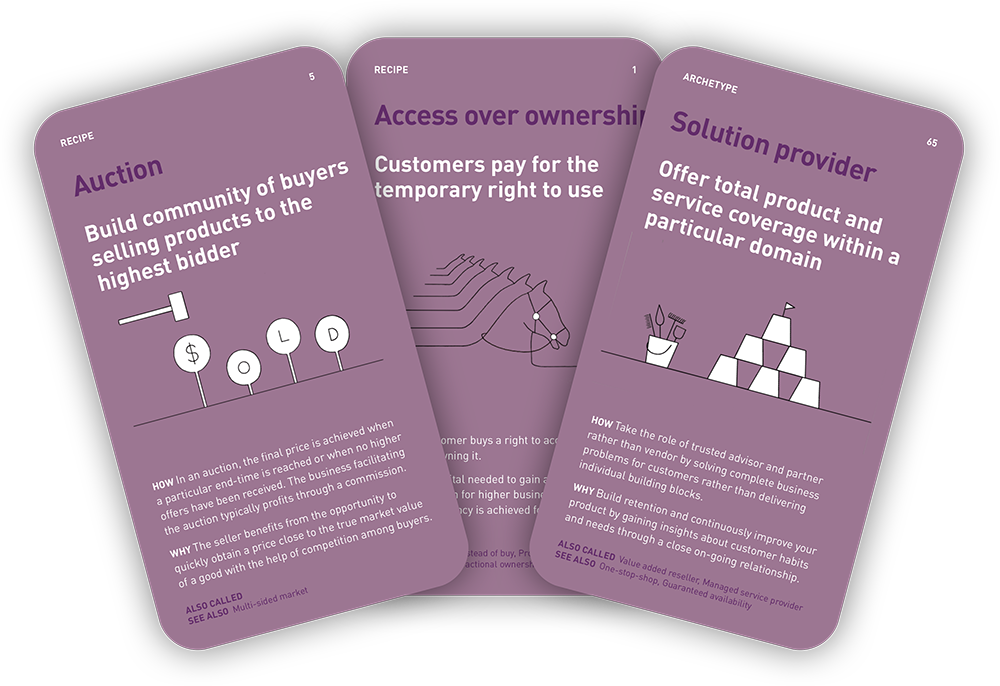 This business model is part of the Business Model Patterns printed card deck.
A collection of business models that will help you understand the key drivers of business model success. The card deck will be ready for purchase in the end of 2023 and is now undergoing rigorous testing.
Reserve your deck!
The increasing possibilities of IoT developments have enabled a new business model pattern, known as Product as Point of Sale. This model shifts the point of sale from consumables to easy-to-use ordering tools at the point of consumption. By utilizing interconnectivity, separate devices are used for the final ordering process, placing the point of procurement close to the point of consumption.
Applying the Product as Point of Sale business model
As a result of this shift of the point of sale from consumables to the point of consumption, customers become less price sensitive, leading to stronger customer loyalty. Additionally, the number and combination of sensors in the object used for ordering can provide valuable information for optimizing the product offer and identifying complementary goods. For example, geo-specific marketing can be used to adapt offers to the radius in which a device is located.
The Product as Point of Sale pattern fits well with customer data-driven business models such as Hidden Revenue or Leverage Customer Data. The combination of data from different sources can push the potential of the object as a point-of-sale to the next level, allowing for the creation of tailored offers for the right customers in the right situation.
Central to this business model pattern is the idea of shifting the point of purchase to where the demand or need arises. While Product Self-Service is an IoT-based business model pattern that places orders on its own, Product as Point of Sale requires customer confirmation for the final purchase. This new model brings a large increase in sales potential and can be used for cooperation with third-party companies.
Trigger Questions
What additional powers can you build into traditional and frequently used products?
What parts of the customer journey and what touchpoints are the most opportune to persuade users to take action?
Examples
Tesla
On top of free software updates, Tesla owners can purchase performance and autopilot upgrades in-app from within the car.
Samsung Family Hub
Its smart refrigerator connects with a variety of grocery and delivery providers for instant shopping.