Understanding your customers' needs and the context in which they're using your product often help reveal critical assumptions that otherwise wouldn't have been found until launch.
Approaching customers for the first time can be nerve-wracking. That's why we've written a sample email to send to potential customer participants.
This will allow you to get started doing contextual inquiries in no time.
Download the Contextual inquiry cheat sheet
Why
The first thing you want to do is to recruit your participants. Use template email to reach out to potential participants.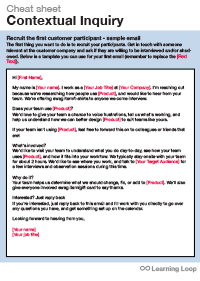 We collect your information in order to personalize the learnignloop.io website to better serve your needs. By submitting your data you consent to us sending you marketing communications about Learning Loop and occasional information that might be valuable for you. Your information is safe with us and you can withdraw your consent at any time. Don't worry, we protect your data with care.