On leading a new team
As a new boss, you may have spent months preparing for the transition and feeling confident in your abilities. However, your team may not have had the same lead time and may still be adjusting to the change. This can lead to a clash of energy and differing perspectives on how things should be done. It's important to remember that not everything will go smoothly and that it's okay to reassess and adapt as needed.
Leading a team is not about imposing your ideas and rejecting those of others. Instead, it's about finding a way to work together and molding the team into a cohesive unit. This may involve learning from and incorporating the experiences of those who have been with the company for a longer time. It's also important to be open to the possibility that your team may not necessarily be the dream team you had hoped for, and to be prepared to work with their strengths and weaknesses.
To effectively lead a team, it's crucial to be able to listen and work with your team members, rather than just issuing commands and expecting them to follow blindly. It may also be necessary to bring in new, motivated team members and let go of those who are not a good fit. Remember, it's a journey and it takes time to build a strong team.
The Triangle of Trust: A Model for Assessing Team Members
What defines a mature team?
Here's a quiz. Which area is it more important for a team member to shine in in terms of being mature?
How skiled you are
How much people trust you
How many years of experience you have
Trust is a crucial element in the success of any team, and at Merkle, we prioritize it highly.
We use a model called the triangle of trust to assess and understand our team members.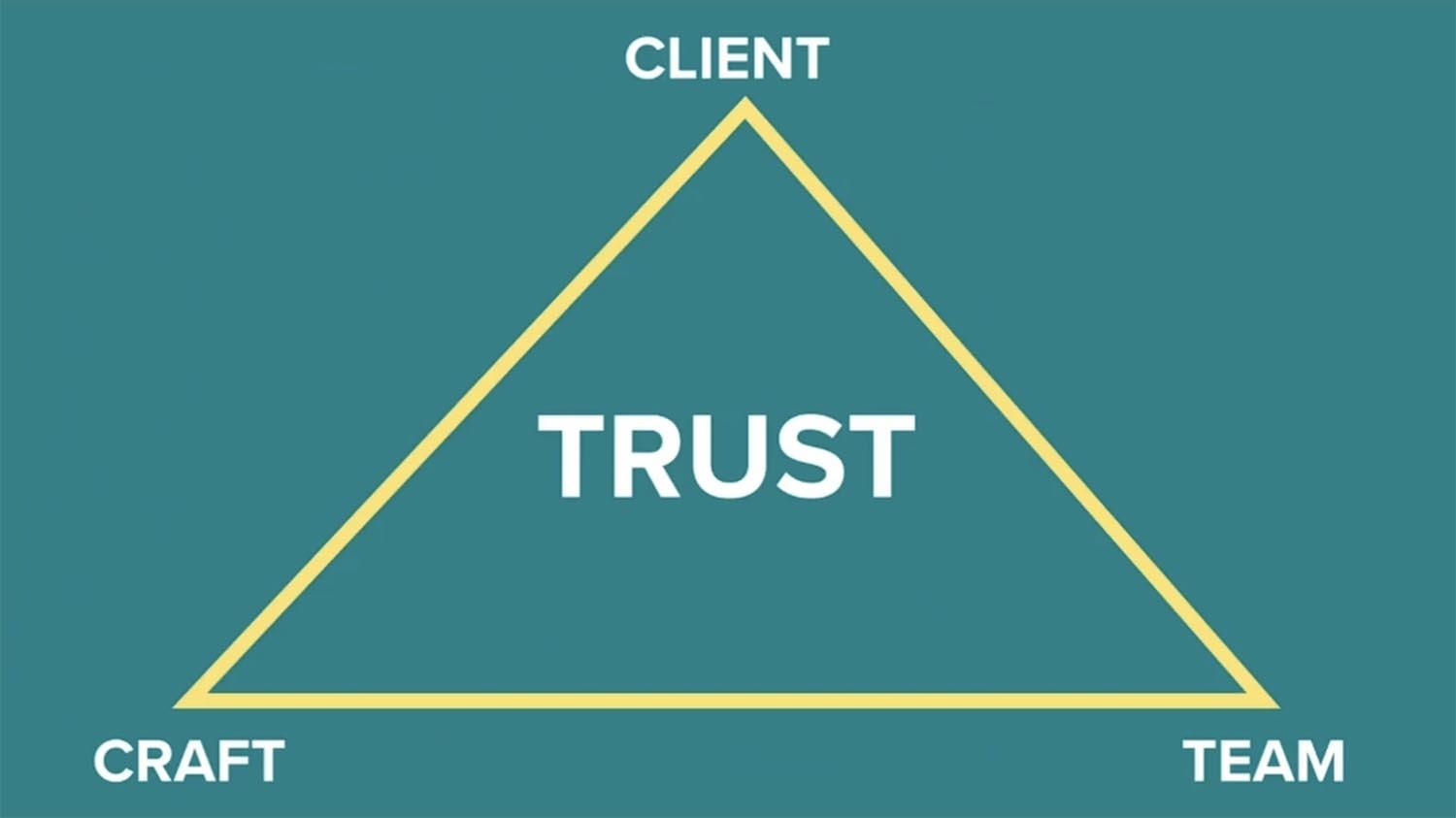 The triangle consists of three corners: craft, team, and clients.
Craft refers to a designer's technical skills and knowledge.
Team refers to how well the designer works with and communicates with their team.
Client refers to how well the designer builds relationships with clients and handles client needs.
This model is effective because it recognizes that being a great designer is not just about technical expertise, but also about being a team player and having strong client relationships. Additionally, the triangle allows for flexibility and recognizes that different team members may excel in different areas.
It's important to identify each team member's strengths and weaknesses and find ways to support and challenge them accordingly. Trust is a key factor in this process, as it allows team members to be open and honest with one another, leading to more productive and effective teamwork.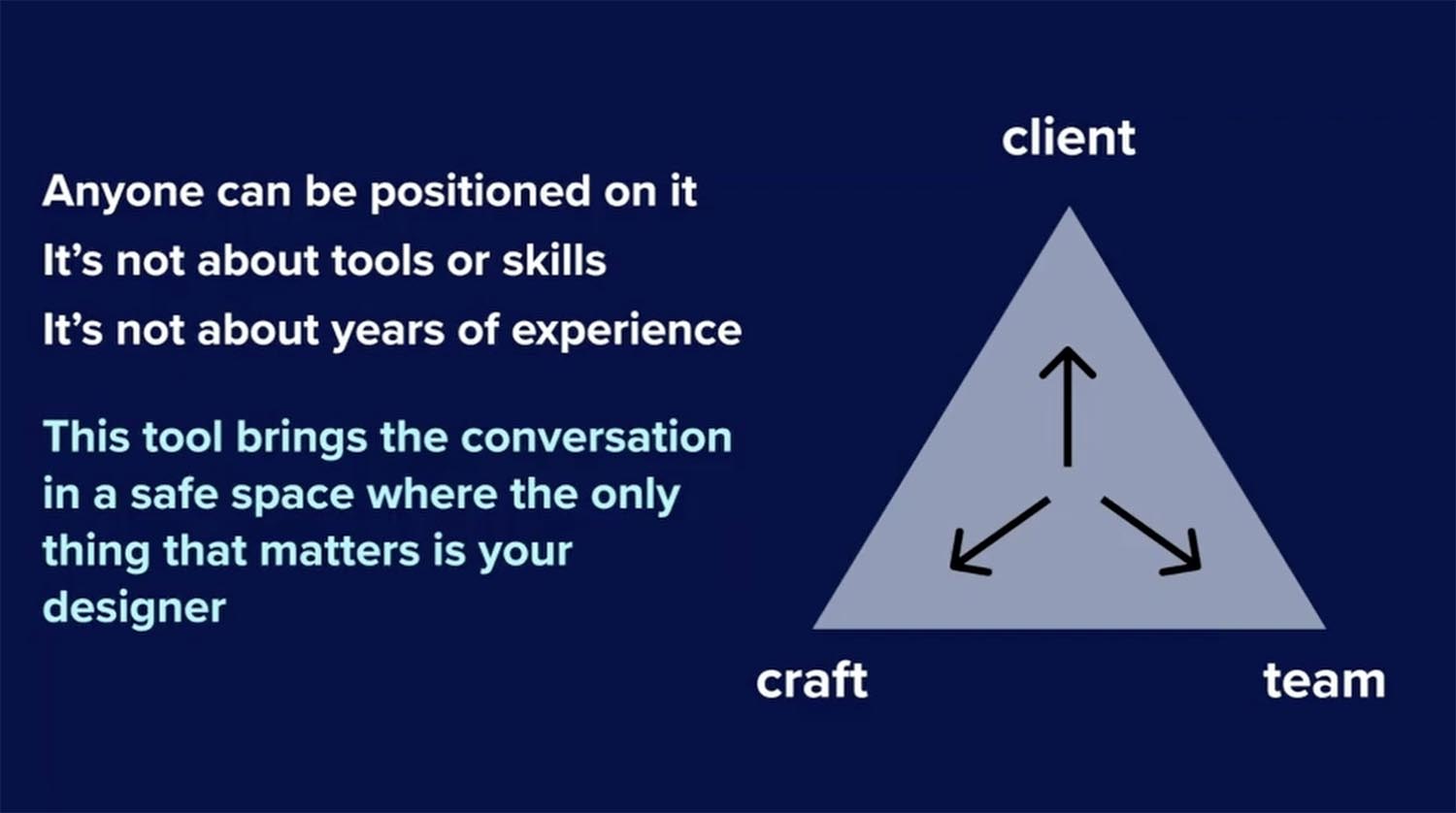 For example, a designer who may not have the highest score in craft but excels in client relationships and team collaboration may still be a valuable asset to the company. It's important to identify each team member's strengths and weaknesses and find ways to support and challenge them accordingly.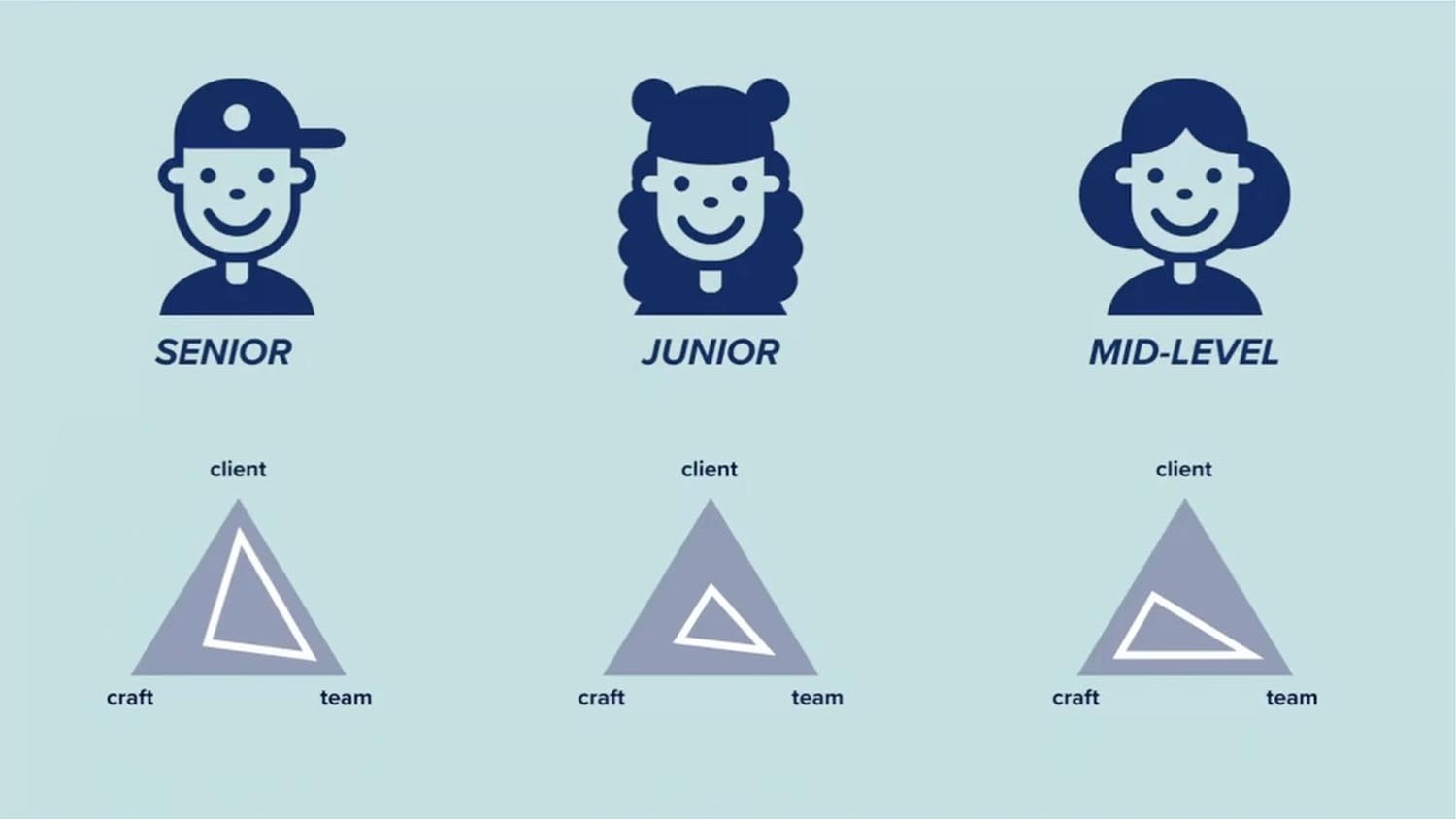 If a designer is consistently present at meetings and workshops, this might not necessarily mean that they are highly skilled in their craft. However, it does indicate that they are reliable and committed to the project, which are important qualities that foster trust within a team. Similarly, a designer who is adept at communicating and finding solutions for clients is likely to be trusted by those clients.
The triangle of trust is a useful model for assessing and understanding team members, taking into account multiple factors beyond just technical skills. By considering the full range of a designer's abilities and potential, it's possible to build a strong and successful team.
The Importance of Trust in a Design Team
At Merkle, we believe that trust is the most important aspect of a successful design team. This is because trust allows team members to be honest with one another and to rely on each other to deliver their best work.
Consider the example of an account manager who is always present in meetings and workshops. While this person may not have the highest level of technical skill, they are able to sell solutions, find possibilities for clients, and deliver results in a believable and accountable way. This person may not be the first choice for a project that requires highly specialized technical skills, but they are a valuable asset to any team because of their ability to foster trust and build strong relationships with clients.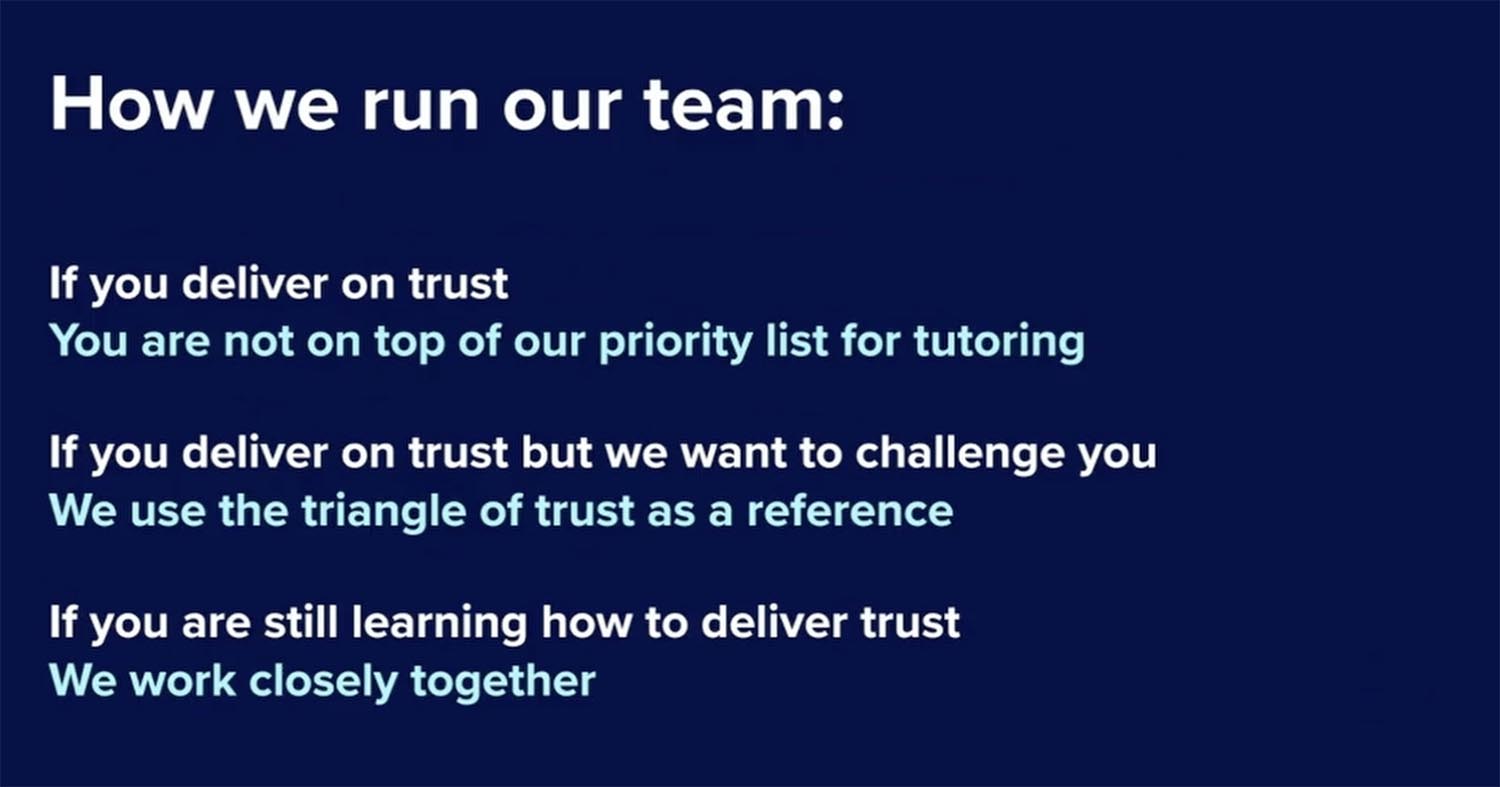 Ultimately, it is the combination of these three elements that makes a designer truly successful. By focusing on trust and working together as a team, we can achieve our goals and deliver the best possible results for our clients.
Growing trust through growing the craft
We invests quite heavily in growing our team members. Recently, prototyping has been a major skill we've tried to improve across all team members. Prototyping is a crucial skill for designers to possess, as it allows them to effectively communicate their ideas to clients and developers. At Merkle, we have made a significant investment in teaching our team members how to create high-quality prototypes. By dedicating dedicated a block of time each week for a few weeks, we were able to get almost every member of our team up to speed on this important skill.
Not only is prototyping valuable in the sales and presentation process, but it also allows us to quickly and efficiently try out different ideas and approaches. This makes the design process more efficient and effective. We no longer have to worry about who is available to animate or create a prototype, as most members of our team are now able to contribute.
While it is important for designers to continually hone their craft and develop their skills in areas such as Photoshop, it is equally important to also work on expanding their skill set and staying up-to-date on new technologies and techniques. Prototyping is just one example of a skill that can greatly benefit a designer and their team.
Building a balanced team
On one side of the model are the technical skills and knowledge required to be a successful designer, such as proficiency in Figma, coding, and motion design. On the other side is the team dynamic, including how well team members work together and communicate with one another. Finally, the third component is the relationship with clients, including how well a designer is able to deliver on their promises and build trust with their clients.
We have found that it is not enough to excel in just one of these areas. Instead, it is important to have a balanced approach that takes into consideration all three components. For example, a designer who is highly skilled in their craft but lacks the ability to work well with their team or build trust with clients will not be as effective as someone who is well-rounded in all three areas.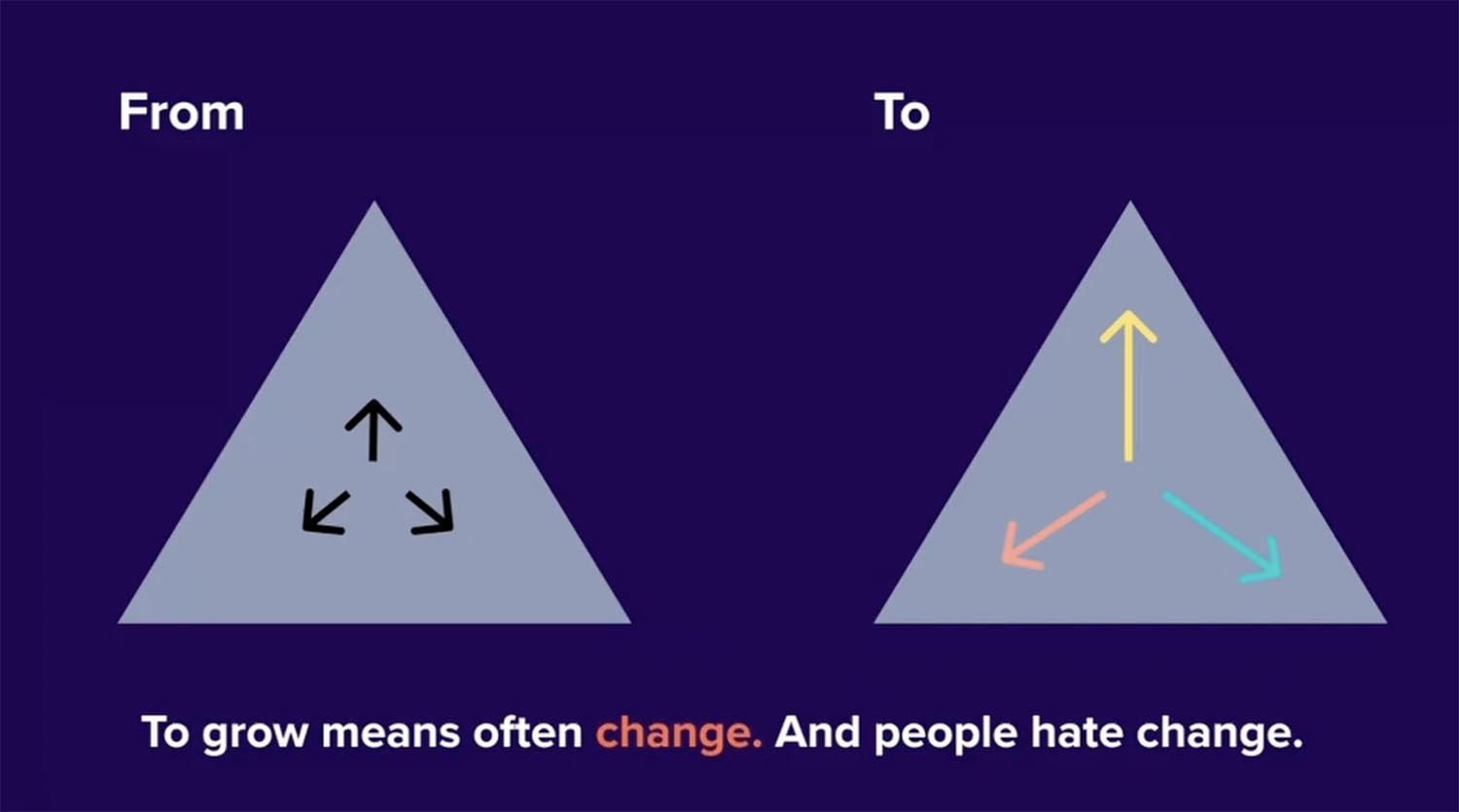 To foster trust within our team, we have implemented weekly check-ins on health, where team members can present their work and receive feedback from their colleagues. We also have monthly meetings where we discuss professional development and hire new team members based on their skills and potential for teamwork and building trust with clients.
There is no magic formula for building trust within a design team. It requires a combination of instinct, careful observation, and a willingness to take risks. By prioritizing trust and fostering a team dynamic that is based on honesty, respect, and collaboration, we have been able to achieve great success in our projects and build long-lasting relationships with our clients.
The relationship betwee Business and Design
There are two types of businesses in the design industry:
Design businesses: Those that focus on design as a means to make money, and
Businesses about design: Those that prioritize design as an art form.
The former, referred to as "businesses about design," provide services such as website development and UX design to clients, often with the sole purpose of generating profit.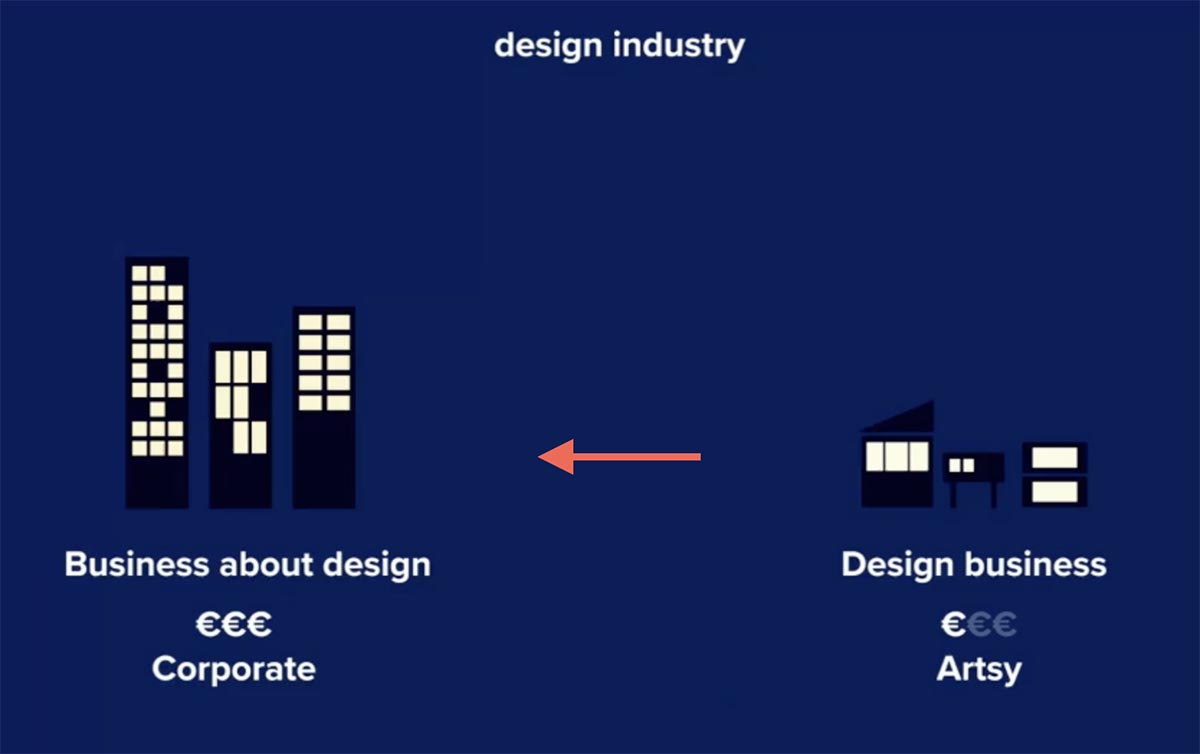 On the other hand, "design businesses" prioritize artistic expression and may work on a variety of projects, from designing office spaces to creating museum exhibitions. While the former may be seen as more mercenary in nature, the latter allows for greater creative freedom and personal expression. As a designer, it is important to consider which type of business aligns with one's values and career goals.
Choosing your design game
As designers, it is important to not only hone our skills and techniques, but also to foster a creative atmosphere within our team and organization. This applies to everyone involved in the design process, from developers to project managers.
It is up to us to create a place of inspiration and innovation, and to ensure that those around us feel they are part of a creative environment. This may involve sharing inspiration online, creating a visually appealing workspace, or even acting as entertainers during client meetings. We did it by prioritizing a creative atmosphere that in turn helped us foster a culture of collaboration and progress within our team and company.
This requires a mindset shift and a willingness to be vocal and proactive in promoting creativity within the organization.