Who is Anders Kragelund?
Anders has held CPO- and COO-like positions for the last 15 years and has had his main focus on transforming physical products into digital subscriptions – ranging from music, to car sharing, publishing, and employee apps. At the moment, Anders works for a software as a service company doing Self-Service solutions for the automotive industry (Tjekvik).
Anders has worked with OKRs three times so far, leading it two times. 8 OKR cycles, eight cycles at Actimo (acquired last year by Kahoot), and now for the sixth quarter at Tjekvik – a remote SaaS company that provides self service solutions for the automotive dealerships in more than 20 countries.
The perfect time for implementing OKRs
Most of Anders Kragelund's experience comes from start-ups going scale-up. He believes that transition is a magic moment to implement OKRs as it's typically the time where there is a need to provide a common direction. It's a time where the need to establish some kind of rhythm while keeping that startup mentality we came from.
At the same time, the transition is also a time where we need to show profitability while bringing a lot of new people on board.This is where OKRs in particular can help us – in the transition from going from startup to becoming a scale-up – and a good while into the scale up as well.
Setting direction and allowing organizational rhythm
Creating a direction and allowing organizational rhythms – those are the two main things that Anders Kragelund is seeing that OKRs can help with after working with them for a fair bit of time. Of course, it might be that Anders' context of work doesn't match yours, but there might just be some inspiration for you to get from his learnings.
What are OKRs?
Most readers have probably read the book. But the challenge is that the concept is easy to understand but it's extremely hard to master. So let's start at the very bottom of the hill. Anders thinks there's actually missing an "A" in the OKR. "A" because it should be called OKRA. What a lot of people get confused about as they start working with OKRs, is something called "activities' ', which is very often linked with the key results. We'll get back to that in a second. Let's start from the beginning. OKR is short for Objectives and Key Results.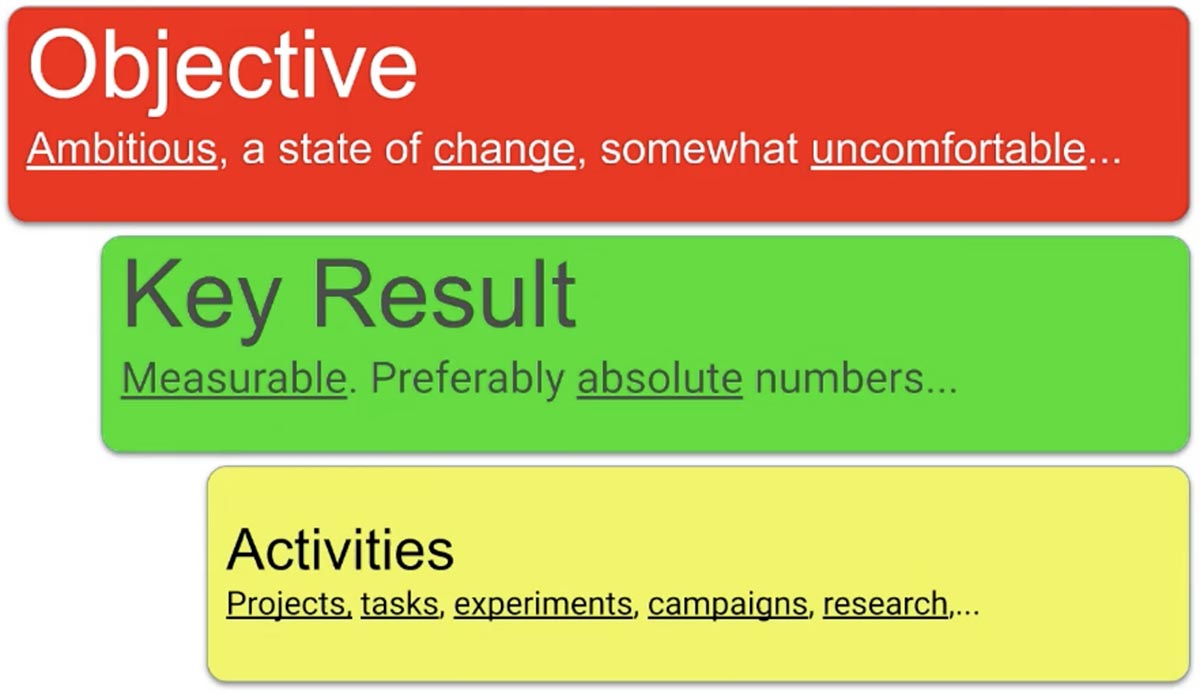 Objectives are ambitious states of change and it's probably somewhat uncomfortable.
Key Results is something that is measurable that will help us move into supporting the objective and make sure that we are heading in the right direction in a measurable manner.
Activities is the unmentioned part of the equation – the projects we undergo to achieve the results. We are always doing tasks, experiments, campaigns, research, opportunities that we're trying to mess around with. They are all trickling up to the key results.
What Anders thought was quite confusing when he first got started working with OKRs was the architecture of OKRs.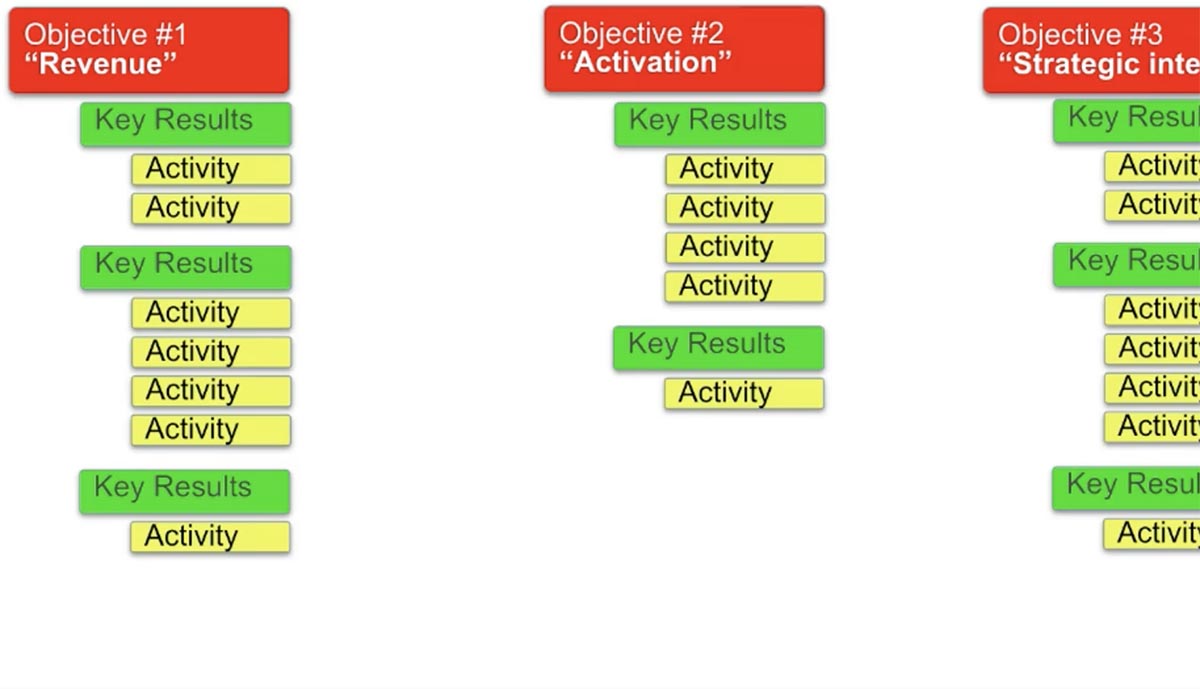 This is a mock visualization for OKRs in a very simple company. Top down goal of three overall objectives about what the company wants to achieve: some kind of objective around revenue, something around activating customers and maybe there's some strategic events that are also very important for the company to pursue.
Underneath each of these overall objectives, we might have a number of key results that add into the revenue objective. And underneath every one of these key results, there might be activities. This is simple, but an important part to get aligned on before we proceed.
If you haven't worked with OKRs yourself, the book will only tell you that for an objective you have a number of key results, but actually, the architecture is missing. How will it work? One of the key ideas you need to understand as you work with objectives and key results is defining the difference between an objective, a key result, and an activity.
The biggest challenge with OKRs: measurability
We tend to think in activities when we have to think about a key result. It is generally a discussion around outcomes vs outputs. A key result is actually the result of all the activities you carry out. You as a reader are probably a product person, so you understand, but that understanding of outcomes vs outputs is one of the most difficult things to spread out in the entire company at scale.
The fact is that activities is the thing always missing in OKR discussions – but it's the key thing that people start shooting in when they have to come up with something measurable.
Trickling down through the organization
A key takeaway is about hierarchical structure, having OKRs trickle down through the organization, The company OKRS are of course set by the company or by a strategy. That trickles down into team OKRs – possibly going in both directions. Potentiallykey results at the team level might end up as individual OKRs. Team OKRs is what Anders sees organizations work with most often.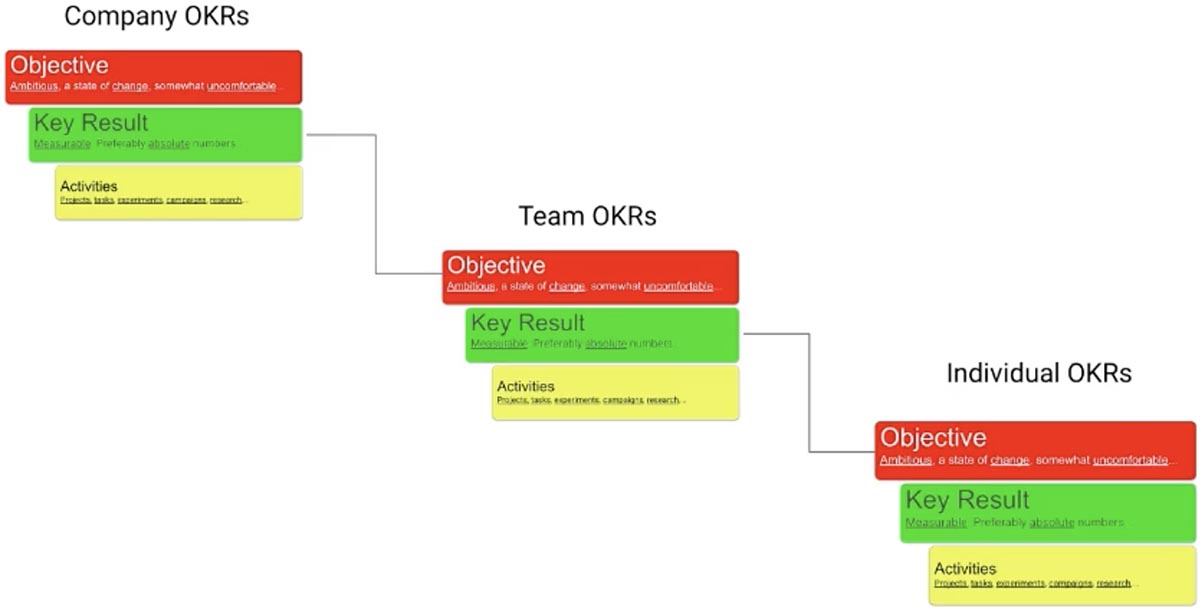 Why OKRs
It's not all about revenue
There is a situation in most companies, no matter how small or how big companies are, that revenue is the key KPI that we always talk about. It tends to fill up all town hall meetings and discussions no matter where you are going. But revenue is just not what makes everybody go to work.
It might not be what everybody actually has an effect on when they're sitting doing design, product management, financial work, support, or customer success. Revenue might be a little bit away from everybody's top of mind. At least from a motivational point of view and for a measuring point of view.
Capturing the energy and the dialogue about direction
When you're coming from a startup situation, where the CEO and founders have experimented a lot trying all sorts of things looking for product-market fit, then OKRs can help bridge a gap.
When you scale up, you can't be all over like that. Then you have to learn how to capture all that energy and channel it into the same direction. Same becomes true as all of the departments start becoming filled up. People may start in jobs and really want to do a difference, but when the companies start to grow, it starts to become really difficult to see what goes on on the other side of the hallway as departments start to go in too many different directions.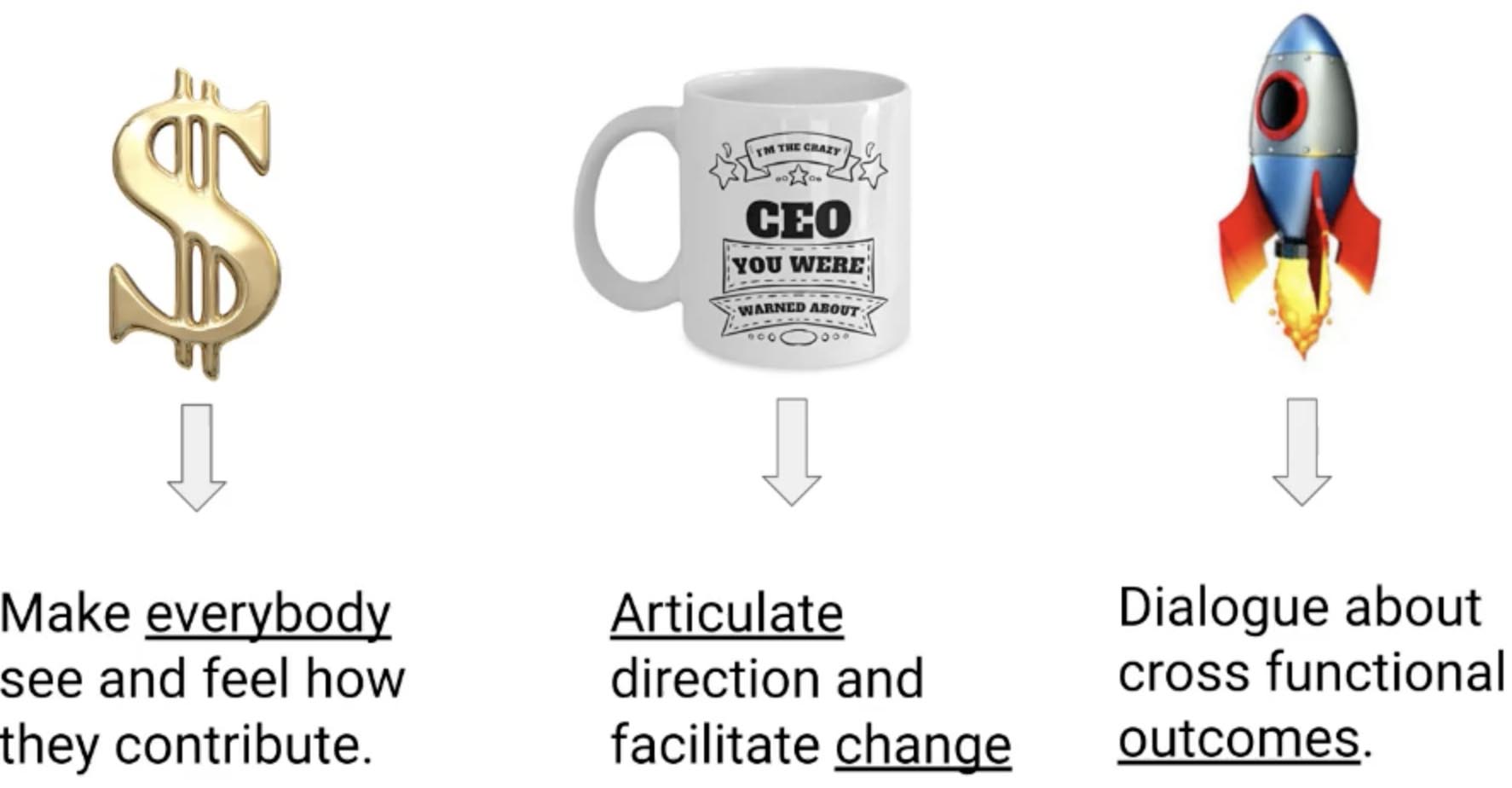 So what we want to go through, and what works really well for OKRs, is that everybody. Everybody. Everybody is part of understanding how they are contributing to the overall company goals and how that will affect the individual or how the individual can affect the company.
That is one of the most important things about OKRs: the dialogue.
Articulating the direction
The second most important thing about OKRs is articulating the direction and trying to boil it down and make it happen every quarter. Sometimes it takes two quarters and sometimes there will be OKRs shooting for three quarters - others are changing all the time. Regardless, it's articulating a direction and that is one of the most important things to align on as a company – not the actual details of the follow ups.
Dialogue about cross functional outcomes
Within the field of product, we can't do anything finance, Engineering, Support, Marketing, and Sales. And it's the same thing the other way around. Sales cannot really do anything about anything without product and engineering. Having that dialogue about when and who is doing what, and how our goals actually contribute to each other's goals – that is one of the key things to get from OKRs. That every quarter, we will sit down and discuss our shared goals.
It doesn't make sense that sales is trying to do one thing while Product is trying to do another and engineering is trying to achieve a third thing. Still, this is what we see all the time – unless we actually start seeing and understanding what Sales need from Engineering and what Engineering need from Sales. It's a very good exercise, but simple to forget.
Understanding the components
What is the difference between a component and an activity? Or a Key Result and an Activity? Let's take a look as an example of the company that Anders is part of right now: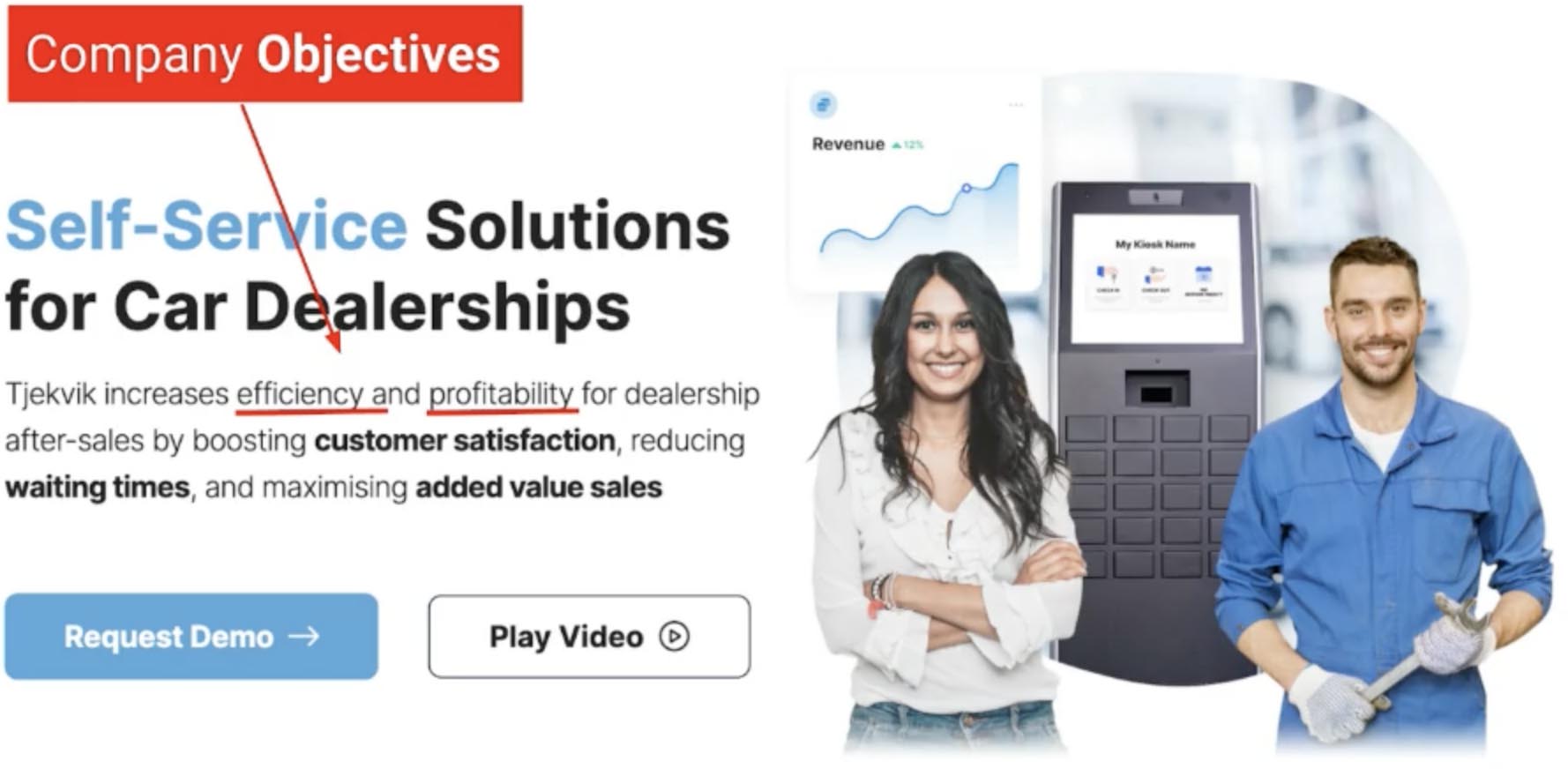 If you go to the front page of our website, you can actually see our overall company objective on the very front page. This is a coincidence that works well for the exercise of this presentation, but it's an example you to learn from.
Our goal is to increase the efficiency and profitability for car dealerships after sales. That is the overall complete objective that we try to achieve and everything we do. It's the company's objective.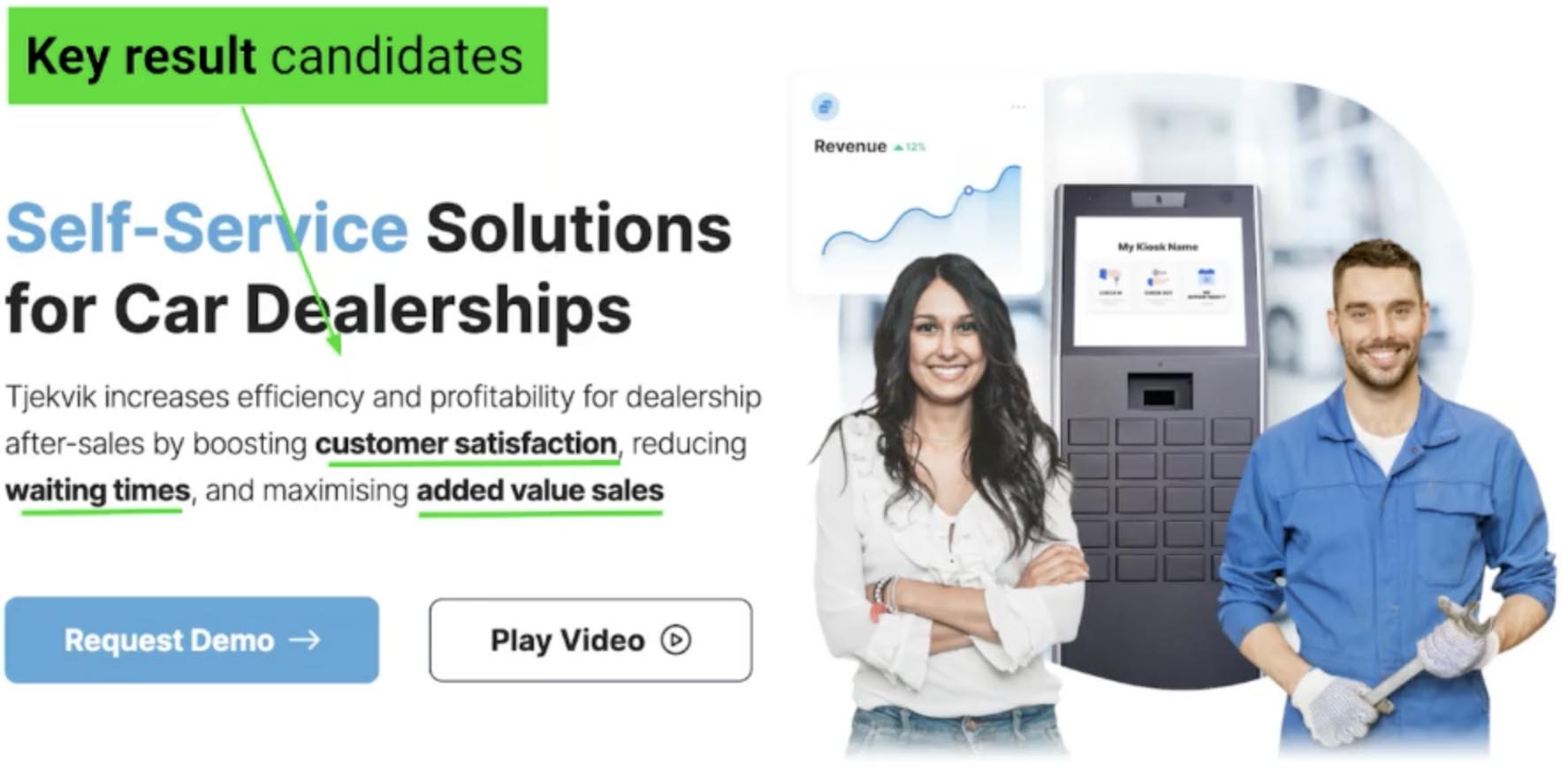 If we search a bit, we can also find good key result candidates. In this particular one sentence, we strive to deliver efficiency and profitability measured by customer satisfaction, waiting times for people queuing up in the dealerships, and then the value added from things that we can upsell.
This is an example of identifying objectives and key results from the very top level and down. That might be why it has also been fairly easy for us to implement OKRs, as everybody knows where we're going and what we're doing – and of course it helps that we have a pretty strong product-market fit. That makes everything a lot easier.
Do not OKR everything
The hard thing is where to start. Suggestion: Focus on strategic changes over operational KPIs. OKRs are a definition that is not the same as KPIs. We have so much data showing the steady state of how things are going. Leave that on its own in some kind of all the monitoring system if you want to monitor. Instead, only focus your OKR efforts on things that you want to change. I believe that is what really works well with OKRs.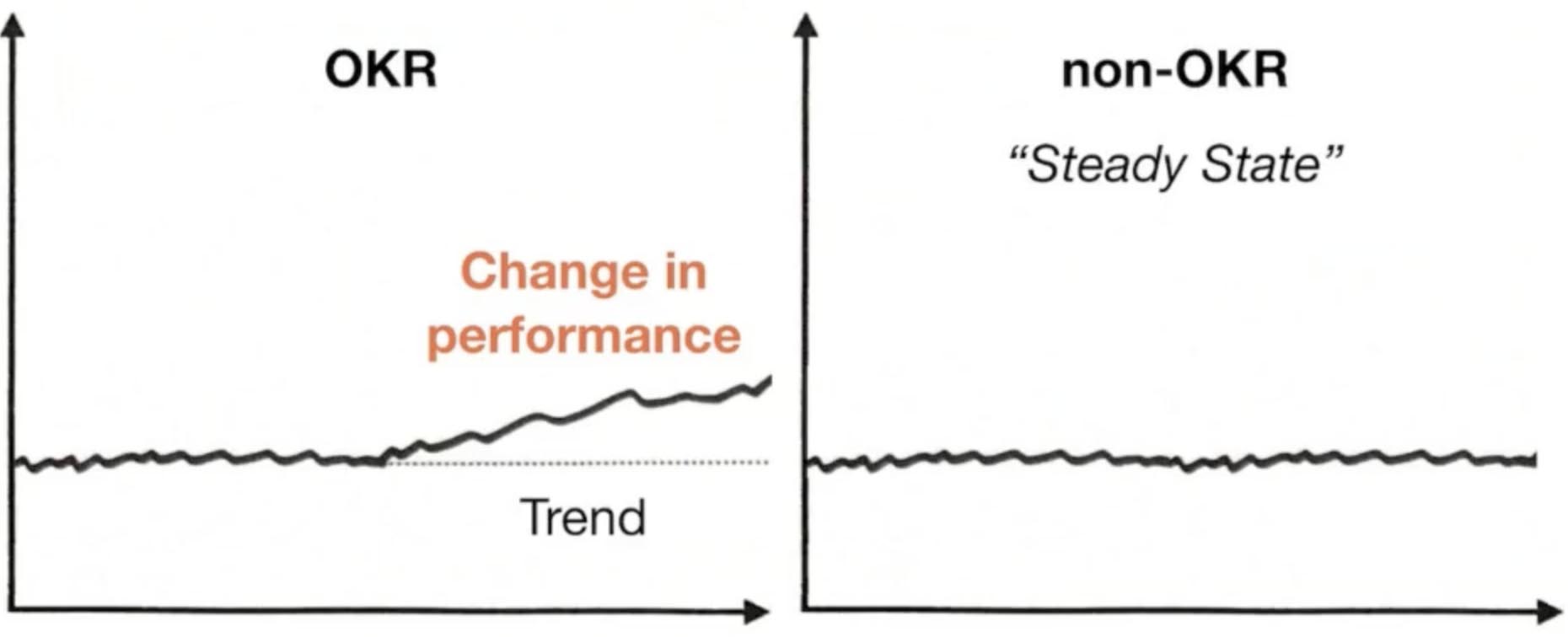 This is why we do it over a quarter. There might be a state of data that works fine or it might be not working fine. Using OKRs, we identify what states we want to change and work to define the activities that go into changing it as well as the key results it will produce.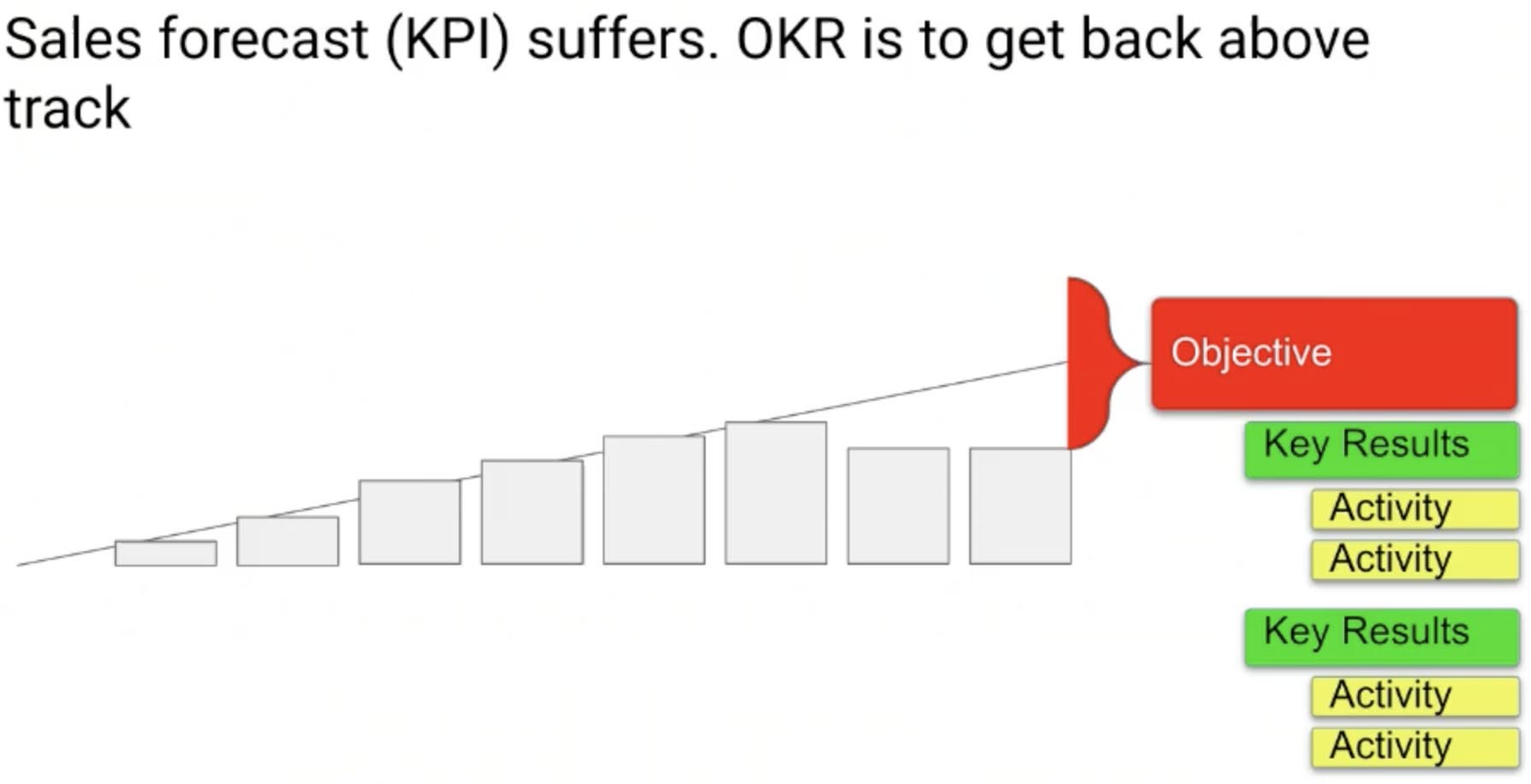 Let's take sales forecasts as an example. In sales forecast software you can see the curve. Let's say that suddenly we start to see a drop in sales. Now sales forecasts is a KPI. The OKR in this particular example is to get that sale and traction back on track again. We might need a number of key results to get it back to where it should be.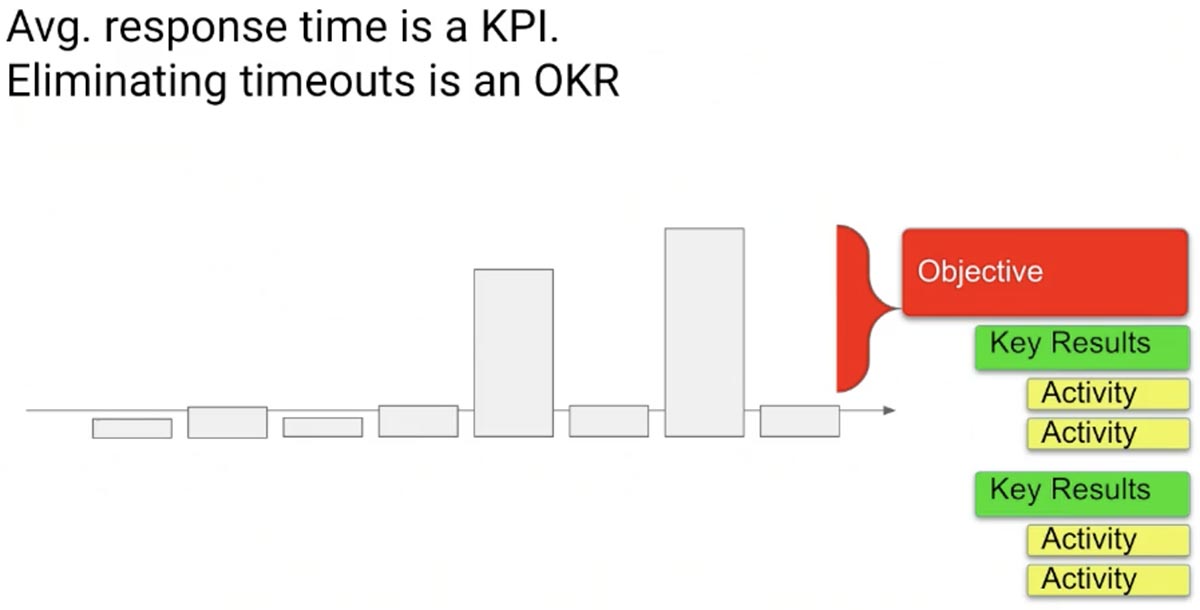 Same thing with response time in Engineering: it's a KPI. Response time is a KPI – that is just something we follow. But eliminating the timeout, for instance, works with OKRs. We will see some timeouts - for instance "five timeouts every x". Your job is then to create an objective to remove those extra timeouts and find the key results that actually make us go in that direction. Let's be careful not to define too many measure points all the time.
It's about getting it under your skin, but there's more to it in terms of implementation. Anders is in the lucky situation of overseeing several departments.That makes cross-department alignment easier. But doing a presentation like this for your teams. Make them understand and play with OKRs to make sure that they actually understand the difference between an outcome and an output.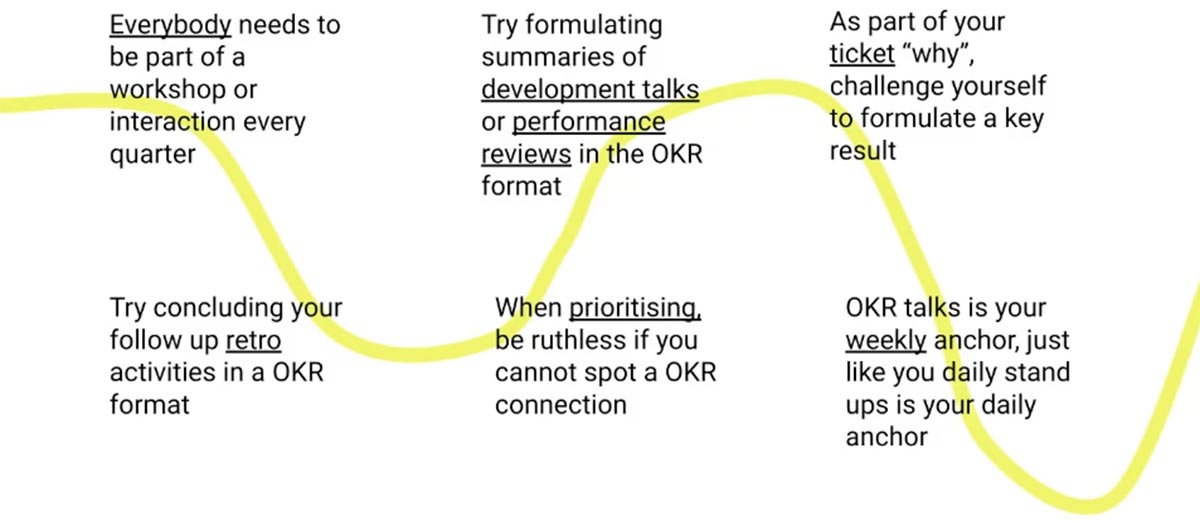 Watch the full video
The transcription of Anders' talk ends here. Watch the full video to learn about concrete OKR examples, exercises you can do with your team to really understand architecture of OKRs and how it can help empower teams with autonomy while aligning them toward a shared direction.