Run a Blended Value play
Recipe
Also called: Fair trade, Triple Bottom Line
Key Partners
Key Activities
Value Propositions
Customer Relationships
Customer Segments
Key Resources
Channels
Cost Structures
Revenue Streams
The business model canvas was designed by Business Model Fondry AG and distributed under a Creative Commons license.
How: Implement a triple bottom line to maximize social, environmental, and financial efficiency.
Why: Positive environmental and societal footprints of a business are becoming an increasingly important selling point.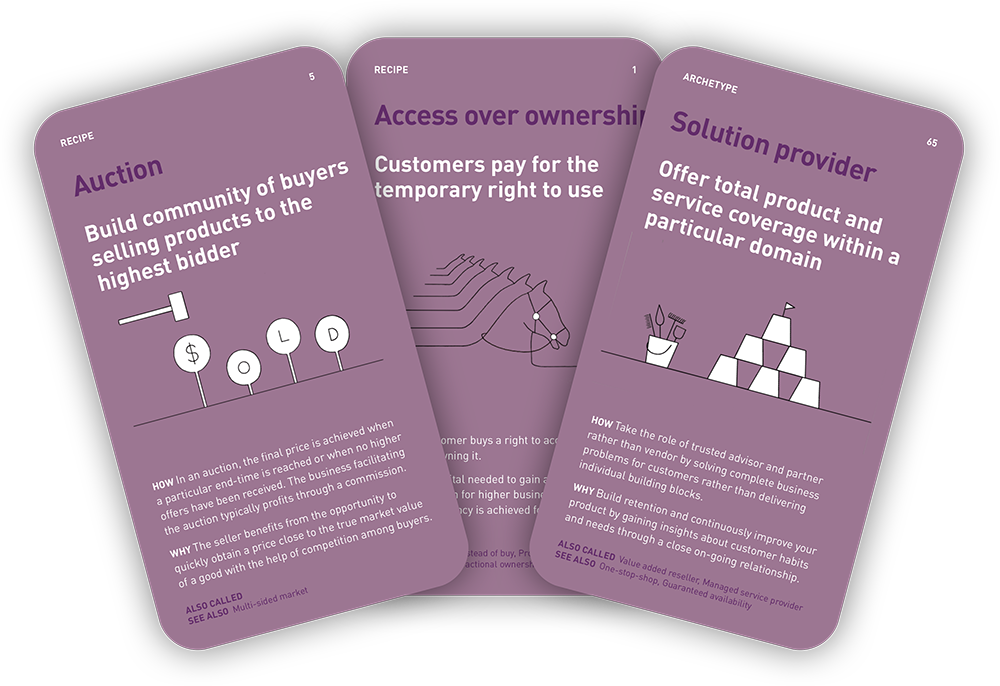 This business model is part of the Business Model Patterns printed card deck.
A collection of business models that will help you understand the key drivers of business model success. The card deck will be ready for purchase in the end of 2023 and is now undergoing rigorous testing.
Reserve your deck!
Trigger Questions
Can your focus on a good social and environmental footprint help your brand and marketing?
How can you ensure that both your company and your suppliers adhere to Blended Value standards?
Examples
Patagonia
The outdoor gear & clothing company focuses on economic return while minimizing its negative impact on the environment.
Source: Patagonia - How we fund
Fairtrade Foundation
Coffee producers use its logo to testify that farmers and their cooperatives have been paid fairly, and to increase brand value by doing so.
Better World Books
A social enterprise that sells used books, with a portion of the profits going towards literacy programs. Founded by college friends in Indiana, the company has expanded significantly, raising millions for literacy programs and keeping many used books out of landfills. It has also created hundreds of jobs and enabled millions of readers to affordably purchase used books. Better World Books is a certified B Corporation.
Source: Better World Books
Larry's Beans
Produces Fair Trade, Shade Grown, and Organic coffee beans. Its facilities rely on solar power systems, passive solar heating, and rainwater harvesting, and it composts waste. At least one of its vehicles runs on bio-diesel or used vegetable oil, and the company is a certified B Corporation.
Source: Larry's Beans
Namaste Solar
A Colorado-based (USA) employee-owned cooperative that has installed over 2,700 solar power systems with a total capacity of 25 MW. It is a conscientious business that strives to make positive contributions to society and the environment, and is a certified B Corporation.
Source: Namaste Solar