Run a Robin Hood play
Element
Also called: Buy-one Give-one, One for One
Key Partners
Key Activities
Value Propositions
Customer Relationships
Customer Segments
Key Resources
Channels
Cost Structures
Revenue Streams
The business model canvas was designed by Business Model Fondry AG and distributed under a Creative Commons license.
How: Provide the same product or service at a much higher price to wealthy customer segments to cross-finance selling more cheaply to poor segments. Serving the poorer customer segment is not necessarily profitable, but allows for economies of scale.
Why: Serving an emerging market for the "greater good" can have a positive effect on the brand image.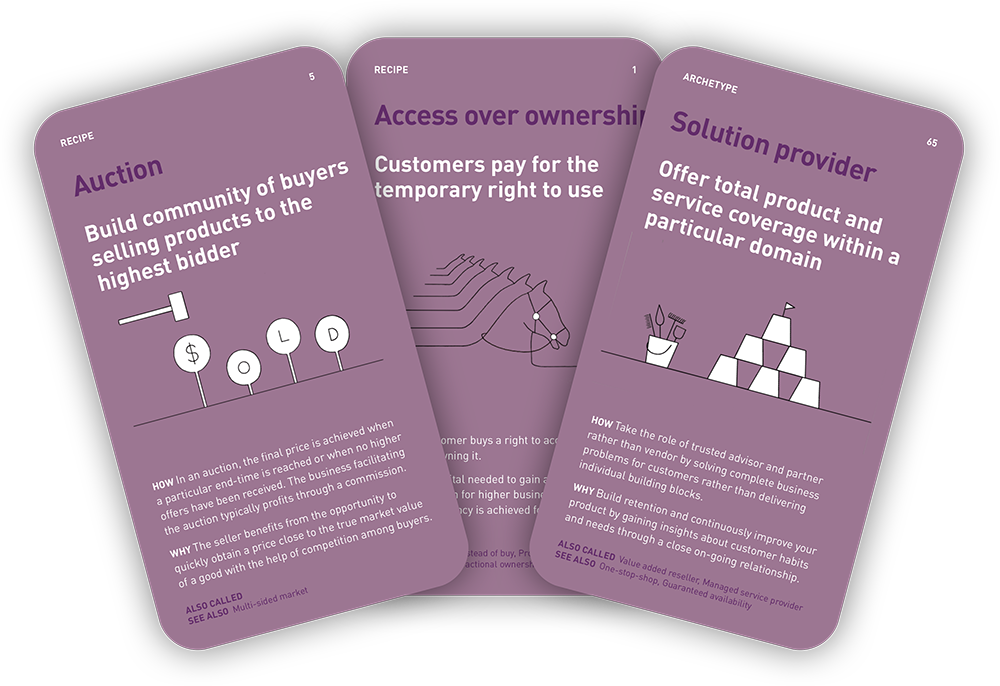 This business model is part of the Business Model Patterns printed card deck.
A collection of business models that will help you understand the key drivers of business model success. The card deck will be ready for purchase in the end of 2023 and is now undergoing rigorous testing.
Reserve your deck!
Take from the rich and give to the poor
The practice of selling a product or service to the wealthy at a premium price, while offering it at a discounted rate to those less fortunate, is commonly referred to as the "Robin Hood" business model. The bulk of profits are generated from the affluent customer base, while serving the less privileged serves as a means of achieving economies of scale that competitors may struggle to match. Additionally, providing aid to the less fortunate can enhance a company's image in the public eye.
In emulation of the legendary Robin Hood, companies that adopt this philosophy strive to provide access to goods and services that would otherwise be out of reach for the economically disadvantaged. The revenues generated from sales to the wealthy are used to cross-subsidize access for the less privileged, who may receive the offering at a greatly reduced cost or even gratis. Through this support, both the disadvantaged and the wealthy can benefit, with the latter able to take solace in their philanthropy.
People are most motivated to help when they feel a connection to those whom they're helping.
Embracing the Robin Hood model can be a powerful tool for companies looking to improve their image in the eyes of the public. By dedicating a portion of their profits to aid the less fortunate, businesses can demonstrate their commitment to social responsibility and become more favorably regarded by consumers.
Where did the Robin Hood business model pattern originate from?
The concept of the Robin Hood business model, named after the legendary outlaw who stole from the rich to give to the poor, may have roots in medieval folklore, but the model itself did not gain traction until the 1970s. This was largely due to an increasing sense of corporate social responsibility among companies. One of the earliest examples of this model in action was the Aravind Eye Care Hospital in India.
Aravind Eye Care Hospital: A Pioneer of the Robin Hood Business Model
Founded in 1976 by Dr. Govindappa Venkataswamy, the Aravind Eye Care Hospital was established with the goal of combating treatable blindness in India. A significant portion of this blindness is caused by cataract, which can be treated through surgery. However, this treatment is often too costly for a large segment of the Indian population. To address this injustice, Venkataswamy developed a business model in which wealthier patients pay the full cost of their surgery while poorer patients are asked to pay what they can afford, or nothing at all. The revenue generated from the wealthier patients is then used to subsidize the surgeries of the poorer patients. Due to the high number of patients in need, the hospital operates at capacity, allowing for economies of scale. Despite providing free operations for two-thirds of their patients, the hospital earns a profit annually and has performed over two million surgeries to date.
Applying the Robin Hood business model
The Robin Hood business model is an effective strategy for companies that cater to a core market of affluent customers, while also dedicating resources to providing modified versions of their products to lower-income consumers. The primary objectives of this approach are to enhance a company's reputation and to gain future sales by building relationships with lower-income customers.
In the coming years, it is expected that future growth for businesses will largely come from lower-income economies, as 1.8 billion people are projected to join the global consumer class by 2025. Adopting the Robin Hood model allows companies to establish strong, lasting connections with these customers now, providing a significant competitive advantage when these individuals become part of the global consumer class in the future.
Great for marketing
The Robin Hood business model has been widely hailed as a success from a marketing perspective. Research indicates that people are more motivated to help when they feel a personal connection to those they are assisting. By connecting one donor to one recipient, companies are able to create a more powerful emotional connection with their customers, making it a psychologically smart strategy.
The model's profitability has been demonstrated by the number of companies that have adopted it, as well as the fact that private equity firm Bain Capital paid $300 million for a 50% stake in Toms. However, there are concerns about whether the social impact aspect of the model is as effective as it seems. Critics argue that it can create dependency, inhibit local initiative, and make developed world buyers of one-for-one products complacent about taking other action to address social needs.
Building Lasting Relationships
The Robin Hood approach not only improves a company's reputation and future sales prospects, but also enables the building of relationships with lower-income customers that are likely to be a valuable source of competitive advantage in the years to come. Through this model, businesses can gain a foothold in emerging markets and establish a lasting presence in the minds of consumers.
Criticism of the Robin Hood business model
Some academic research points to evidence that donations can hurt local businesses, and that the model can undermine local producers. A 2008 study by Garth Frazer in The Economic Journal concluded that textile donations in Africa significantly contributed to the decline of the textile industry in sub-Saharan Africa in the period 1981 to 2000. The model can also foster a poor self-image among recipients and inhibit long-term solutions to poverty by not addressing deeper causes.
Get a head start
Trigger Questions
How can you offer your products and services to lower-income customers?
Can you cross-finance your offerings or adjust your products in a way that they cost less?
What strategies might we employ to effectively and sustainably segment our customer base?
How do we measure and track the impact of its giving?
How do we ensure that our giving is truly beneficial and not harmful to the communities we aim to serve?
Examples
Ace&Tate
For every pair of designer glasses you buy, an equal amount is donated to the UK-based non-profit Sightsavers.
TOMS Shoes
For every pair of shoes customers buy, another pair is donated to a child in need.
United by Blue
The outdoor clothing and accessories company that focuses on ocean conservation. For every product sold, the company removes one pound of trash from oceans and waterways through its ocean cleanup efforts.
Cotopaxi
The outdoor gear company that gives back to communities in need through its "Gear for Good" program. For every product purchased, the company donates a portion of the proceeds to support community development and education programs in developing countries.
Warby Parker
The eyewear company operates on a "buy one, give one" model. For every pair of glasses purchased, Warby Parker donates a pair to someone in need through its nonprofit partners. The company has distributed over 20 million pairs of glasses to date.
One Laptop per Child (OLPC)
A non-profit organization that provides children in developing countries with inexpensive laptop computers for educational purposes. OLPC uses a "Give 1 Get 1" program, where consumers in the USA and Canada can donate 399 dollars to receive a laptop and another is sent to a child in a developing country.