Run a Trash-to-Cash play
Element
Also called: Upcycling
Key Partners
Key Activities
Value Propositions
Customer Relationships
Customer Segments
Key Resources
Channels
Cost Structures
Revenue Streams
The business model canvas was designed by Business Model Fondry AG and distributed under a Creative Commons license.
How: Collect used products to sell thier parts or transform them into new products.
Why: With resource costs practically eliminated, profit margins are high. On top, environmental ideals of keeping waste low can help increase the perceived value further.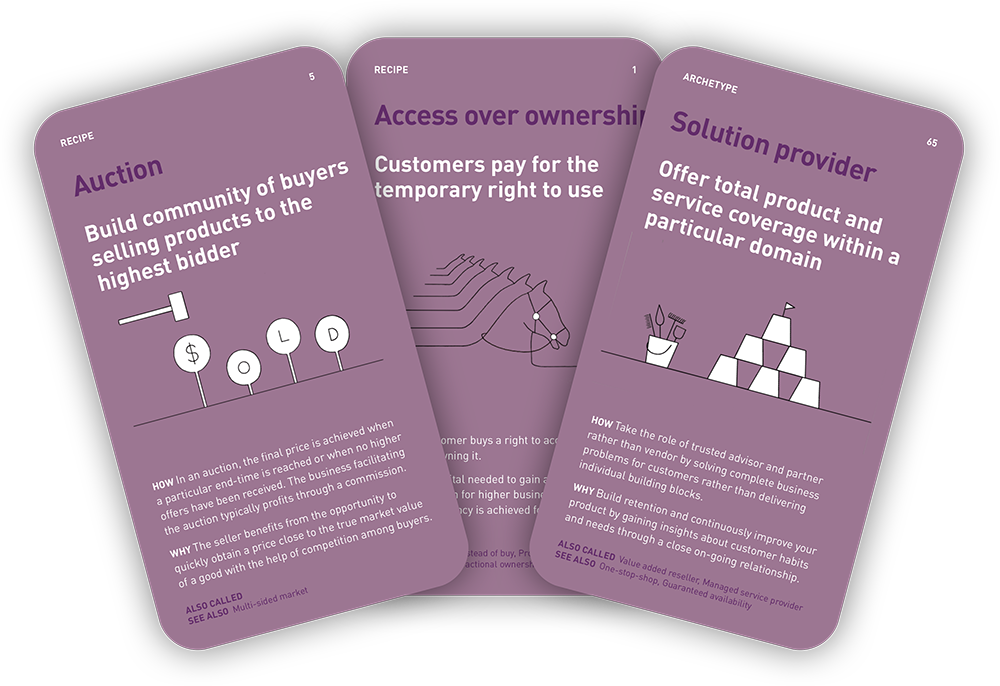 This business model is part of the Business Model Patterns printed card deck.
A collection of business models that will help you understand the key drivers of business model success. The card deck will be ready for purchase in the end of 2023 and is now undergoing rigorous testing.
Reserve your deck!
A sustainable business model
The Trash to Cash pattern is built on the principles of recycling and reusing old materials. Used products are collected and either sold in other parts of the world or transformed into new products. The profit scheme is based on a low or zero purchase price, allowing for resource costs to be eliminated for a company adopting this model.
Customers receive refined products that leave a lasting impression that can be bought with a good conscience. As a result, the Trash to Cash model results in a win-win situation for both the supplier and the manufacturer. The former's waste disposal services are catered for at reduced or zero cost, while the latter gets cheap resources or materials with which to make their products.
Reprocessing the 'rubbish'
The Trash to Cash principle can also be applied without reprocessing the 'rubbish' raw materials. One option is to sell unprocessed resources in other markets or geographic regions, which has been a commonplace concept in the used-car market for decades and is now being applied to many other used goods as well.
An added benefit of selling processed rubbish and by-products is an image of being environmentally friendly. The Trash to Cash model also addresses issues of environmental responsibility, enabling companies to operate green policies. Responsible behaviour is becoming increasingly important for companies as our society faces ever more environmental and societal challenges. Thus, the idea of recycling, inherent in the Trash to Cash business model, can constitute a real competitive advantage.
Where did the Trash-to-Cash business model pattern originate from?
In essence, the concept of Trash to Cash is not a novel idea, as it draws heavily from traditional raw material and scrap metal merchants. Indeed, the origins of this business model can be traced back to ancient times, with archaeological excavations revealing that people in ancient Greece reused materials to avoid shortages.
The modern, commercial reuse of waste and by-products gained increased attention in the 1970s with rising energy prices. These developments continue today as society becomes more environmentally conscious and takes measures to grapple with climate change.
Pioneers in the Trash to Cash Industry: Duales
An early pioneer in this area is the German company Duales System Deutschland, which is concerned with taking care of waste and packaging materials. They introduced the Green Dot logo as a symbol for recycled packaging materials, which manufacturers can use under license on their labeling.
The whole waste disposal program integrates packaging and product manufacturing companies, and is therefore able to utilize a constant stream of free waste materials. These materials are recycled efficiently via a dual system operating in conjunction with municipal waste collection systems. Companies subscribing to the scheme benefit from efficient waste disposal and recycling. Duales System Deutschland also earns revenue from companies that purchase a license for the Green Dot logo. These companies benefit from an enhanced environmental image, access to cheap materials from the recycling process, and reduced waste disposal costs.
Applying the Trash-to-Cash business model
The Trash to Cash pattern taps into the concept of sustainability. The 'trash' in the business model refers to resources that are regarded as waste in one value chain, but are reused in another value chain. If you are a manufacturing company that produces trash, then you could be affected by this business model pattern.
The Value of Upcycling
Sourcing raw materials can be difficult and expensive, and many start-ups are keen to avoid materials that are hazardous, hard-to-recycle, or endangered. The demand for consumer goods also leads to products being discarded sooner and newer ones being replenished at a faster rate. This results in many resources being lost and disappearing in landfills, despite the fact that they could still serve a purpose.
One of the main benefits of sourcing raw materials from waste and increasing their value through the production cycle is that waste in different forms and variations can be easily acquired for free, very cheap, or at least cheaper than the respective new raw material. Additionally, it allows start-ups to proactively contribute to limiting the ever-growing amount of waste that is polluting the planet.
However, it is important to consider the competition around waste, especially waste of value in its unmodified form, and the complexity and challenges of recovering materials, which can require advanced technologies. The payoff can be worth it, but it needs to be assessed on a case-by-case basis in regard to cost efficiency, quality, and safety.
Example: Creating Value from Food Waste
No business owner sets out to create food waste. But it occurs at every point in the supply chain, sending about 40% of the U.S. food supply to the landfill—40% of which comes from restaurants, grocery stores, and other food service businesses.
Enter Too Good To Go, a social impact company that helps small businesses get paid to rescue food destined for the trash. The platform helps business owners repackage surplus food into a "surprise bag," which customers pick up within a set window of time. It might be a missed meal from a Grubhub order, leftover portions from a salad bar, or a dozen extra donuts that didn't sell.
Not only that, but the food on Too Good To Go is sold at a steep discount: Each business owner decides on the contents and value of the bag, which ranges from $12-$20, to be sold at a 70% discount. Keeping the bags at a lower price point helps increase accessibility to prepared meals for people who have trouble buying food, but may not want to go to a food bank or shelter.
The greatest value of Too Good To Go is its convenience—for both customers and business owners. It allows businesses to make sustainable decisions in an easy way, and customers to pick up a discounted meal while also helping the environment and having full autonomy.
Example: Feathers for IKEA
As he perused the bustling food markets of China, the founder of IKEA, Ingvar Kamprad, was struck by the sheer abundance of plucked and strung chickens. Piqued by curiosity, he delved deeper and inquired as to the fate of the discarded feathers. To his surprise, he discovered that the farmers paid for the feathers to be removed and burned after the chickens had been plucked.
With a keen eye for opportunity, Kamprad saw potential in these waste products and approached the farmers with an offer to take the feathers off their hands for free. The farmers, overjoyed at the prospect of being rid of the unwanted byproduct, eagerly accepted.
But Kamprad's vision extended far beyond simply disposing of the feathers. He recognized the innate value in the waste product and sought to transform it into a profitable resource. And so, he crafted feather duvets and pillows, offering them at a fraction of the cost of traditional alternatives.
This innovative approach allowed him to source the key material for one of his best-selling items at no cost, exemplifying the power of resourcefulness and the ability to uncover value in even the most seemingly insignificant waste products.
Kamprad's story serves as a reminder of the boundless potential for innovation and resourcefulness in the world of entrepreneurship. By embracing the art of seeing opportunity where others see waste, one can not only achieve success but also make a positive impact on the environment. Such is the power of a visionary leader, and the value of entrepreneurship.
Trigger Questions
How can we build an ecosystem that integrates with partner value chains and generates value for all parties?
Can you help grow a circular economy for people, the planet, and your business which also boosts your brand?
How might we cultivate value from waste?
How can incorporating the principle of sustainability enhance our brand's reputation?
What methods can be employed to create value for our partners?
In what industries can valuable waste be found, particularly those with high profit margins?
Examples
Too Good To Go
By selling food that stores would have otherwise thrown out, customers win by getting a great value meal at a reduced price.
Timberland
The soles of Timberland shoes are made from recycled tyres.
Too Good To Go
Fully established in 12 United States cities and expanding rapidly, Too Good To Go partners with local food service businesses—including grocery stores and bakeries, as well as restaurants—to save surplus food from the trash. While most food banks can't accept one-off deliveries or damaged meals, Too Good To Go prompts customers to pick up a "surprise bag" at the business' convenience.
The Exotic Paper Company
The Somerset-based enterprise that creates paper and stationery products from waste including denim, bananas, and bank notes. The most popular product, Ellie Poo Paper, is made from dried elephant dung from zoos and wildlife parks around the UK to make 100% recycled paper.
GreenCup Coffee
GreenCup Coffee not only sells fair trade coffee to consumers and businesses around the UK, but also collects the used grounds and turns them into fertilizer for gardens. A percentage of the profits from this fertilizer is then donated to causes such as Trees For Cities and Coffee Kids.
Smile Plastics
Creating high-end recycled plastics using materials such as mobile phones, CDs, wellies, and yoghurt pots, Smile Plastics have worked for brands like Selfridges, Liberty, and Paul Smith, creating bespoke plastic panels for architecture and design projects.
Rubies in the Rubble
The London-based business that turns surplus produce from farms and markets into jams, chutneys, and pickles. These preserves ensure that oversized, undersized, or aesthetically ugly food is eaten rather than thrown away.
Remade In Britain
The online hub for all things upcycled, it allows consumers to browse for furniture, homeware, and clothes, sourced from materials that might otherwise end up in landfill.
TerraCycle
Known for its innovative recycling programs, TerraCycle has developed a number of "closed loop" systems that turn hard-to-recycle waste into new products. One notable example is its cigarette waste recycling program, which turns discarded cigarette butts into plastic pallets. The company has also developed a program to recycle coffee capsules, turning them into plastic products such as shipping pallets and park benches.
Freitag lab
The Swiss company founded in 1993, uses a range of old materials such as canvas covers from trucks, inner tubes, and airbags to manufacture bags and fashion accessories. Their eco-friendly nature attracts many environmentally conscious customers and those seeking unique designs. The company employs a strong green marketing strategy and benefits from low resource costs due to their use of recycled materials.
Greenwire
Greenwire organize pick-ups, quality checks, refurbishment, and repair processes so that used electronic products can be resold to customers at low prices, especially in developing countries. Corporate clients are attracted to the convenience and eco-friendly methods of disposal or sale of their old electronic goods.
Emeco
Uses readily recyclable materials such as aluminum, wood, PET, and WPP to manufacture a variety of designer furniture products. They entered into partnership with Coca-Cola to better exploit the Trash to Cash business model, by making a plastic version of their Navy Chair from 111 recycled Coca-Cola bottles. They attract environmentally conscious customers and generate high demand and revenue through their functional, fashionable, and affordable products.