Run a Drop Ship play
Recipe
Also called: Dropshipping
Key Partners
Key Activities
Value Propositions
Customer Relationships
Customer Segments
Key Resources
Channels
Cost Structures
Revenue Streams
The business model canvas was designed by Business Model Fondry AG and distributed under a Creative Commons license.
How: Distribute your customer's orders to a select number of manufacturers, wholesalers, or other retailers, and let them deal with all shipping and handling of each item.
Why: With no inventory needed, neither is investing in it required. Being flexible on inventory and distribution allows flexibility in your product offering, also adding flexibility to your promotions and marketing experiments.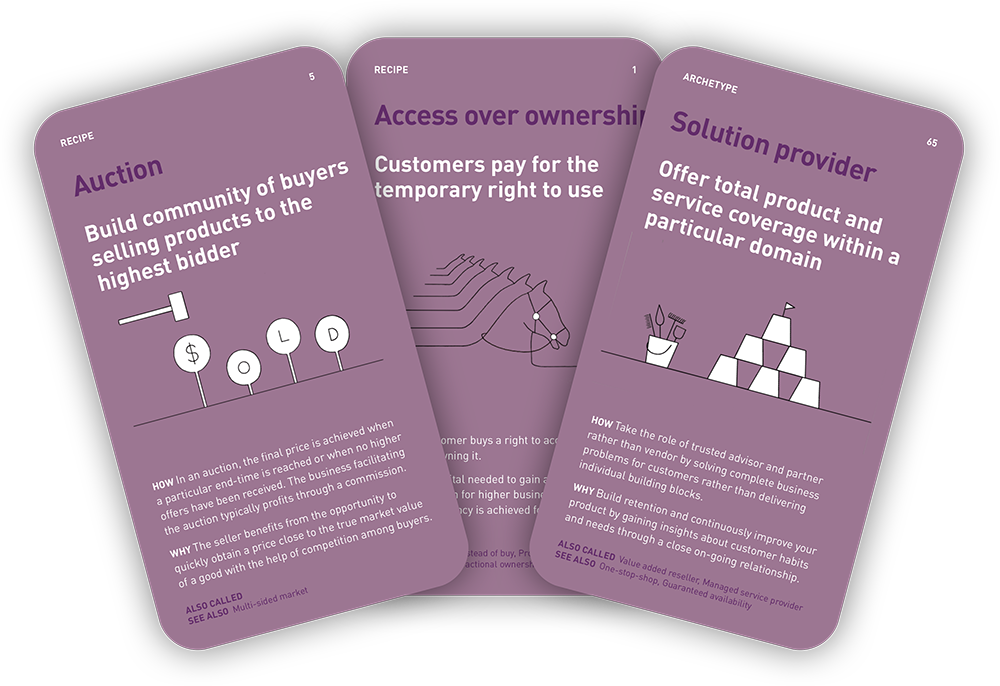 This business model is part of the Business Model Patterns printed card deck.
A collection of business models that will help you understand the key drivers of business model success. The card deck will be ready for purchase in the end of 2023 and is now undergoing rigorous testing.
Reserve your deck!
Dropshipping is a business model in which an owner finds suppliers to supply products for their website to market and sell. However, rather than holding inventory as with a traditional e-commerce business, a third party handles all shipping and logistics on behalf of the business. This third party is typically a wholesaler, who "dropships" the product directly to the customer.
One major advantage of dropshipping is the lack of inventory required. This means no need to pay for storage costs, and the ability to set up and start operating quickly, often within a week. It is also easy to explore new product lines by simply finding a vendor and placing the item on the website, rather than needing to wait for inventory to be available. Dropshipping also leaves more time for promotions and marketing experiments, which can benefit SEO by creating additional content for the website.
The business model requires little upfront monetary investment and is similar to affiliate marketing or Amazon affiliate marketing, except the vendor and suppliers must be found independently.
Speaking against applying dropshipping, the profit margin can be quite thin. This is due to the fact that the business has little control over pricing or shipping and storage decisions and as third parties also need to make a profit margin. This can also cause issues if the business experiences rapid growth and the vendor is unable to keep up with demand, leading to problems with customer service and the potential damage to the business' reputation. In addition, advertising can be challenging due to limited profit margins, and it can be difficult to differentiate oneself from competitors as they may also be selling the same products. Finally, the reliance on a third party means there is a lack of control over the quality of the product and the possibility of scams or fraudulent activity.
Growing a drop-ship business
There are several ways to expand a dropshipping business:
Search engine optimization and increasing traffic through organic search is often the most valuable form of traffic.
Building a strong brand around the store, including an email list and marketing material can help convert email subscribers into customers and increase returning traffic.
Utilizing social media platforms can bring in significant amounts of traffic at little cost.
Sourcing products directly can increase profit margins
Trigger Questions
Can you partner with a dropshipping supplier for long-tail seasonal products otherwise too expensive and risky to keep in inventory?
How can you uniquely position and market your brand so that customers choose your dropshipping outlet over others?
Examples
Printful
The Drop Shipping provider supplies print-on-demand and fulfilment warehouse services for anyone setting up shop.
Amazon
Being a hybrid, Amazon fulfils its own product line, but also manages dropshipping for its third-party vendors.