Run a Franchising play
Key Partners
Key Activities
Value Propositions
Customer Relationships
Customer Segments
Key Resources
Channels
Cost Structures
Revenue Streams
The business model canvas was designed by Business Model Fondry AG and distributed under a Creative Commons license.
How: License brand, products, and corporate identity to independent companies, who carry the risk of local operations. Support with training, funding, buying power, regional advertising, lead generation, and a network of fellow franchisees.
Why: Expand without risk of debt or the cost of equity, without spreading top level managerial resources too thin, with invested and motivated managers, and with speed.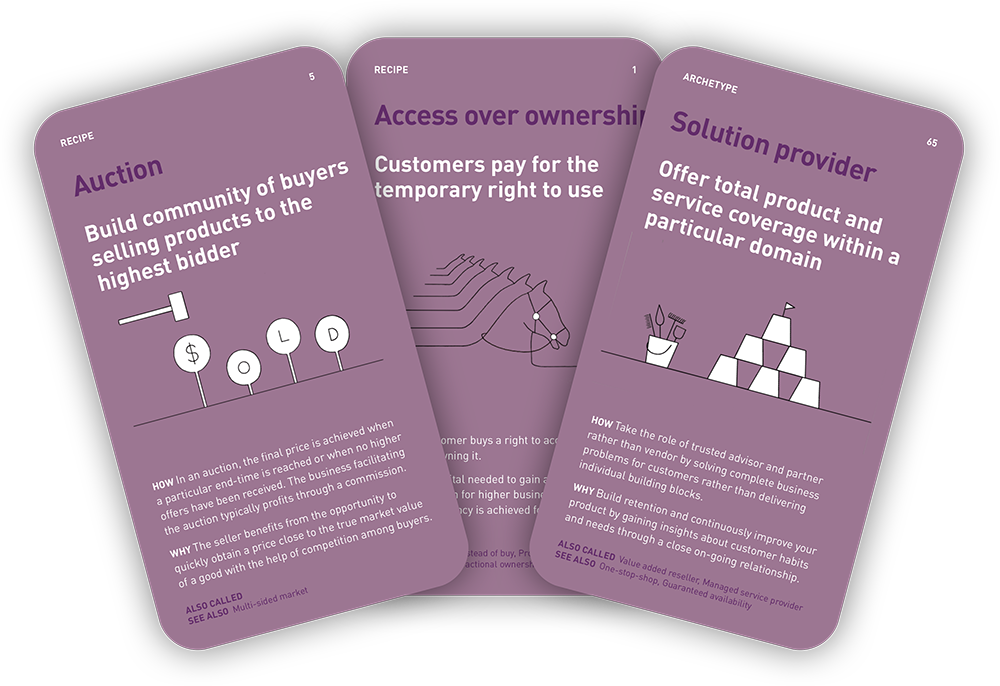 This business model is part of the Business Model Patterns printed card deck.
A collection of business models that will help you understand the key drivers of business model success. The card deck will be ready for purchase in the end of 2023 and is now undergoing rigorous testing.
Reserve your deck!
In franchising, companies sell the right to utilize their business model to franchisees. This system allows for rapid expansion into new geographical areas without requiring the resources or assuming the risks inherent in such expansion. Instead, these responsibilities fall on the franchisees, who act as independent entrepreneurs and handle the majority of transactions.
By purchasing a franchise, individuals gain access to a proven business model complete with its defining characteristics such as products, trademarks, equipment, and processes. This reduces the entrepreneurial risk associated with starting a business from scratch and offers the opportunity to benefit from the franchisor's expertise in areas such as professional development and brand management.
The franchise model represents a win-win scenario for both parties involved. The franchisor is able to rapidly expand their business, while the franchisee is able to participate in the profits generated.
Where did the Franchising business model pattern originate from?
The concept of franchising can be traced back to medieval France, where it was primarily utilized by monarchs to allow others to produce goods in their name. With the onset of the Industrial Revolution, franchising spread to the private sector as well. One early example is the Singer Corporation, a manufacturer and distributor of sewing machines which provided franchises to retailers in specified geographical areas and offered financial assistance for the production and sale of sewing machines under license. In return, the retailers were responsible for training individuals to use the machines, allowing Singer to generate revenue from royalties on extended sales and benefit from a wider distribution network that would have otherwise been cost-prohibitive to establish on its own.
The Rise of McDonald's
Franchising has played a significant role in the global success of fast food giant McDonald's. Sales representative Ray Kroc was instrumental in expanding the brand nationwide by convincing brothers Richard and Maurice McDonald to let him use their restaurant concept. In 1961, Kroc purchased the rights to the brand for $2.7 million and went on to transform McDonald's into the world's largest restaurant chain, becoming one of the wealthiest individuals in the United States in the process. Today, McDonald's operates in 119 countries worldwide, with aspiring entrepreneurs able to apply to become franchisees. Upon acceptance, the company provides the necessary information, equipment, and furniture for opening a restaurant, with standardization allowing for the sale of the concept as a whole. McDonald's generates revenue and profits through premiums earned from its extensive network of global franchisees, focusing on providing competitively priced fast food while reducing costs on staff and other overhead expenses to increase customer throughput and profitability.
Applying the Franchising business model
If you have already established valuable assets such as knowledge or brand recognition and wish to rapidly expand your business with minimal risk, franchising may be an appropriate pattern to consider.
Trigger Questions
How can you put together an attractive enough offering to make franchisees play by your rules?
How can standardized processes and systems support your business model and strengthen your franchisees?
Will our competencies and assets be sufficient to entice potential franchisees to adhere to our guidelines?
How can we rapidly expand our business and achieve our growth potential with minimal risk?
Are we able to legally and/or technically safeguard our codified knowledge to prevent imitation?
Is the business model resistant to imitation?
How can we guarantee that franchisees will remain with us?
How would McDonald's manage our business?
Examples
Levi's
Independent entrepreneurs can open Levi's clothing stores in unsaturated markets in return for advertising and royalty fees.
Hilton Hotels
Franchisees get access to a recognized brand, validated concept, booking systems, construction help, and more.
Subway
The American fast food chain known for its submarine sandwiches and salads, operating in over 100 countries. Franchisees adopt the company's business model and apply it to restaurants in various locations worldwide, with the menu varying to cater to regional tastes. Subway provides information, premises, and support to ensure consistent representation of the brand and receives royalties from its global network of franchisees.
Starbucks
The coffee company with stores worldwide, offering a variety of coffee and food products. Franchisees operate stores under the Starbucks brand, with the company providing necessary information and support to ensure standardization and consistent service. Starbucks charges an application fee to franchisees and receives ongoing royalties during operation.
7-Eleven
The convenience store chain with locations worldwide. Franchisees operate stores under the 7-Eleven brand, with the company providing necessary information and support to ensure standardization and consistent service. 7-Eleven charges an application fee to franchisees and receives ongoing royalties during operation.
Holcim
The leading supplier of cement and aggregates as well as ready-mix concrete, asphalt, and related services. In Indonesia, the company launched Solusi Rumah, a franchising business model offering a one-stop housing solution to Indonesian home builders. Franchisees, who may be concrete product manufacturers or retailers without their own production, operate outlets under the Solusi Rumah brand, providing architectural services, building materials, access to housing mortgage and microfinance, and construction and property insurance. Holcim receives an initial payment and ongoing royalties from franchisees.
Novasol
The Danish vacation rental company with over 50,000 properties in 29 countries. Franchisees, who may be individuals or companies, operate under the Novasol brand and provide vacation rental properties to the company, with Novasol handling marketing, booking, and customer service. Novasol charges franchisees a fee for its services and receives a percentage of the rental income.