Run a Shop in Shop play
Recipe
Also called: Store within a Store
Key Partners
Key Activities
Value Propositions
Customer Relationships
Customer Segments
Key Resources
Channels
Cost Structures
Revenue Streams
The business model canvas was designed by Business Model Fondry AG and distributed under a Creative Commons license.
How: Establish an independent store within another company's retail space.
Why: The Shop in Shop gains access to its host's customers, which can lead to lower customer acquisition costs. The hosting store can benefit from attracting new customer segments and the ability to maintain a stable revenue stream in the form of rent.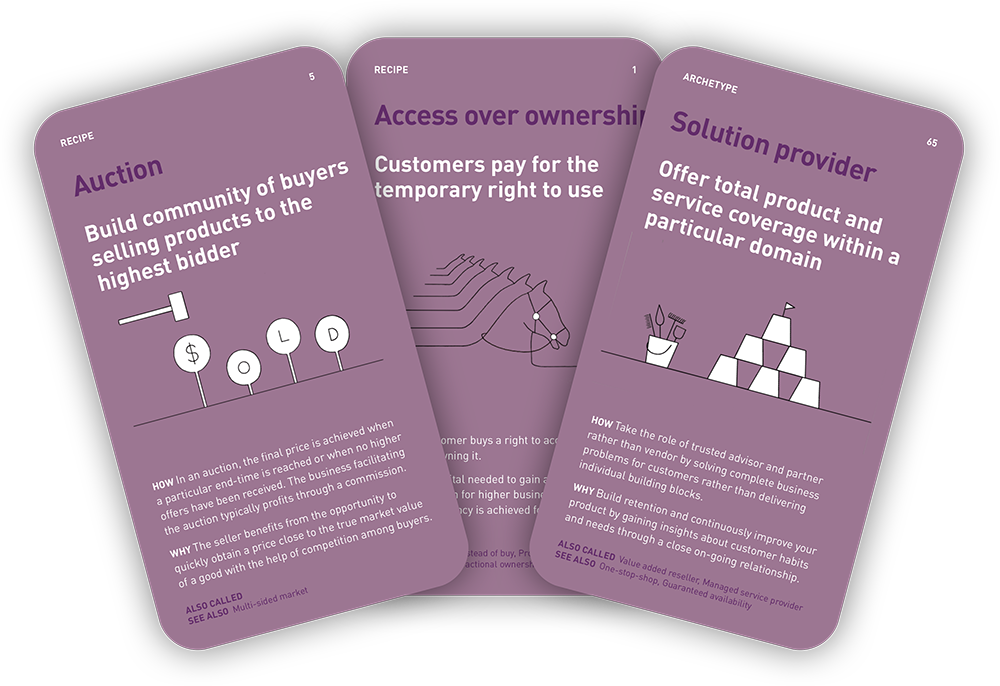 This business model is part of the Business Model Patterns printed card deck.
A collection of business models that will help you understand the key drivers of business model success. The card deck will be ready for purchase in the end of 2023 and is now undergoing rigorous testing.
Reserve your deck!
Let retailers piggyback on established and independent stores
The Shop-in-Shop business model refers to the practice of retailers or service providers establishing an independent store within another company's retail space. This integrated business is free to select its own product range and design the sales space to its own specifications, thereby promoting its own brand without sacrifice. Such constellations can produce valuable synergies that result in a mutually beneficial outcome.
Benefits for the Shop & the Shop in Shop
The hosting establishment benefits from customers attracted to the products or services of the smaller sub-branch and from the rent received. Meanwhile, the smaller branch benefits by having its brand positioned in an active shopping area or workspace, and by having access to cheaper resources such as space or workforce.
Experience has shown that integrating a business in another company's premises provides a cheaper and more flexible alternative than building one's own store. Additionally, setting up a Shop-in-Shop can sometimes give access to a prime site that may otherwise be difficult or impossible to come by.
The host company's regulars also serve as target customers for the integrated business, and there are a number of advantages for the company that rents out its space. Customers may become more loyal as a result of the added value presented by the extra products and services on offer. Furthermore, the host company can generate revenues from rental income and save on the choice and presentation of certain product lines since these tasks will be taken over by the integrated business.
Convenience for customers
Shop-in-Shop establishments offer a wider range of products and services to their customers and enable convenient one-stop payment solutions. The Shop-in-Shop cooperative contract can be structured in a great variety of ways, ranging from classic rental agreements to innovative Franchising concepts.
Where did the Shop in Shop business model pattern originate from?
This business model dates back to Ancient Rome, where a variety of businesses were located and grouped together at Trajan's Market. In more recent times, modern versions of the concept appeared increasingly in the United States at the beginning of the twentieth century. Various stores took advantage of retail space offered at shopping malls.
The Shop-in-Shop model was established later on when speciality retailers began to rent and independently organize retail space from other shops. This concept has grown in popularity over time and has proven to be a mutually beneficial arrangement for both the host company and the independent business that rents the space.
Applying the Shop in Shop business model
If you use distributors or intermediaries to sell your products, you may consider the Shop in Shop pattern as an alternative. This model allows you to enhance your customers' brand awareness, as they are able to engage with your company more directly. Additionally, it provides an opportunity for you to obtain valuable feedback on your solutions from customers.
By implementing the Shop-in-Shop pattern, you can increase customer engagement and gain valuable insight into their needs and preferences. This can help you to improve your products and services and ultimately drive business growth.
Advantages of Shop in Shop partnerships
Shop in Shop retail grants brands the autonomy to manage their own inventory, set prices for their products, and develop their own marketing campaigns. This model also helps brands save money by eliminating much of the overhead associated with running an independent store. When situated within a host retailer that receives high foot traffic, brands within the store tend to sell more products than if they were operating solely out of a standalone store.
For some retailers, the Shop in Shop model is an effective way to rejuvenate an aging brand. Customers appreciate the model for its convenience, variety, and unique shopping experience. In-store concessions, for example, allow customers to accomplish more at a single location, eliminating the need to hop from store to store.
Experiential retail and the versatility of the model
Shop in Shop retail is more than just a trend - it's part of a new generation of shopping known as experiential retail. Rather than focusing on stocking shelves and selling items, pop-up shops and in-store kiosks provide customers with meaningful experiences that can't be replicated online. The versatility of this model allows retail stores and storekeepers to service different market segments, create a more comfortable shopping experience, and introduce new and exclusive products.
Why should retailers and brands collaborate?
Brand manufacturers and retailers are working together to create direct-to-consumer opportunities. Specific benefits of these partnerships include:
Revitalizing large retail companies by offering specialty shops
Allowing consumer shopping brands to create a larger presence in the store
Providing customers with intimate brand experiences within the retail store space
Allowing retailers to designate space for a smaller shop without worrying about merchandising and filling the space
Creating destination shops that increase foot traffic in the larger store space
Acting as "pop-ups" to create excitement around a product or brand
Allowing online retailers to test out brick-and-mortar retail spaces with a "shop-in-shop" experience
Providing convenience for shoppers
Pitfalls to avoid implementing the Shop in Shop business model
While many collaborations have been successful, some partnerships have highlighted factors to consider when bringing in specialty shops to a larger retail store. These include:
Knowing your customer base. JCPenney's introduction of boutique-style shop-in-shops in 2012 attracted a new generation of customers but alienated loyal customers who found the change too dramatic.
Using brands that are recognizable to your customers. Target's partnerships with designer brands like Missoni and Jason Wu may have been well-received by fashion insiders, but may not have been recognizable to many Target shoppers.
Being mindful of price points. Target's collaboration with Neiman Marcus in 2012 resulted in items being significantly more expensive than most Target brands, alienating price-sensitive shoppers.
Trigger Questions
Does piggybacking on other brands make it possible to increase visibility and sales?
Can we piggyback on similar brands to ours that have high affinity with our customer base?
With which partners do our approach, brand, and competencies align?
Through which channels or platforms can we most effectively promote ourselves?
Examples
Deutsche Post
With kiosks placed in supermarkets rather than their own locations, better coverage, availability, and new customers are gained.
Sephora and JCPenney
The department store chain has Sephora shops in most of its locations, expanding their beauty reach and opening new markets.
Apple
Apple has a number of "store within a store" locations at Best Buy, where customers can experience and purchase Apple products in a dedicated space within the larger store. These locations feature Apple-trained employees and the full range of Apple products.
Nike & Foot Locker
Nike has a partnership with Foot Locker, where they have a shop-in-shop concept called "House of Hoops" within Foot Locker locations. These shops feature a curated selection of Nike basketball shoes and apparel.
Starbucks & Target
Starbucks has a number of "store within a store" locations in Target, where customers can purchase Starbucks products in a dedicated space within the larger retail store.
Bosch
The German engineering and electronics company, Bosch, manufactures industrial products such as building materials, power tools, and household appliances. To better position its products against competitors and provide customers with detailed information, Bosch started using the Shop-in-Shop concept. Now, part of their sales occur in proprietary retail spaces within other stores, where customers can learn more about Bosch products and receive dedicated consultations. This strategy reflects positively on Bosch's bottom line and helps customers choose the right product.
Tim Hortons
The Canadian restaurant chain that offers coffee, doughnuts, pastries, bagels and cakes. By operating many smaller branded stores in busy areas, the company provides convenient access and high visibility for its brand. By adopting the Shop-in-Shop business model, Tim Hortons cuts costs by providing smaller outlets without the overheads of a full branch, and expands its reach, increasing its customer base and receiving greater revenue and profits.
Tchibo
The German coffee retailer, Tchibo, offers its customers a broad variety of consumer goods and services such as clothing, electronic goods, household items, mobile phone contracts, and travel insurance. Many of Tchibo's outlets present as smaller stores within dedicated areas of supermarkets and other retail businesses. This allows the company to expand its reach and increase its customer base.