Run a Future-Back Planning play
Also called: Working Backwards
Timing: Planning
Origin: Introduced by Jeff Bezos
Why: Enable teams to chart a flexible and milestone-driven path to achieve their vision
When: During strategic planning sessions, when setting new goals, or when reorienting an initiative towards an evolved vision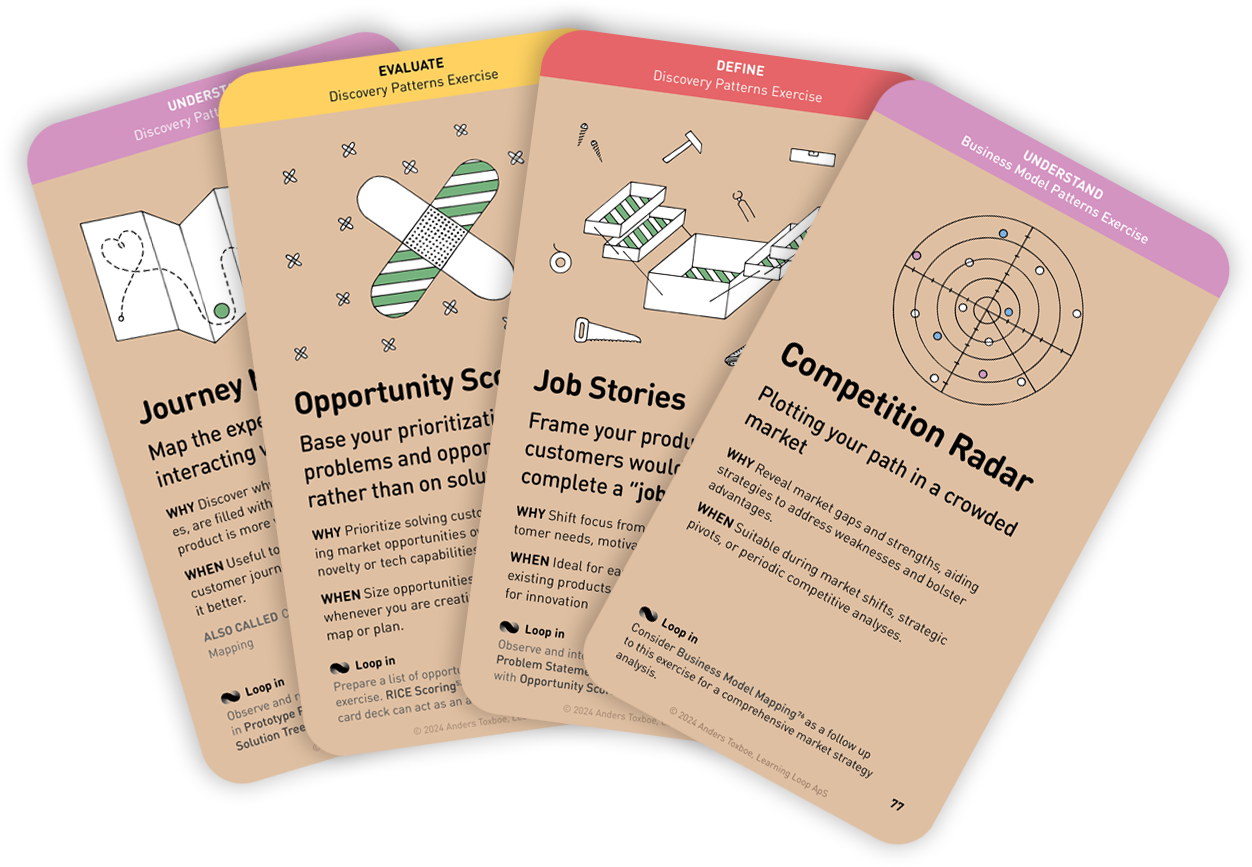 This workshop exercise is part of the Workshop Patterns printed card deck.
A collection of workshop exercises that will help you ditch dull meetings and facilitate with confidence. It will help you master the design process and have more productive time with your team. The card deck will be ready for purchase in the end of 2023 and is now undergoing rigorous testing.
Reserve your deck!
Instructions for running this play

Define your vision statement. The vision statement represents the future you're working towards. Use an existing vision statement or roadmap theme if you have them available. Ask what your desired future state looks like? How will it impact the team, stakeholders, customers, or the business?
Define your starting point. Take time to understand your current position to identify the gap you have to cross. Let participants answer questions like: How far are we from our vision? How can you define the situation you're in? Where have you not yet achieved your vision statement?
Define Stepping Stones. Each stepping stone toward making your vision come true represents a significant milestone that each brings you one step closer. Brainstorm potential milestones and jot them down, without worrying about order or sequence. The stepping stones allow you to take a free-form path. It's about alternatives, not creating a definite map.
Supporters and Blockers. While defining stepping stones, you can also look out for supporters (things that can help you get closer to the vision) and blockers (things that make it harder). In coming up with more steps, try to use your supporters and neutralize the blockers.
Arrange Stepping Stones. Working backwards from the vision, place these milestones along a timeline, representing when they would need to occur. Adjust placements as necessary to reflect dependencies and sequencing. This isn't a rigid path but rather a suggested sequence that can be adjusted as you navigate your path forward.
Tips to perfect this play
Master and adapt the play to fit your context and needs.
Tip: Check-ins
Check in frequently to assess progress, adjust stepping stone placement, and address new supporters or blockers.
Tip: Use the river analogy
Use the analogy of crossing a river, drawing two banks and a river with stepping stones in the middle on a large surface.