The Learning Sheet goes hand in hand with the Experiment Sheet. It allows you to systematically capture insights from your experiments and turn them into actionable learnings. These two tools paired together will steer your early experiment efforts in the right direction and help you make sure that you make the resulting decisions and actions explicit.
The Learning Sheet forces you to make the following explicit:
The hypothesis you went out to test
Your observations, discoveries or learnings from the field
What insights you gained from the experiment - what learnings you deducted from what you observed
Next steps: how you will act upon this learning – what actions you will take or decisions you will make
The sheet help you capture insights in the process of turning your product ideas successful.
Download the Learning sheet
Why
The learning sheet forces you note critical factors about what you learned from an experiment and will help you ensure that you make the resulting decisions and actions explicit.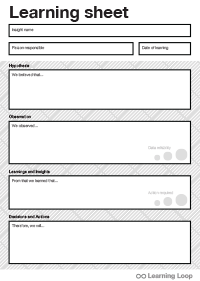 We collect your information in order to personalize the learnignloop.io website to better serve your needs. By submitting your data you consent to us sending you marketing communications about Learning Loop and occasional information that might be valuable for you. Your information is safe with us and you can withdraw your consent at any time. Don't worry, we protect your data with care.