Run a Customer Loyalty Program play
Element
Also called: Affinity Club
Key Partners
Key Activities
Value Propositions
Customer Relationships
Customer Segments
Key Resources
Channels
Cost Structures
Revenue Streams
The business model canvas was designed by Business Model Fondry AG and distributed under a Creative Commons license.
How: Provide incentives that target recurring customer interaction, fostering an emotional connection or simply rewarding with special offers beyond the product or service itself.
Why: Boost retention rates by providing relevant reasons for customers to return.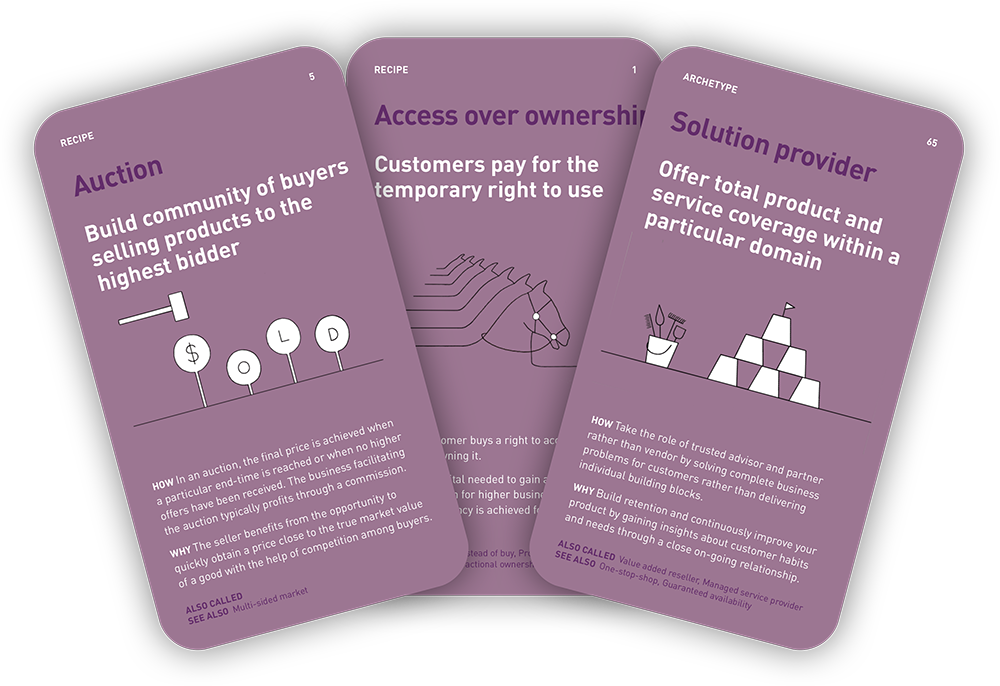 This business model is part of the Business Model Patterns printed card deck.
A collection of business models that will help you understand the key drivers of business model success. The card deck will be ready for purchase in the end of 2023 and is now undergoing rigorous testing.
Reserve your deck!
In the realm of customer lifetime, companies aim to retain customers and cultivate their loyalty by providing added value beyond basic products or services. This can be achieved through the implementation of incentive-based programs, which seek to establish a relationship with customers and encourage their loyalty through rewards and special offers. The ultimate goal of such programs is to bind customers to the company, thus discouraging them from seeking out competitors and protecting the company's revenue.
One common method of maintaining customer loyalty is through the use of card-based loyalty programs. These programs track customer purchases and calculate the corresponding rewards, which can take the form of physical products or discounts on future purchases. By offering discounted prices to loyal customers, companies can entice them to return to their store frequently.
While loyalty programs may appeal to customers' rational purchasing decisions, they also tap into psychological effects, such as the "bargain hunting" instinct, which can ultimately shape customers' shopping decisions based on the rewards they can earn through the program, even if those rewards only amount to a small percentage of their overall spending.
In addition to providing value to customers, loyalty programs can also generate valuable data for businesses. Depending on the system in place, companies can gain a comprehensive record of individual customer shopping behavior, which can be analyzed to optimize future offerings, enhance advertising efforts, and drive additional sales. For e-businesses, the option to link rebates directly to customer accounts allows for automatic discounts on future purchases.
Loyalty programs are especially relevant in the context of online sales, where there is a lack of physical interaction between the customer and the business. An alternative to traditional loyalty programs is the implementation of cashback programs, which allow customers to receive direct monetary returns on their purchases rather than physical rewards or rebates.
Where did the Customer Loyalty Program business model pattern originate from?
The concept of customer loyalty programs has a long history dating back over 200 years. In the late 18th century, American traders began giving tokens to customers, which could be collected and exchanged for additional products. In the 19th century, retailers started distributing badges and stamps that could be redeemed for vouchers upon customers' return to the store.
One of the first third-party loyalty programs was introduced by the American company Sperry & Hutchinson in the form of Green Shield Stamps. Under this program, customers were entitled to receive stamps when making purchases from participating retailers such as supermarkets, petrol stations, and shops. These stamps were collected in a special book and could be redeemed for products from a catalogue or the Green Shield Stamps store once a certain number of points was reached. Retailers purchased the stamps from Sperry & Hutchinson and distributed them to customers, offsetting the cost through increased customer loyalty and revenue. The program was popular with all parties involved and also generated additional income for Sperry & Hutchinson through the sale of stamps.
Applying the Customer Loyalty Program business model
The Customer Loyalty Program business model is effective in a wide range of situations and has become something of a necessity in today's competitive business environment. A customer-centric culture is crucial for a company's long-term success, and implementing loyalty programs is an excellent way to engage with customers and increase their loyalty and identification with the brand. Winning and retaining customers requires a combination of art and science, and companies must strive to master this balance in order to thrive.
Trigger Questions
What can we give back to loyal customers that they value?
How and where can you communicate with customers to build loyalty?
How can we most effectively understand our customer's needs?
Is it possible for us to offer value to our customers through some form of reward or benefit?
How can we inspire our customers to become enthusiastic supporters of our brand?
Could we adopt a similar approach to customer interaction as sports clubs, fostering a sense of community and fanaticism?
Examples
Sephora
When a customer's annual spend increases, so does access to exclusive rewards like private hotlines and exclusive events.
Amazon Prime
An annual flat fee provides free shipping and other benefits, increasing the total transaction frequency by Prime members.
American Airlines: AAdvantage
The Advantage program was one of the first loyalty programs in the commercial flight industry. By gathering information through its flight booking system, Sabre, the company was able to identify frequent flyers and offer them participation in the program, which rewarded them with air miles for each booking. These points could be redeemed for upgrades, future bookings, special offers, and other benefits, and the costs of the program were offset by the consistent revenue it generated.
Payback
A German loyalty card program with over 26 million users. Customers are credited with points for every cent spent, which can be redeemed for cash, exchanged for rewards on the Payback website or from partners, or donated to charity. Payback tracks the purchasing behavior of customers with partner firms, and the majority of customers (80%) give the company consent to store their data. This data is used for data analysis and targeted advertising campaigns, which can improve marketing efforts and drive higher sales and revenue for Payback and its partners.