Run a User Designed play
Recipe
Also called: Co-creation, User Design
Key Partners
Key Activities
Value Propositions
Customer Relationships
Customer Segments
Key Resources
Channels
Cost Structures
Revenue Streams
The business model canvas was designed by Business Model Fondry AG and distributed under a Creative Commons license.
How: Provide customers with the necessary tools, infrastructure, and support to allow them to design and merchandise a product to themselves or to your customer base.
Why: Benefit from the creativity of your customers.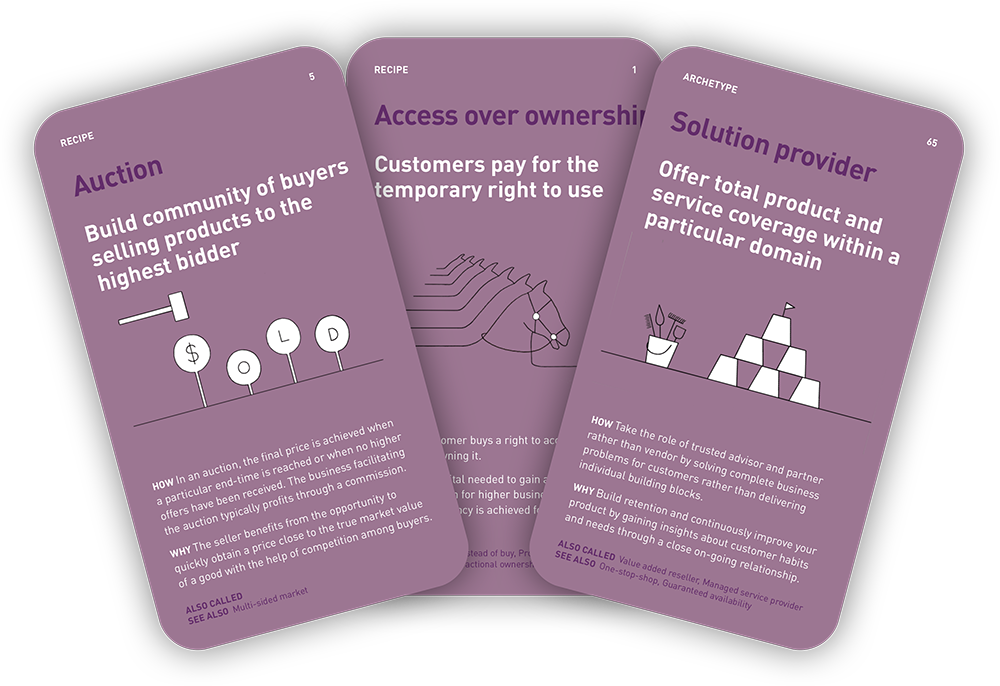 This business model is part of the Business Model Patterns printed card deck.
A collection of business models that will help you understand the key drivers of business model success. The card deck will be ready for purchase in the end of 2023 and is now undergoing rigorous testing.
Reserve your deck!
The User Designed business model is one in which customers act both as designers and consumers. By participating in the product development process, they are able to bring their own entrepreneurial ideas to fruition without the need for extensive infrastructure.
An online platform provides customers with the necessary support to design and market their products. This includes access to product design software, manufacturing services, and an online shop to sell the finished product. The company earns revenue through a fixed fee for each item sold, typically based on realized returns.
The key advantage of the User Designed model is that a company does not have to invest in developing its own products. Instead, it focuses on facilitating customer creativity and harnessing it for profit. This allows for a more dynamic and cost-effective approach to product development.
Where did the User Designed business model pattern originate from?
User Designed products are a relatively recent phenomenon, made possible by advancements in job production techniques such as 3D printing, CNC milling, and laser cutting. These technologies allow for the creation of products in small batches at an affordable cost, a key characteristic of user-designed products. The concept of mass customization has also played a role in the rise of user-designed products, as it has raised customer awareness of the possibility of personalized goods.
One of the early leaders in the field of user-designed products was US-based company Threadless. Founded in 2000 with a mere $1,000 by Jake Nickell and Jacob DeHart, Threadless is an online community of artists that operates an e-commerce website. Designs are created, evaluated, and chosen by the online community through a weekly public voting process. The staff reviews the top-scoring designs and selects around ten to be printed on clothing and other products. These designs are sold worldwide through the online store and the company's retail store in Chicago. Designers whose work is printed receive $2,000 in cash and $500 in Threadless gift cards, with additional payments of $500 for each reprint of the design.
The emergence of user-designed products has opened up new opportunities for both customers and companies. Customers can now create products that reflect their personal tastes and preferences, while companies can benefit from tapping into the creativity of their customer base. The success of companies like Threadless, demonstrate that user-designed products can be a profitable business model, providing benefits for both parties involved.
Applying the User Designed business model
User Designed is a concept that holds particular promise within industries that feature products that are relatively simple yet captivate customers through their design. This approach aligns with the growing trend of social communities in which individuals are eager to participate in the creative process, providing input and building upon the ideas and solutions of others.
Adopting the User Designed business model not only grants access to fresh and inventive designs, but also cultivates a community of engaged and invested customers who will become ambassadors for your brand. This, in turn, will greatly enhance your company's reputation and standing within the industry.
The User Designed business model also helps to establish a community of individuals who are invested in your products and solutions. This community will provide valuable feedback, ideas and support, fostering a sense of connection and collaboration that will ultimately benefit the growth and success of your company.
The power of co-creation
The User Designed enabled platform Threadless, allowing individuals to upload their designs to be printed on merchandise through a series of competitions or votes by the community, is a prime example of the power of co-creation. The platform's success is directly related to the degree of interest and motivation demonstrated by its users to engage with and evaluate the contributions of others. This highlights the importance of fostering a sense of community and encouraging active participation among platform users in order to maintain momentum and drive growth.
Building a Community
By acknowledging and valuing the contributions of its users, the platform is able to foster a sense of community and build strong connections with its patrons. This can be achieved through providing a dedicated forum for exchange of ideas, and by recognizing and rewarding active participation.
The advent of digital technologies has played a significant role in the success of online platforms such as this. The rise of social media platforms such as Twitter and Instagram, have made it easier for online businesses to establish a strong presence and build closer relationships with customers. This has led to increased trust and loyalty among patrons and has provided valuable feedback that can be used to improve services and operations.
Making a platform for User Designed creations work
There are number of considerations to have in mind, embarking on creating a platform fostering User Designed creations.
Quality and Safety. When implementing the User Designed business model, it is paramount to establish a rigorous process for ensuring the quality and safety of user-generated designs. This not only preserves the integrity of your brand, but also protects your customers from any potential hazards. A robust evaluation process will help to ensure that designs meet your standards and adhere to industry regulations, thus safeguarding the well-being of your customers.
Community and Engagement. In order to fully realize the potential of User Designed, it is essential to foster a sense of community and engagement among your customers. Encourage customers to share their designs, provide feedback, and collaborate with others. This not only creates a sense of connection and participation, but also helps to build a loyal customer base that is invested in your products and solutions.
Evaluation and Feedback. To ensure that user-generated designs meet your standards, it is necessary to establish a system for evaluating and providing feedback on designs. This not only helps to ensure that designs meet your standards but also improves the user-generated designs over several iterations. By providing constructive feedback, you can help to guide users in creating designs that align with your brand and meet the needs of your target audience.
Trigger Questions
How would Threadless manage our business?
How can you leverage a higher perceived value of your product as users contribute their own work?
How can you integrate sufficient quality assurance and feedback to users to increase the quality of their input?
In what ways can we enhance collaboration and correspondence with our patrons?
Can we leverage social media to facilitate user participation in our design process?
Examples
LEGO Ideas
Fans can submit product ideas that, if liked over 10,000 times, are reviewed by LEGO and possibly put into production.
Threadless
Popular t-shirt designs are discovered as community members vote on submitted ideas. The best make it to real products.
Nike
Nike's NIKEiD platform allows customers to customize and design their own Nike shoes, from the color and materials to the text and graphics. This not only allows customers to express their individuality and creativity, but also creates a sense of ownership and attachment to the product.
G-Shock
Casio's G-SHOCK brand has a Customize My G-Shock website where customers can create their own unique designs and even order them. This website has been successful in building brand loyalty and creating a sense of community among G-Shock fans.
Threadless
Popular t-shirt designs are discovered as community members vote on submitted ideas. The best make it to real products.
Threadless
Popular t-shirt designs are discovered as community members vote on submitted ideas. The best make it to real products.