Key Partners
Key Activities
Value Propositions
Customer Relationships
Customer Segments
Key Resources
Channels
Cost Structures
Revenue Streams
The business model canvas was designed by Business Model Fondry AG and distributed under a Creative Commons license.
How: Provide the platform, rules and regulations, and payment methods to facilitate interactions between two groups of individuals.
Why: The Peer-to-Peer network effect can help increase the platform exponentially while costs grow linearly, if at all.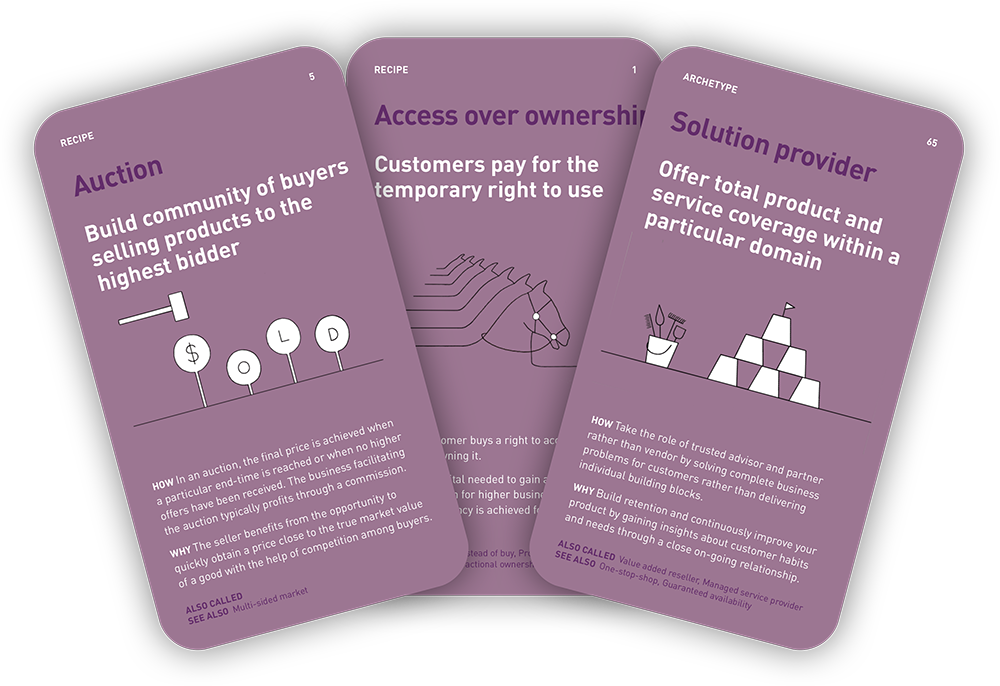 This business model is part of the Business Model Patterns printed card deck.
A collection of business models that will help you understand the key drivers of business model success. The card deck will be ready for purchase in the end of 2023 and is now undergoing rigorous testing.
Reserve your deck!
The concept of Peer-to-Peer (P2P) has its roots in the computer industry, where it refers to the communication between two or more equal machines. In the realm of business models, P2P typically encompasses transactions between individuals, such as lending personal possessions, providing specific goods and services, and sharing information and experiences. The organizing entity acts as a facilitator, ensuring the safe and efficient handling of these transactions and potentially becoming a hub for community connections. As the model matures, it can be monetized through transaction fees, advertising, or donations.
One of the key benefits of P2P business models is that customers have access to private products and services in a similar manner to commercial offerings. Furthermore, consumers often find value in the social aspects of P2P networks. To succeed in implementing this model, a company must establish a trustworthy image of the various offerings. This is essential as users appreciate the opportunity to purchase privately produced products and services, but also desire the simplicity and ease of commercial transactions.
Where did the Peer-to-Peer business model pattern originate from?
The Peer-to-Peer business model began to take shape in the early 1990s, with the advent of the internet playing a significant role in its emergence. Additionally, the trend of "collaborative consumption" has also contributed to the development of P2P models. This trend centers around the idea of reviving community spirit and the communal use of resources. One of the pioneers of this model is the online auction site, eBay, which has provided individuals in over 30 countries the opportunity to auction off items they no longer need. Today, eBay handles over 12 million auctions daily on a global scale.
Applying the Peer-to-Peer business model
Peer-to-Peer models are particularly effective in online communities. The fundamental idea behind this pattern is to enhance marginal utility. As more users join the network, it becomes more attractive to other users, creating a self-reinforcing cycle. This dynamic leads to a 'winner takes all' scenario, making it increasingly challenging for new players to enter the market.
Advantages of the Peer-to-Peer model
A number of advantages can be gained from applyinng the Peer-to-Peer model.
No inventory needed. One of the primary advantages of marketplaces is that setting up one is relatively fast and inexpensive. In most industries, investing in inventory is the biggest startup expense. But marketplace businesses don't have to pay for inventory; suppliers create it for them.
Network effects. Peer-to-Peer marketplaces have the chance to enjoy powerful built-in network effects. Businesses with network effects often scale much quicker than those without. If each new user increases the overall value of the platform, then the business has network effects.
Readily accessible no-code Peer-to-Peer marketplace builders. For a long time, the primary barrier to developing a Peer-to-Peer marketplace was the complexity of building a site that could handle both buyers and sellers. But technology has advanced rapidly. There are software solutions that help entrepreneurs launch their Peer-to-Peer marketplaces faster.
Leveraging Core Competence. The Peer-to-Peer business model enables individuals and small businesses to concentrate on their core skills, by providing a focused target market in one place. This allows them to gain more business at minimal expense and without the need for significant investments in marketing and advertising.
Cost-Efficiency. The Peer-to-Peer business model allows for the elimination of middlemen, resulting in cost-savings that can be passed on to both service providers and customers. Since most Peer-to-Peer platforms charge a fixed fee, users and providers can benefit from economies of scale, with transaction costs remaining stable as sales increase.
Challeenges when applying the Peer-to-Peer model
There are also a number of challeenges that makes applying the Peer-to-Peer model successfully hard
Quality Control. The Peer-to-Peer business model's greatest disadvantage is that intermediary companies cannot exert control over the quality of services provided, as they cannot vet participants to establish quality standards. This leads to many users having negative experiences on these websites and a decline in the model's overall popularity.
Delayed Payments. Some Peer-to-Peer companies retain payments for extended periods of time, taking advantage of asymmetric bargaining power to earn interest on funds that do not belong to them, causing cash flow problems for service providers.
Future Growth. The Peer-to-Peer business model is quickly gaining popularity, as more start-ups are innovating using this model. It has not yet produced as many unicorns and billion-dollar companies as other models, but it is likely to witness high growth in the immediate future.
Solving the Wrong Problem. Before dedicating ample resources, ensure the validity of your concept by releasing an initial version swiftly. Utilize feedback from early adopters to enhance the marketplace.
Focus on a small niche and vertical. Initially focus on a small niche and vertical to find the right fit. Avoid lack of focus that can hinder business growth, especially in the early stages. Once product-market fit is found, scale to other markets and categories.
Peer-to-Peer marketplaces
An online Peer-to-Peer marketplace connects people who own a product or offer a service with people who want to buy or rent it. The role of the marketplace is to help these two groups of people find each other. The site also handles payments and helps build trust between the parties. Peer-to-Peer marketplaces don't need to own or provide any of the products or services offered on their platforms. This makes them relatively inexpensive to start.
Peer-to-Peer marketplaces come in several forms, whereof these are some of the most recurring types.
Peer-to-Peer rental. Peer-to-Peer rental lets consumers rent items from other consumers. Famous examples include Airbnb, Turo, and Vrbo. These platforms help consumers find each other, trust one another, and make secure payments. Opportunities for these kinds of marketplaces are everywhere. For example, Sharetribe customers have built sites for swimming pools, cars, sporting equipment, and much more.
Peer-to-Peer products. Etsy is an example of a tremendously successful Peer-to-Peer product marketplace. On Etsy, anyone can sell handmade items to other consumers – the marketplace helps connect buyers and sellers and facilitates their transactions. Secondhand sites like Poshmark are another common example. And as marketplace technology is becoming more and more accessible, many have started thriving businesses by focusing on serving a clearly defined niche.
Peer-to-Peer services. Peer-to-Peer service marketplaces connect consumers who want to buy services from other consumers. Uber and Lyft are renowned examples.
Finding the right Peer-to-Peer revenue model
As you embark on building your marketplace, it is crucial to deliberate upon your revenue model. Initially, it may seem prudent to keep costs low to attract more users; however, in the long run, the revenue model must finance the operations of the enterprise.
Commission-based revenue model
The majority of Peer-to-Peer marketplaces adopt commission-based models. Under this model, the business takes a commission on every transaction made on the platform; either as a percentage cut or as a fixed fee. The key advantage of this model is its versatility, as it works for all marketplace types, be it services, products, or Peer-to-Peer rentals. The most successful marketplaces, such as Airbnb, Etsy, and Uber, have all built their businesses on a commission structure.
Commission-based models are a popular choice for a reason - they make it easy to recruit providers, and they are very powerful as the business scales.
Providers aren't charged until they derive value from the marketplace. This makes it easy to bring providers onboard; it doesn't cost them anything to get started, and they only pay if they successfully make a sale.
The commission model scales well. The marketplace receives a commission on every transaction, so as the business grows, so does revenue.
One issue is platform leakage. If your website doesn't provide value in line with your commission structure, users will take business off your platform, resulting in missed commission. Strategies can be employed to mitigate this, but generally, you want your value proposition to be so compelling that your users see no reason to leave your marketplace.
Another challenge is building a payment structure that can apply a commission structure to all transactions that take place, and does so in compliance with global online payment regulations. This is a difficult task to accomplish independently, thus, utilizing marketplace software with pre-built payment integrations is a significant help.
Access fee revenue model
Other Peer-to-Peer marketplaces keeps the transaction between its peers free, but provides either access to certain users or specific features in exchange for a fee. Typically, the fee can be either percentage-based or a recurring fixed fee. In that way, this can act as a version of the Freemium busines model.
Lastly, some Peer-to-Peer companies earn their revenue by selling advertisements on their websites and mobile experiences. This model requires a significant number of users on both sides of the market place so that advertisers are willing to pay money to reach them.
Trigger Questions
What can you contribute to the community that will make users switch to your network?
How will you make it interesting for users to keep coming back to use your network on a periodic basis?
What aspirations do we hold for establishing a decentralized network?
At what point should we stop providing access to our platform for free and impose a revenue model based on fees or a freemium structure?
Popular tools
The tools below will help you with the Peer-to-Peer play.
Sharetribe

Build a marketplace business – marketplace software for every stage of your business life cycle
Examples
eBay
Pioneer of the P2P marketplace, facilitating sellers listing their products for a fee and buyers to discover and bid on them.
Dropbox
The cloud hosting platform lets you share file hosting space and individual files with other users of the platform.
Craigslist
It revolutionized the market by creating an online Peer-to-Peer network, undercutting the monopoly previously held by print media. Through free listings, Craigslist developed a digital Peer-to-Peer network that processes over 60 million new classifieds and 50 billion page views per month. It charges for certain listings such as job postings or apartment offers, while the remaining listings remain free of charge.
Zopa
Zopa works as a Peer-to-Peer credit platform, facilitating and securing money exchanges between individuals online. Users willing to lend money post the amount on the Zopa website with the desired lending conditions. The offer is then matched with someone wishing to borrow that amount under the stated conditions. Zopa works solely as an intermediary, bringing together borrowers and lenders, allowing for favorable lending terms for both parties. It receives revenue by charging both parties involved a fee for successful transactions.
Friendsurance
The basis of the concept consists in forming private insurance networks (e.g. four or five friends) over social networks. Taking car insurance for instance, the individual's network comes up with a certain amount of money in case of damage (e.g. €20 per person). The remaining amount is covered by a classic insurance back-up. This allows the company to achieve a reduction in customer insurance rates of up to 50 per cent.
Friendsurance
The basis of the concept consists in forming private insurance networks (e.g. four or five friends) over social networks. Taking car insurance for instance, the individual's network comes up with a certain amount of money in case of damage (e.g. €20 per person). The remaining amount is covered by a classic insurance back-up. This allows the company to achieve a reduction in customer insurance rates of up to 50 per cent.