Run a Cold Calling play
Also called: Canvas Calling
Difficulty: Easy
Evidence strength

Relevant metrics: Jobs ranking, Pains ranking, Gains ranking, Conversions
Validates: Viability, Desirability
How: Research relevant people with whom you want to gauge an interest to buy, work together, or give feedback. Prepare your pitch before calling and be ready to adjust it from call to call to better your success rate.
Why: Create an audience or network if you don't have one. Getting a result from cold calling is hard, so convincing just a few to meet or talk is a win and in many case enough to qualify validation.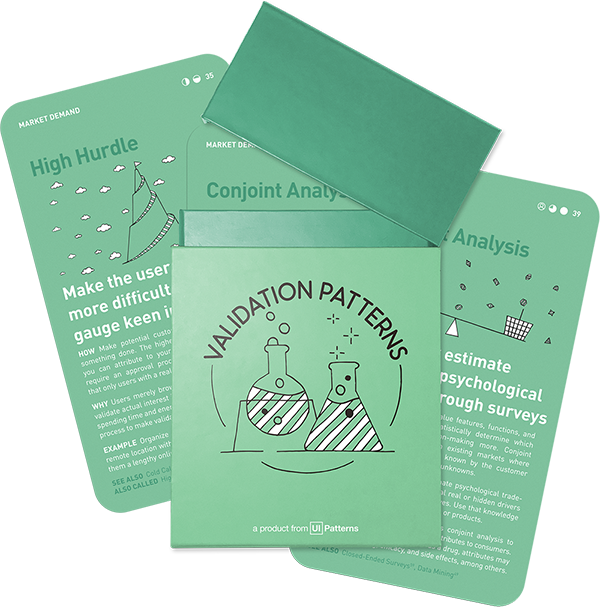 This experiment is part of the Validation Patterns printed card deck
A collection of 60 product experiments that will validate your idea in a matter of days, not months. They are regularly used by product builders at companies like Google, Facebook, Dropbox, and Amazon.
Get your deck!
Before the experiment
The first thing to do when planning any kind of test or experiment, is to figure out what you want to test. To make critical assumptions explicit, fill out an experiment sheet as you prepare your test. We created a sample sheet for you to get started. Download the Experiment Sheet.
Cold calling as a high hurdle
Of all sales techniques available, cold calling is many times viewed as being the least popular as cold calls are often seen as a pain for the recipient – an invasion of privacy and a waste of time. Because of this, many consider a significant result of cold calling as an extra valid proof as there are quite a few barriers that need crossed.
Don't ask for the sell up front
Selling your product (getting paid) through cold calling is hard. It is a rare case that strangers willingly offer you their money for your product having only been exposed to your product vision for minutes. Instead, it makes sense to lower the barrier of the commitment you are asking for: 10 minutes of their time to listen to their problems and needs or a sample of your product delivered without cost. The hope of this tactic is to get a foot in the door and pave the road for a larger commitment further down the road.
After the experiment
To make sure you move forward, it is a good idea to systematically record your the insights you learned and what actions or decisions follow. We created a sample Learning Sheet, that will help you capture insights in the process of turning your product ideas successful. Download the Learning Sheet.
Examples
Uber
To test willingness to commit, Uber co-founder Travis Kalanick cold called limousine drivers in San Francisco found via Google search. Out of 10 drivers called, three hung up, some listened for around 45 seconds, and three were willing to meet. Three out of 10 agreeing to meet validated his commitment hypothesis.
Source: From cold call to $17 billion startup: How Uber got started with sales calls!