Run a Sell the Future play
Also called: Solution Interview, Demo Pitch, Pre-sales Test
Difficulty: Intermediate
Evidence strength

Relevant metrics: Acquisition, Customer Feedback
Validates: Viability, Desirability
How: If a customer wants a specific feature, say that it's on your roadmap, but if the customer is willing to put out money for the feature now, you will move it to the top.
Why: For companies selling B2B solutions, selling an unbuilt future to a customer can help validate market demand and willingness to pay, and also help finance development costs.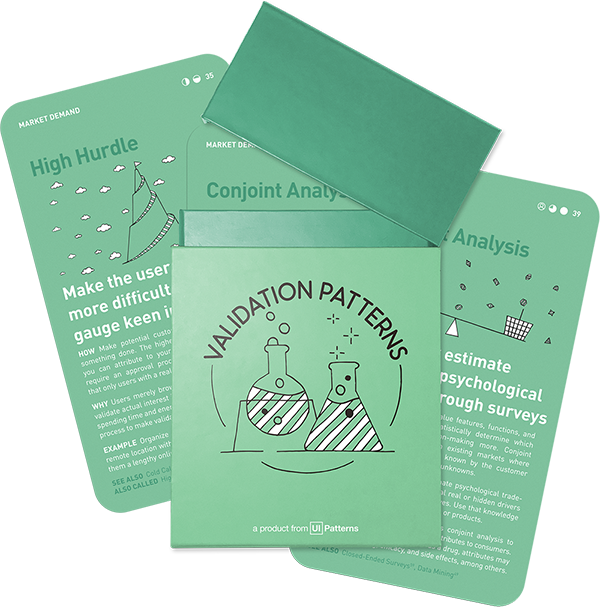 This experiment is part of the Validation Patterns printed card deck
A collection of 60 product experiments that will validate your idea in a matter of days, not months. They are regularly used by product builders at companies like Google, Facebook, Dropbox, and Amazon.
Get your deck!
Before the experiment
The first thing to do when planning any kind of test or experiment, is to figure out what you want to test. To make critical assumptions explicit, fill out an experiment sheet as you prepare your test. We created a sample sheet for you to get started. Download the Experiment Sheet.
After the experiment
To make sure you move forward, it is a good idea to systematically record your the insights you learned and what actions or decisions follow. We created a sample Learning Sheet, that will help you capture insights in the process of turning your product ideas successful. Download the Learning Sheet.
Examples
Actimo
B2B mobile communication platform provider, Actimo, has created a "Product Partnership" with key customers. If enough key partners are willing to help finance a roadmap feature, it is moved up the backlog. Beside paying money to shape the future product, the partner also commits to sharing critical insights and knowledge about their own wants and needs.
Source: Actimo