Run a Assumptions Mapping play
Why: Uncover hidden assumptions to prevent project pitfalls and strengthen the decision-making process
When: Early stage exercise for when assumptions are likely still unverified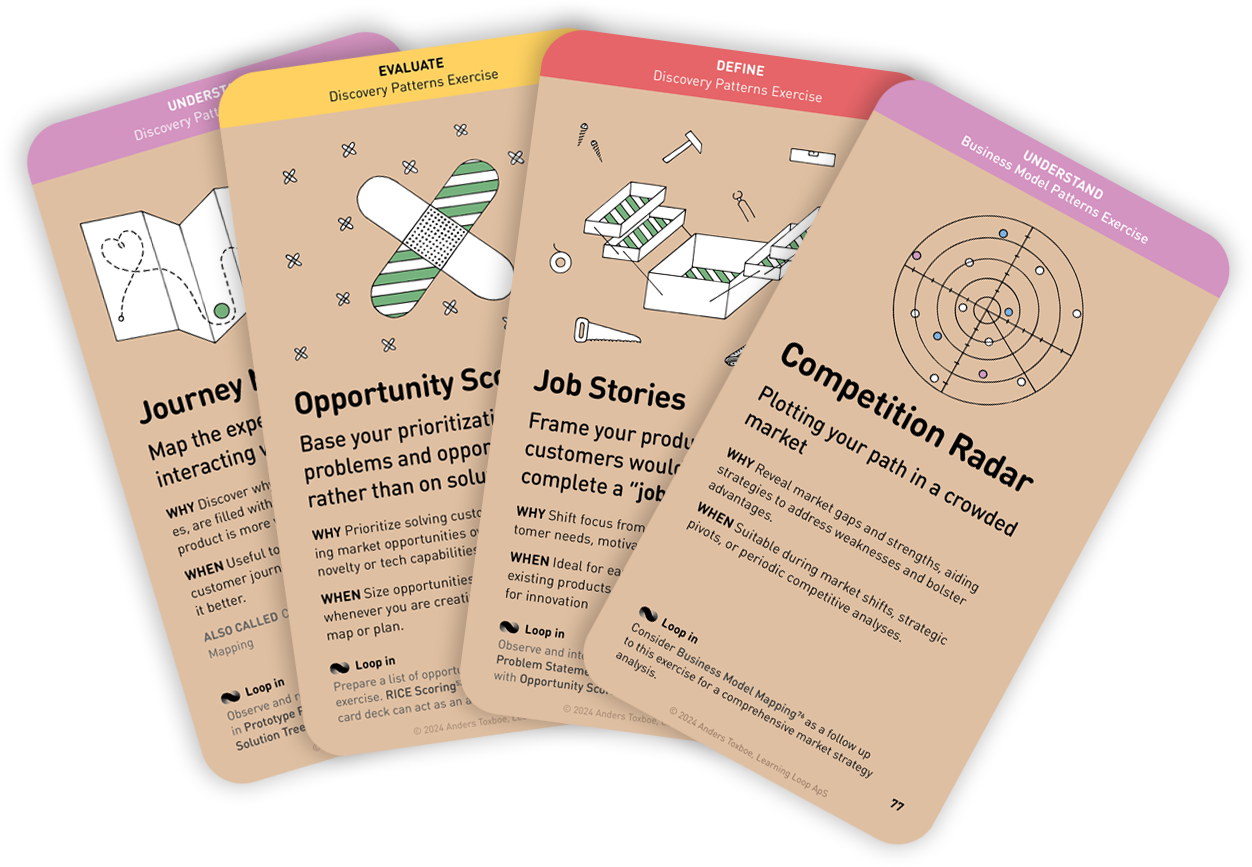 This workshop exercise is part of the Workshop Patterns printed card deck.
A collection of workshop exercises that will help you ditch dull meetings and facilitate with confidence. It will help you master the design process and have more productive time with your team. The card deck will be ready for purchase in the end of 2023 and is now undergoing rigorous testing.
Reserve your deck!
Instructions for running this play
Draw the X axis of the canvas first and map your assumptions in regards to "have evidence" vs "no evidence". Consider using different colored sticky notes for respectively desirability, viability, and desirability assumptions.
Then draw the Y axis and map 'important' vs 'unimportant' in the same manner.
The assumptions in the top right quadrant are your leap of faith assumptions. These are unproven critical assumptions and should be on top of your experiment backlog.
Double check the left quadrant with your team's plan. Have you already set actions in motion to act on these proven assumptions?
Defer commitment on everything below the X axis for now, but keep in mind that it is hard to say whether an "unproven unimportant" assumption is in fact unimportant. Future qualitative discovery research might deem these assumptions important.
Tips to perfect this play
Master and adapt the play to fit your context and needs.
Tip: Just a snapshot
This Assumptions Map is a living document and is an iterative process. Take snapshots of it to document how things have changed and what you have learned over time.
Tip: Replace x-axis
Consider replacing the Known vs Unknown axis with Have evidence vs No Evidence or High Confidence vs Low Confidence
Tip: Relace y-axis
Consider replacing the Important vs Unimportant axis with High Impact vs Low Impact or Crucial vs Non-crucial