Run a Prune the Product Tree play
Why: Visualizes product strategy, addressing problems of misalignment in prioritization and ambiguity in product direction
When: Ideal when deciding on feature prioritization or when product direction seems ambiguous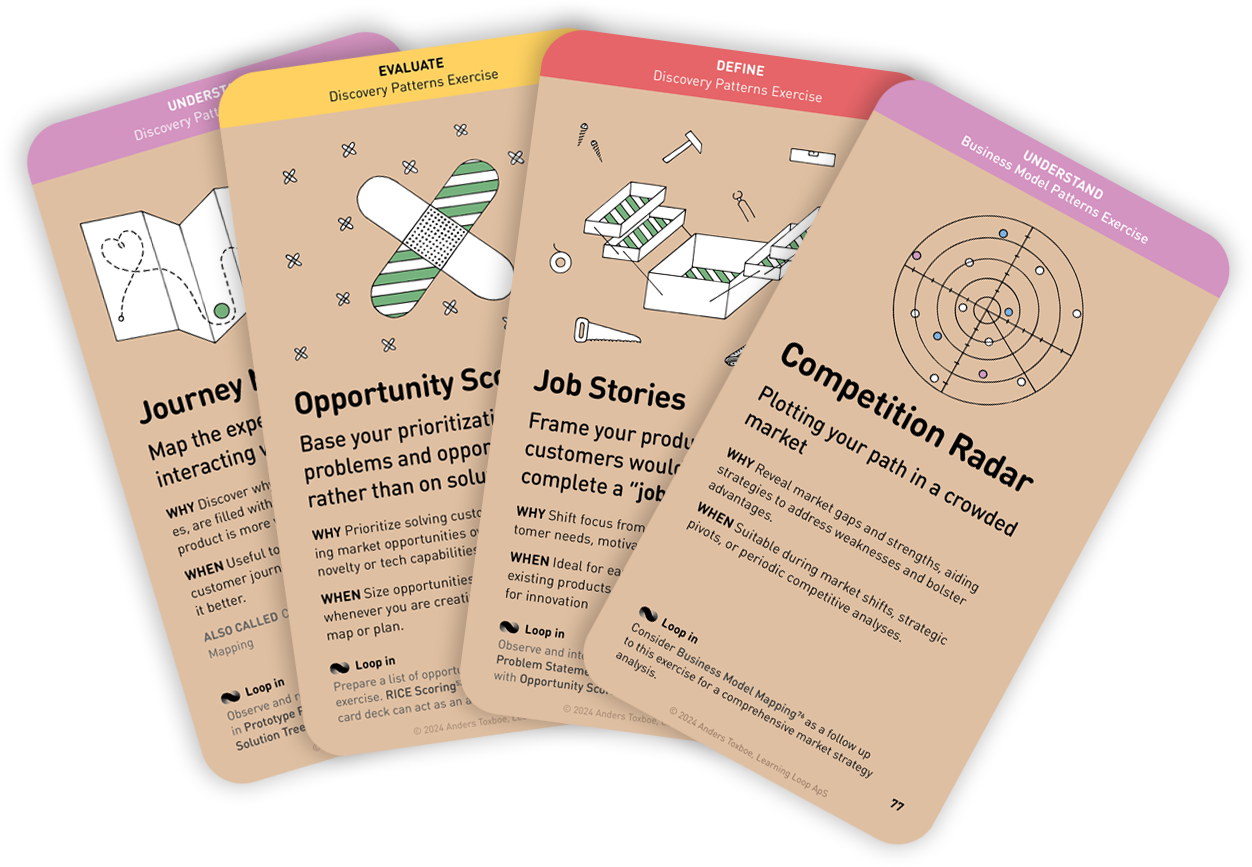 This workshop exercise is part of the Workshop Patterns printed card deck.
A collection of workshop exercises that will help you ditch dull meetings and facilitate with confidence. It will help you master the design process and have more productive time with your team. The card deck will be ready for purchase in the end of 2023 and is now undergoing rigorous testing.
Reserve your deck!
Instructions for running this play
Setup. Draw a tree with a trunk, branhes, and roots on a large surface or use a canvas. In this exercise, we will use these elements:

The trunk represents existing core features.
Branches are feature branches with thickness corresponding to importance.
Roots represent the infrastructure that supports your product. The bigger it gets, the more support they need.
The leaves are individual features that the workshop participants will place on the branches. The closer the leaves are to the trunk, the closer they are to being delivered.

List features. Let participants Silent Storm current/prospective features for 5 minutes on sticky notes. Keep blank notes for new ideas.
Prune the Tree. Place features as leaves on branches, nearer to the trunk implies higher priority. Discuss importance and adjust as each feature is placed. Encourage creativity: it is OK to add more features as you go along.
Discuss and compare. Discuss trees, compare with existing roadmap. Analyze pruned features, tree balance, product growth pace, infrastructure needs for strategy insights.
Tips to perfect this play
Master and adapt the play to fit your context and needs.
Tip: Multiple trees for large groups
If you have more than 10 people joining in, prepare multiple sets of trees and leaves
Tip: One observer per tree
Have one observer per tree, whose role it is to ask the participants to clarify what they mean if there's anything ambiguous on the tree.
Tip: Unbalance is good
An unbalanced tree isn't necessarily bad thing, but can open up the conversation about why it's unbalanced.
Tip: Invite stakeholders
Invite stakeholdres so they can negotiate and defend their positions amongst themselves