Run a Classified Posting play
Evidence strength

Relevant metrics: Views, Comments, Click through rate (CTR), Cost, Requests
Validates: Desirability
How: Create cheap or free classified postings soliciting purchases, sign-ups, or feedback from potential customers. You can get started with just a headline, an image, and the most basic details to start pulling in your first business.
Why: Posting a classified ad in forums of your target audience will help you validate whether those audiences have a demand for your product and whether they want to pay for it.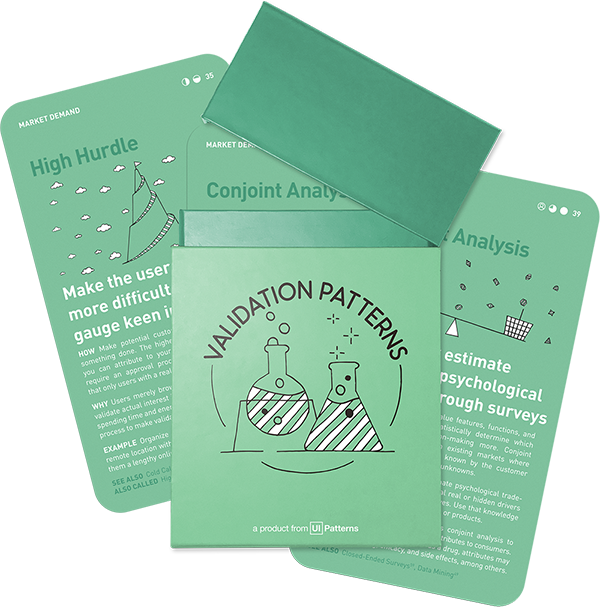 This experiment is part of the Validation Patterns printed card deck
A collection of 60 product experiments that will validate your idea in a matter of days, not months. They are regularly used by product builders at companies like Google, Facebook, Dropbox, and Amazon.
Get your deck!
Before the experiment
The first thing to do when planning any kind of test or experiment, is to figure out what you want to test. To make critical assumptions explicit, fill out an experiment sheet as you prepare your test. We created a sample sheet for you to get started. Download the Experiment Sheet.
Test market demand and supply before automating
Classified postings, like those on CraigsList, is a great way to test both market demand and supply before automating it in a custom built market place. While running your business through classifieds ads is not scalable, they do provide access to a broader market of both demand (buying side) and supply (selling side).
After the experiment
To make sure you move forward, it is a good idea to systematically record your the insights you learned and what actions or decisions follow. We created a sample Learning Sheet, that will help you capture insights in the process of turning your product ideas successful. Download the Learning Sheet.
Popular tools
The tools below will help you with the Classified Posting play.
CraigsList

Popular and free classified listings site
Examples
AirBnB and Craigslist
To test market demand co-founder of AirBnB, Brian Chesky, started posting his air bed for rent on Craigslist before Airbnb was built.
After building their platform, they started finding listings on Craigslist and solicited its users to place their ads on the Airbnb platform.
Purple Panda
To test whether customers would buy standard household tasks like raking leaves, painting, and moving household items, they listed those offers on Craigslist, charging $20 an hour for the service. When a job came in, they would again go to Craigslist to find people who would do it - for $16. In 3 weeks, the two founders made $3421 in this hand-held way.
Source: The Perfect MVP: How Purple Panda Earned $3421 While Validating Their Startup on Craigslist