Run a Run Test Ads play
Also called: 404 Testing
Difficulty: Intermediate
Evidence strength

Relevant metrics: Views, Click through rate (CTR), Cost per click
Validates: Desirability
How: Create ads that take viewers to a page soliciting email sign-ups and possibly pre-orders. Experiment with ad text, keyword, text, and audience variations to understand which value proposition and audience match has the highest interest and yields the highest return.
Why: With a relative low effort you can conduct targeted and measurable tests on the wording of your value proposition and audience segments quickly without having an existing audience or product. Run test ads to determine what wording and benefits respond better with users before implementing and experimenting with more expensive landing pages.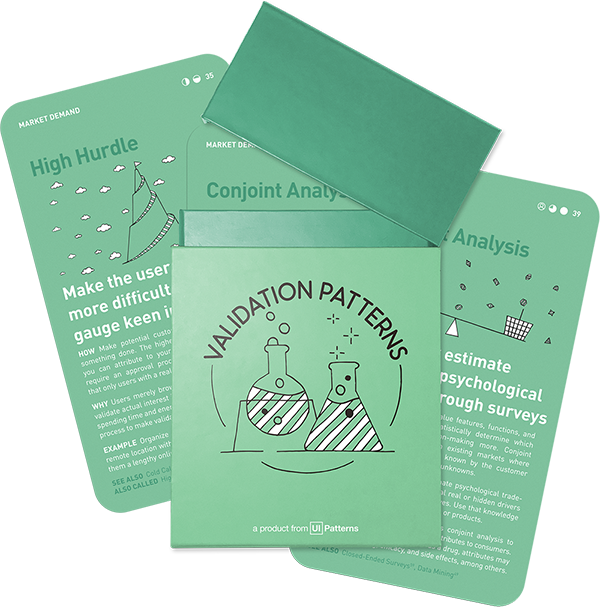 This experiment is part of the Validation Patterns printed card deck
A collection of 60 product experiments that will validate your idea in a matter of days, not months. They are regularly used by product builders at companies like Google, Facebook, Dropbox, and Amazon.
Get your deck!
Before the experiment
The first thing to do when planning any kind of test or experiment, is to figure out what you want to test. To make critical assumptions explicit, fill out an experiment sheet as you prepare your test. We created a sample sheet for you to get started. Download the Experiment Sheet.
Always create multiple variations
The great thing about digital advertisement platforms is, that they all come with A/B testing built in. The auction feature will allow you to test multiple variaitons up against each other in a short time, cheaply, and up against a rather large (and possibly segmented) audience.
What metrics to watch
When evaluating results, there are several metrics to take note of:
Clicks-through-rate (CTR). Variations with a higher CTR convey a greater user interest.
Cost Per Click (CPC). A low CPC clues that its easier to find interested users in this target segment. Possibly because the segment is large. Possibly because the ad competition within that keyword or segment is not big.
Reach. While reach alone won't reveal how engaged that audience is, it does tell you something about the size of the segment you targeted.
After the experiment
To make sure you move forward, it is a good idea to systematically record your the insights you learned and what actions or decisions follow. We created a sample Learning Sheet, that will help you capture insights in the process of turning your product ideas successful. Download the Learning Sheet.