Run a Event play
Evidence strength

Relevant metrics: Attendees, Show up rate, Revenue
Validates: Desirability
How: Gauge customer interest in a problem by arranging a live event around solving it. It could be a meetup, a conference, a webinar, or similar. If you are ultimately creating a digital product, events can be used to smoke test the content or process that you would like to deliver digitally.
Why: Customers taking time out of their schedule to attend an event is a good proxy indicator for confirming not only that your audience has the expected pain points, but also their willingness to pay for solving a customer problem if you charge for the event. Creating an event for a target market is a product and by organizing one, you will need to figure out how to reach and communicate to your target market as well as what constitutes a useful, pleasant, and inspiring experience for its customers.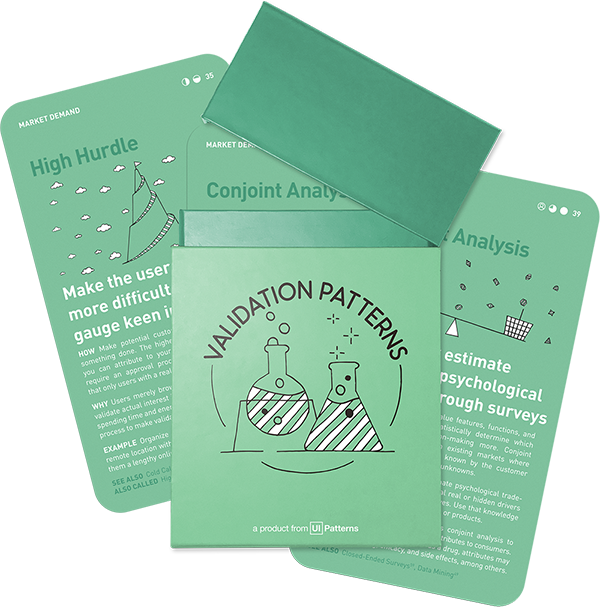 This experiment is part of the Validation Patterns printed card deck
A collection of 60 product experiments that will validate your idea in a matter of days, not months. They are regularly used by product builders at companies like Google, Facebook, Dropbox, and Amazon.
Get your deck!
Before the experiment
The first thing to do when planning any kind of test or experiment, is to figure out what you want to test. To make critical assumptions explicit, fill out an experiment sheet as you prepare your test. We created a sample sheet for you to get started. Download the Experiment Sheet.
Confirm pain points of the customer
By organizing and promoting an event, you are looking to confirm that your audience has the pain points you expect they have (the ones your event promises answer to).
Setting apart time to join a webinar is investing time in a topic and what you have to say and qualifies as a small hurdle. Attending a physical event signifies a larger hurdle and thus more data reliability. Furthermore, getting users to pay for event access, you are confirming willingness to pay to solve their problem.
Smoke test your content product
If your final intended product is a book, an online course or similarly represent a content product, putting on event to gauge demand is a quick, cheap, and easy way to do so.
Putting up an event increases learning velocity by scaling customer discovery up one step above one-to-one interviews. Further more, delivering content in front of a live audience provide for a great opportunity to probe whether the audience responds with excitement, understanding, and requests for more.
Events that smoke test customer interest and demand can take many forms:
Meetup group
Peer-to-Peer events (unconferences)
Mini half-day conferences
Gamestyle show
A trip together
Support groups
Networking and drinks
Webinars
Live video streaming (i.e. Facebook live streaming)
Benefits from the events experiment
Although events themselves can serve as reliable interest and problem validation, they can also help provide a series of other benefits that will help you build your audience:
Gathering qualified leads (test your channel)
Upsell or presell of other products or services
Breaks during your event are great opportunities for you to consolidate what you have learned. Breaks provide excellent unstructured time to interview your target audience.
After the experiment
To make sure you move forward, it is a good idea to systematically record your the insights you learned and what actions or decisions follow. We created a sample Learning Sheet, that will help you capture insights in the process of turning your product ideas successful. Download the Learning Sheet.
Popular tools
The tools below will help you with the Event play.
Examples
Validation Pattern card deck
Before releasing the Validation Pattern card for pre-order, the concept of a playbook full of product experiments was tested as a meetup event. Regular meetups in the group attracted around 50-60 participants so attracting 180 for this particular topic was considered validation of the topic.