Run a Find the Watering Hole play
Evidence strength

Relevant metrics: Jobs to be done ranking, Ranking needs, wants, desires, pains, Quotes & stories, Observations
Validates: Desirability
How: Go where your potential customers gather for pleasure or work to validate critical assumptions in an informal setting. Typical places are conferences, trade shows, seminars, bars, hotels, meetup groups, or other networking events.
Why: Finding the watering hole provides a direct channel to potential customers. People are eager to talk about the things they care deeply about and the problems they are trying to solve. Keep your conversations about the customer – about their world.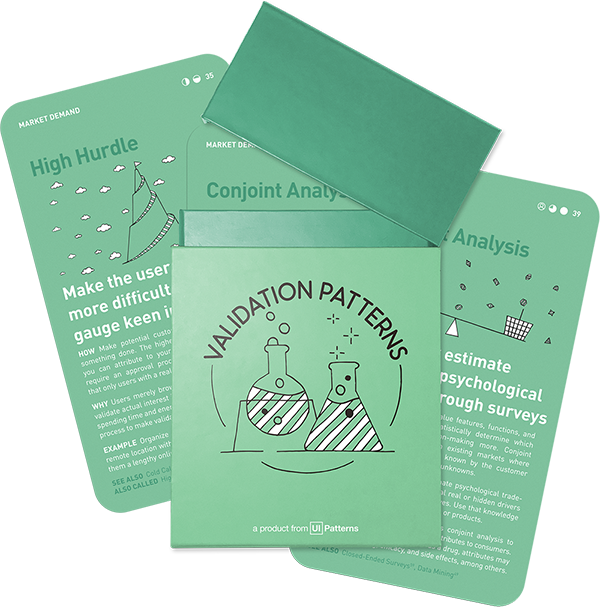 This experiment is part of the Validation Patterns printed card deck
A collection of 60 product experiments that will validate your idea in a matter of days, not months. They are regularly used by product builders at companies like Google, Facebook, Dropbox, and Amazon.
Get your deck!
Before the experiment
The first thing to do when planning any kind of test or experiment, is to figure out what you want to test. To make critical assumptions explicit, fill out an experiment sheet as you prepare your test. We created a sample sheet for you to get started. Download the Experiment Sheet.
Search for questions to find the watering holes
Google and other search engines are great sources for finding watering holes. A great hack for this is to imagine what questions your customers are asking and typing that into the search console. This technique can both help you reveal where your target audience spends time, what kind of people they are, but also how they are solving the problem today.
Good opening phrases for questions focus on how existing problems are solved. Examples could be:
"How to…"
"Best ways to…"
"Tutorial for…"
Examine the competition
Chances are that existing players in the market have already found part of the watering hole and have attracted users from it. A great tool for analyzing competitor audiences is SEO link tools, which lists all inbound links to a competitor's site. These will not only show where your audience might gather, but also hint as to how your can mention your product in an non-intrusive way.
After the experiment
To make sure you move forward, it is a good idea to systematically record your the insights you learned and what actions or decisions follow. We created a sample Learning Sheet, that will help you capture insights in the process of turning your product ideas successful. Download the Learning Sheet.
Popular tools
The tools below will help you with the Find the Watering Hole play.
Moz Link Explorer

Link building tool that provide link analysis and competitive research.

Ahrefs

SEO research tool to research your competitors and monitor your niche.
Examples
Spotfire
When Swedish data visualization startup Spotfire started targeting the American energy sector, it opened a new sales office in the same building as the lunch restaurants of energy giants like BP and Shell to serendipitously gain access to important oil company executives.
Source: The Importance of "Watering Holes" in Product-Market Validation