Run a Move in With the Customer play
Difficulty: Hard
Requires existing audience or product
Evidence strength

Relevant metrics: Jobs to be done ranking, Ranking needs, wants, desires, pains, Quotes & stories, Observations
Validates: Desirability
How: Establish a customer partnership to your mutual benefit by allowing your team to relocate to customer premises while you are developing your product.
Why: By moving in with your customers, you get first-row access to understanding customer pains, context of use, stakeholders, underlying needs, and business reality. User testing can become as easy and accessible as an informal chat.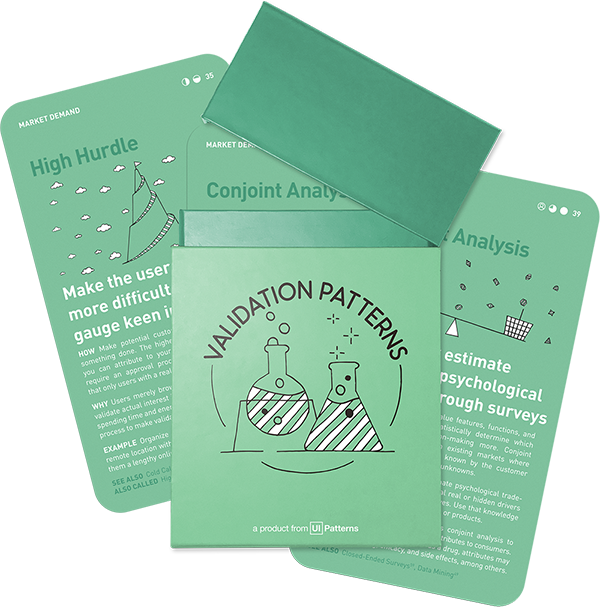 This experiment is part of the Validation Patterns printed card deck
A collection of 60 product experiments that will validate your idea in a matter of days, not months. They are regularly used by product builders at companies like Google, Facebook, Dropbox, and Amazon.
Get your deck!
Before the experiment
The first thing to do when planning any kind of test or experiment, is to figure out what you want to test. To make critical assumptions explicit, fill out an experiment sheet as you prepare your test. We created a sample sheet for you to get started. Download the Experiment Sheet.
Great for business to business (B2B)
A typical pain point for companies selling B2B products and services, is hard access to real users - or just observing what they do. Where the feedback loop of B2C products can often be measured in minutes, it can take months or years before a B2B enterprise customer decides to leave.
When building enterprise software, proximity to customers is key. By having one or more product teams stationed at client offices to report on customer pains, context of product use, stakeholders, the underlying needs, and of enterprise reality, it is possible to gain access to the information that can help drive your product forward.
By having teams stationed at different companies - either at the same time or in turn, you can take note of commonalities between customers, and eventually grow your product into a standardized offering.
After the experiment
To make sure you move forward, it is a good idea to systematically record your the insights you learned and what actions or decisions follow. We created a sample Learning Sheet, that will help you capture insights in the process of turning your product ideas successful. Download the Learning Sheet.
Examples
Coveo
Search startup Coveo moved small development teams to stay on site at clients' offices until they were able to solve the customer's problems, build custom integrations, take note of commonalities, and, eventually, build a standardized product.
Source: Coveo