Evidence strength

Relevant metrics: Jobs to be done ranking, Ranking needs, wants, desires, pains, Quotes, Observations
Validates: Desirability
How: Interview people in context with open-ended questions about current processes to learn about implicit and explicit needs. Map patterns around observed challenges and what solutions make sense. Reveal current behaviors and anticipate how these could inform habits likely to be adapted, instead of asking whether your own solution would be a solution.
Why: Watching people in the context of using a product and how the physical environment influences their attitudes and actions can help better understand their background and motivations and whether the problem you are trying to solve is appealing from the view of your potential customers.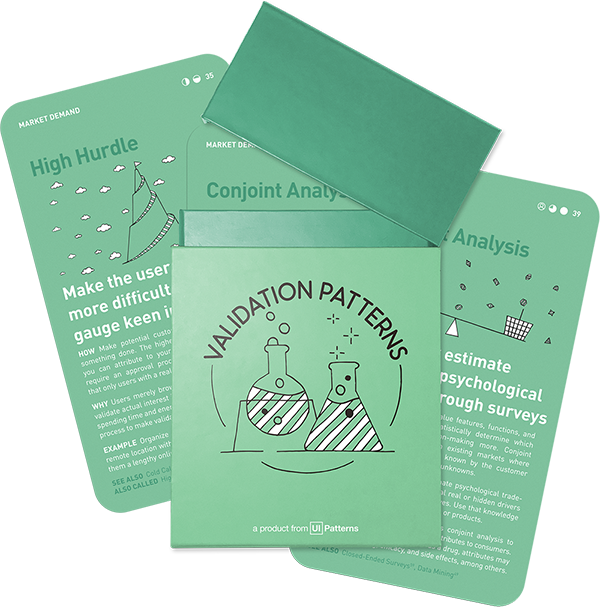 This card is part of the Validation Patterns printed card deck
A collection of 60 product experiments that will validate your idea in a matter of days, not months. They are regularly used by product builders at companies like Google, Facebook, Dropbox, and Amazon.
Get your deck!
Before the experiment
The first thing to do when planning any kind of test or experiment, is to figure out what you want to test. To make critical assumptions explicit, fill out an experiment sheet as you prepare your test. We created a sample sheet for you to get started. Download the Experiment Sheet.
Uncover unarticulated tacit knowledge
Understand your customers' needs and the context in which they're using your product.
Observing work where it happens is a precondition to understanding users' tacit knowledge. Contextual Inquiry provides a framework placing the researcher on-site as a participant (as well) in the inquiry – with the purpose of beginning a process exposing the underlying work structure.
4 principles that define Contextual Inquiry
Four principles define the contextual inquiry method:
Context. Researchers must spend time where work happens to understand the ongoing experience of the worker rather than just the summary experience. The focus of the researcher is on observing details about day-to-day activities rather than asking about them.
Partnership. The transfer of work-structure knowledge happens more reliably when people talk about how they work while they do the work. Setting up a master/apprentice relationship model help uncover unarticulated (tacit) aspects of work.
Interpretation. All data is interpreted for meaning in a shared understanding with the customer before its implications can be fully understood. Hypotheses (interpretations) are generated from data (what was heard or observed) about what that data means to the participant. Those hypotheses are double-checked and tested on-site with participants. An important last step.
Focus. The researcher must expand his focus beyond a personal one in order to indwell himself into the world of the participant. Surprises, contradictions or weird questionable behavior are opportunities for the researcher to refocus the interview to see beyond his own personal experiences.
The purpose of the contextual inquiry is to uncover not only said and known needs that can be articlulatd (explicit), but also the implicit, unsaid, and unknown needs of the participant. Instead of directly asking people if they would use your solution, the purpose of the Contextual Inquiry is to probe their current behaviors with the goal of anticipating how those could inform habits participants will be more likely to adapt.
Preparations
Find a customer. Partner with a customer company to ask if they're willing to be interviewed and observed.
Create an agenda. Ask the partner company as to what is possible: can you sit in on meetings, work alongside workers, or shadow people while they work. Your goal is to examine how your product is used – or could be used – in the wild while they work.
Get out of the building. That's the purpose of it all.
Sample agenda
Ask your contact as to what is possible in terms of spending time with their team mates. Try to see if you can get to sit in on meetings, attend ceremonies (like stand-up meeting or similar), or shadow people while they work. You want to aim for activities where your product is either being used out in the wild or activities that has implications as to how your product will be used.
A sample agenda for your first visit could look like this:
Tour of the office. (10-20 minutes)
What kind of space are they working in? What's on their desk? How are meeting rooms setup? Are team members sitting together, distributed or in their own cubicle? Take pictures if you are allowed.
Group interview: your contact's team. (~30 minutes)
Start with an easy-question ice-breaker like walking through the existing workflow, what tools are used, and what their day looks like. The move to individual questions (your team breaks up an reconvenes after).
Attend regular coordination meeting. (whatever duration is)
If possible, attend daily or weekly routine ceremonies like planning, estimation, or coordinatino. What kind of impediments are keeping the team from fulfilling their goal?
Shadowing and interviewing individuals. (1-2 hours)
Ask your participants to work as if you weren't there. Let them know that you are not there to judge them on their work proficiency, but that it's you who are on the test.
Debriefing session with your own team. (30 minutes)
Carve out at least 30 minutes to go over what you observed and look for commonalities. A great exercise is to ask each team member report at least three interesting observations in their individual interviews.
Get a head start
Download the Contextual inquiry cheat sheet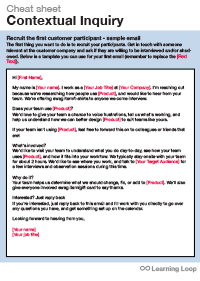 After the experiment
To make sure you move forward, it is a good idea to systematically record your the insights you learned and what actions or decisions follow. We created a sample Learning Sheet, that will help you capture insights in the process of turning your product ideas successful. Download the Learning Sheet.