Run a Mashup play
Also called: Piecemeal MVP
Difficulty: Intermediate
Evidence strength

Relevant metrics: Acquisition, Activation, Customer Feedback, Cost
Validates: Feasibility, Viability, Desirability
How: Construct an early product rapidly using existing products, platforms, services, frameworks, and libraries. Piece them together with the help of scripting or scripting services like Zapier or IFTTT.
Why: By using third-party products to speed up development time, you can avoid facing classical developer problems like cross-browser compatibility, responsive design, and code optimizations because they are already taken care of. Focus on building your MVP rather than the design and development meant to support it.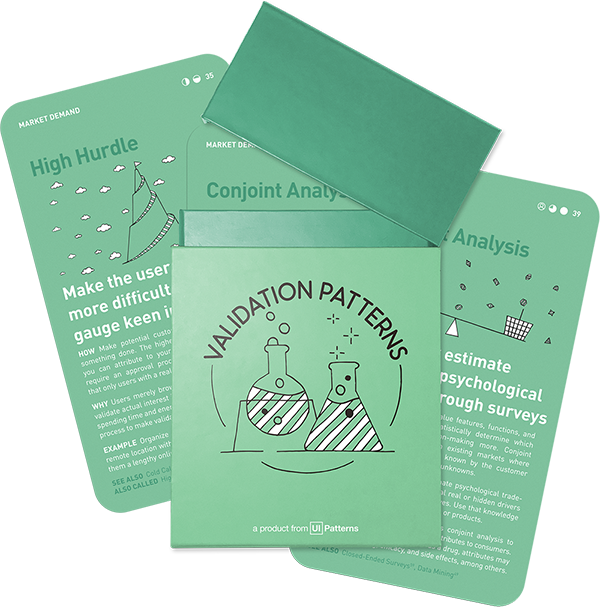 This experiment is part of the Validation Patterns printed card deck
A collection of 60 product experiments that will validate your idea in a matter of days, not months. They are regularly used by product builders at companies like Google, Facebook, Dropbox, and Amazon.
Get your deck!
Before the experiment
The first thing to do when planning any kind of test or experiment, is to figure out what you want to test. To make critical assumptions explicit, fill out an experiment sheet as you prepare your test. We created a sample sheet for you to get started. Download the Experiment Sheet.
Piecing together existing products
APIs, PaaS, and SaaSes are so plentiful that you can literally build your minimum testable product by piecing together different existing products. In most cases, it is possible to build your first testable product without writing a single line of code: A "No-code MVP". It might not scale to thousands of users, but it will help you figure out if it makes sense to spend more effort, time, and resources to further realize the idea.
After the experiment
To make sure you move forward, it is a good idea to systematically record your the insights you learned and what actions or decisions follow. We created a sample Learning Sheet, that will help you capture insights in the process of turning your product ideas successful. Download the Learning Sheet.
Popular tools
The tools below will help you with the Mashup play.
Examples
Groupon
In its early stages, Groupon, then called 'The point', was a combination of WordPress, Apple Mail, and an AppleScript that generated order PDFs manually as they were received from the website.
Source: How Groupon Was Founded