Run a Micro Surveys play
Difficulty: Easy
Requires existing audience or product
Evidence strength

Relevant metrics: Jobs to be done ranking, Ranking needs, wants, desires, pains
Validates: Desirability
How: Integrate a micro-survey tool like Kissmetrics, Intercom, or Hotjar to your website to allow micro-surveys to pop up in the moment that an intended behavior has been performed, or send an email in the same moment. Ask focused and brief open-ended questions about specific parts of the experience. You might consider using the survey to invite further feedback through chat or email follow-up.
Why: If you are interested in understanding user behavior, it is much more effective to ask one quick open-ended question in the moment of the behavior than through an email several days later. You will learn more from reading 100 short open-ended responses than knowing that 28 percent chose option C in your quantitative survey.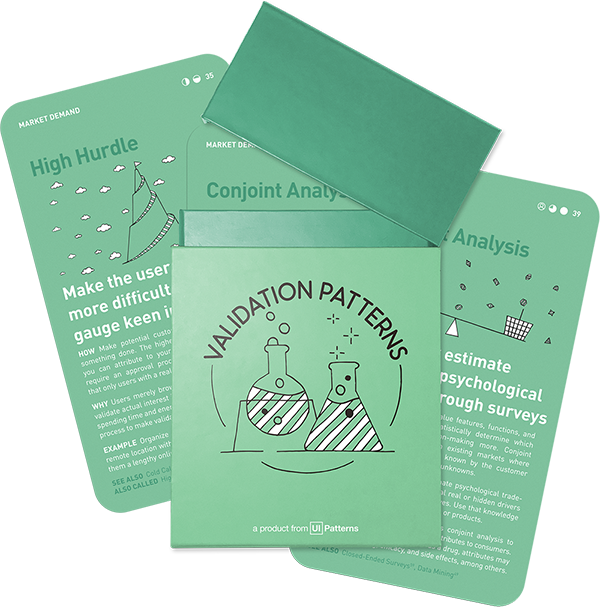 This experiment is part of the Validation Patterns printed card deck
A collection of 60 product experiments that will validate your idea in a matter of days, not months. They are regularly used by product builders at companies like Google, Facebook, Dropbox, and Amazon.
Get your deck!
Before the experiment
The first thing to do when planning any kind of test or experiment, is to figure out what you want to test. To make critical assumptions explicit, fill out an experiment sheet as you prepare your test. We created a sample sheet for you to get started. Download the Experiment Sheet.
Short, targeted, and timely questions
Imagine a short survey asking users: "What prompted you to leave the registration page?" of a user who just left the registration page. Now – compare that to a broader and more traditional survey, sent weeks after, asking: "What was unappealing about our service?".
General questions sent long after relevant user behavior loose their meaning and connectedness to what we are interested in. They become hard to answer and seem irrelevant. Instead, contextual, short, and behavior targeted (exit intent, scroll behavior, etc.) can be crafted as incredibly relevant and managable to complete by users.
Types of micro surveys
Micro-surveys can be delivered in a number of ways:
Via email. While easy to set up, it can be hard to connect user behavior with triggering an email.
In-page pop-up. By listening to specific user behavior, several services allow to show pop-up micro-surveys as users conduct relevant behavior on specific URLs.
After the experiment
To make sure you move forward, it is a good idea to systematically record your the insights you learned and what actions or decisions follow. We created a sample Learning Sheet, that will help you capture insights in the process of turning your product ideas successful. Download the Learning Sheet.
Popular tools
The tools below will help you with the Micro Surveys play.