Run a Remote User Testing play
Evidence strength

Relevant metrics: Usability, Customer feedback
Validates: Feasibility
How: Prepare tasks, questions, and background brief with great attention before sending them to remote respondents who will carry out your test while being video recorded or screen recorded, but also unmoderated and unsupervised only with the help of your initial brief. Search for respondents in relevant forums or use one of many online remote user testing services.
Why: Remote user tests can be conducted by users all over the world as long as an internet connection is available. With the right setup, they allow finding relevant respondents in your target audience fast and easily. As remote usability tests are unmoderated, many user tests can be conducted at the same time. This allows for rapid feedback from potentially hundreds of sources in a matter of hours rather than days.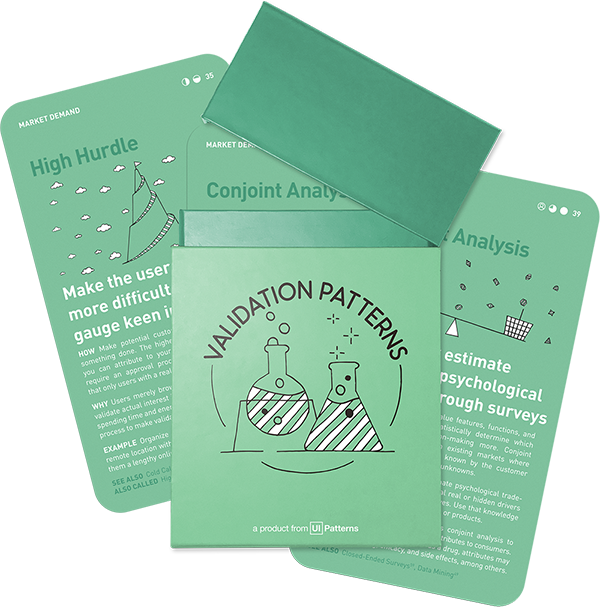 This experiment is part of the Validation Patterns printed card deck
A collection of 60 product experiments that will validate your idea in a matter of days, not months. They are regularly used by product builders at companies like Google, Facebook, Dropbox, and Amazon.
Get your deck!
Before the experiment
The first thing to do when planning any kind of test or experiment, is to figure out what you want to test. To make critical assumptions explicit, fill out an experiment sheet as you prepare your test. We created a sample sheet for you to get started. Download the Experiment Sheet.
Validating the solution
When trying to validate your product or solution, whether remote or in person, you are testing whether your product is solving the right problem in the most effective way. Most likely, you will not find perfect product-solution fit the first time around. That is OK and what to expect.
By iterating, tweaking, and reacting to your findings – pivoting or even shutting down if you have to - you will slowly, but steadily progress toward finding problem-solution fit.
When you are starting to see strong positive evidence from users in your target segment, consider problem-solution fit discovered and start moving on to test for market demand or willingness to pay.
After the experiment
To make sure you move forward, it is a good idea to systematically record your the insights you learned and what actions or decisions follow. We created a sample Learning Sheet, that will help you capture insights in the process of turning your product ideas successful. Download the Learning Sheet.
Popular tools
The tools below will help you with the Remote User Testing play.