Run a Trends and Keyword Analysis play
Evidence strength

Relevant metrics: Segment size, Level of competition, Popularity
Validates: Desirability
How: Enter one or more keywords into free tools like Google Trends or AdWords Keyword planner to receive a visual representation of online interest in those particular keywords dating years back. See what keywords have a downward trend, understand seasonality, or spot up and coming trends.
Why: By using freely accessible tools, you can validate existing interest over time in a topic by spotting relative trends and seasons in popularity over time.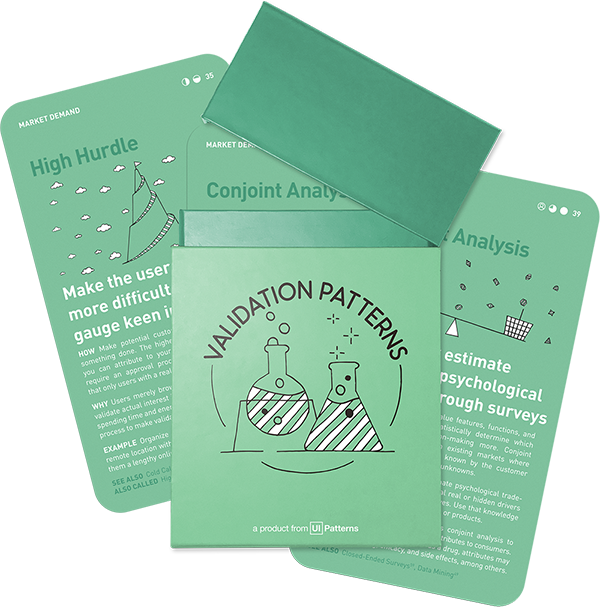 This experiment is part of the Validation Patterns printed card deck
A collection of 60 product experiments that will validate your idea in a matter of days, not months. They are regularly used by product builders at companies like Google, Facebook, Dropbox, and Amazon.
Get your deck!
Before the experiment
The first thing to do when planning any kind of test or experiment, is to figure out what you want to test. To make critical assumptions explicit, fill out an experiment sheet as you prepare your test. We created a sample sheet for you to get started. Download the Experiment Sheet.
Discover market trends, size and competition
Using free tools readily available, it is possible to conduct valuable initial market research quick and cheap.
Gauge popularity over time. Using Google Trends, you can discover the popularity of your product, of your competitors' products, and related search terms and over time. You can figure whether the trends are growing, flattening, or declining – or if they are correlating with seasonality, competing jobs, or specific customer pains.
Discover geographic trends. With Google trends, you can discover interest in a search term by region. Is your product popular in Russia or are people using the same search terms to find the same thing in different locations?
The size of your target segment. Using Google Keyword Planner, you can pull out amounts of monthly searches for specific search terms. Using the Facebook Ad tool, you can dive into the size of target segments based on geographic location and interests.
The level of competition. Using Google Keyword planner, you can get an idea of the level of (advertising) competition for specific terms. This will indicate whether the words you chose for your value proposition are words chosen by the competition as well.
After the experiment
To make sure you move forward, it is a good idea to systematically record your the insights you learned and what actions or decisions follow. We created a sample Learning Sheet, that will help you capture insights in the process of turning your product ideas successful. Download the Learning Sheet.
Popular tools
The tools below will help you with the Trends and Keyword Analysis play.