Run a Video Demo play
Also called: Explainer Video, Video Trailers
Difficulty: Easy
Requires existing audience or product
Evidence strength

Relevant metrics: Unique views, Number of replays, Number of shares, Comments
Validates: Desirability
How: Create the illusion of a working product and record a "real life" scenario using it. Use that video as part of your landing page or marketing message. The video is your minimum viable product that can help validate market demand.
Why: A real-life walkthrough clearly demonstrates how the product can help customers, eventually leading to why they would want to pay for it.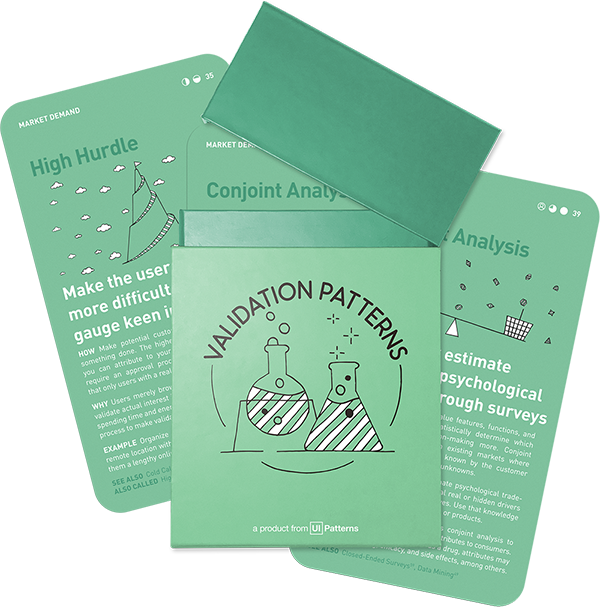 This experiment is part of the Validation Patterns printed card deck
A collection of 60 product experiments that will validate your idea in a matter of days, not months. They are regularly used by product builders at companies like Google, Facebook, Dropbox, and Amazon.
Get your deck!
Before the experiment
The first thing to do when planning any kind of test or experiment, is to figure out what you want to test. To make critical assumptions explicit, fill out an experiment sheet as you prepare your test. We created a sample sheet for you to get started. Download the Experiment Sheet.
Validating a problem nobody knows they have
What do you do when you want feedback from customers on what really matters when you're solving a problem most people don't know they have? In this case, you can't get an answer asking an expert or polling a focus group.
When users have a hard time understanding your product or service when it is explained to them, creating a staged video demo of your future experience might the right choice. Especially when what your product will be doing different is to provide a seamless customer experience (although complicated under the surface), it can be near impossible to demonstrate the working software in prototype form in real life.
Showing a perfect and seamless run of the end experience in a video can be the answer that will persuade customers and investors.
After the experiment
To make sure you move forward, it is a good idea to systematically record your the insights you learned and what actions or decisions follow. We created a sample Learning Sheet, that will help you capture insights in the process of turning your product ideas successful. Download the Learning Sheet.
Examples
Dropbox
By demonstrating Dropbox's intended functionality through a 3-minute explainer video, sign-ups increased from 5,000 to 75,000 overnight – in absence of a real product.