Run a Sailboat play
Also called: Sailboat Retrospective
Timing: Planning
Origin: Luke Hohmann
Why: Stimulate reflective thinking and identify strengths, achievements, obstacles, and ways to navigate future risks
When: At the end of a sprint or when there is a need to reassess the team's direction, performance, and potential roadblocks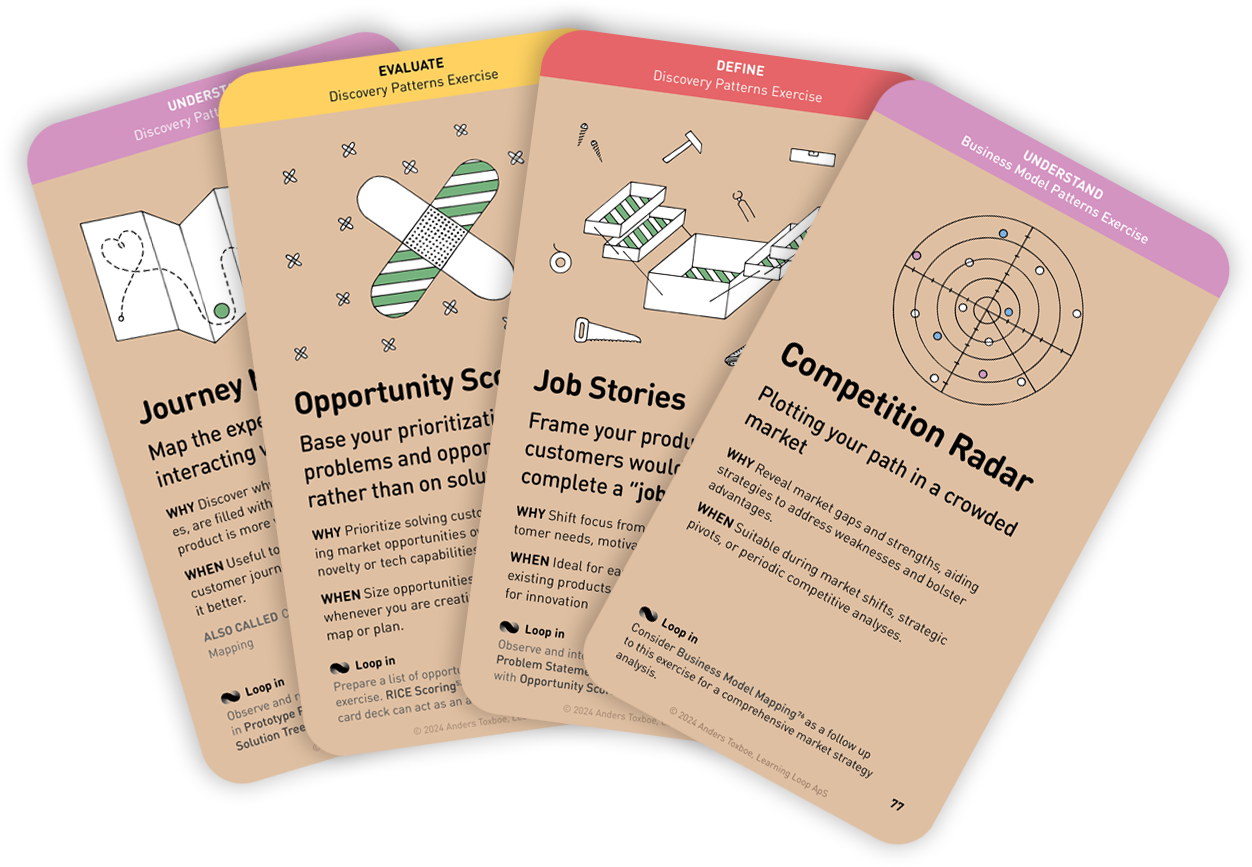 This workshop exercise is part of the Workshop Patterns printed card deck.
A collection of workshop exercises that will help you ditch dull meetings and facilitate with confidence. It will help you master the design process and have more productive time with your team. The card deck will be ready for purchase in the end of 2023 and is now undergoing rigorous testing.
Reserve your deck!
Instructions for running this play
Set the scene. Invite your team and relevant stakeholders. Emphasize openness, constructive criticism, and growth mindset, while avoiding blame and negativity.
Visualize the Sailboat. Sketch a sailboat or use a digital template. Draw a Sailboat sailing in the sea (your team or project) and an Island (the final destination, goal, or vision) and two or more of  the following symbols:



The sun – good things that can come out of this
Wind (or sails) – what drives them forward?
An anchor – things that can slow the team down or bring them to a halt
Rocks, icebergs, cliffs, or pirates – risks or potential pitfalls along the way
A treasure – potential unexpected wins

Consider whether you need all of the symbols. The sailboat and island are mandatory.

Identify Goals, Drivers, and Obstacles. In a 5-10 minute Silent Storming exercise, ask participants to write input on each of the symbols you decided to include in the drawing and have them Playback their sticky notes while putting them on a shared board.
Group and Categorize. Choose one or more participants to group similar sticky notes together. Discuss fairness of the groupings in the group and adjust as necessary.
Prioritize and Plan next steps. Vote on key areas to focus on. Discuss how to amplify the winds, cut the anchors, and avoid the rocks. Plan how to celebrate the sun and strive towards the goals. Conclude with an agreed action plan.
Tips to perfect this play
Master and adapt the play to fit your context and needs.
Tip: Adapt to your own context
Consider adapting the sailboat metaphor to your team's particular context or interests. How about a spaceship, submarine, or a skateboard?
Tip: Change the symbols
Other symbols could include "currents" for external factors or "weather conditions" to symbolize the overall team morale