Run a Customer Service Logs play
Also called: Help Center Logs
Difficulty: Intermediate
Requires existing audience or product
Evidence strength

Relevant metrics: Jobs to be done ranking, Ranking needs, wants, desires, pains, Quotes and stories
Validates: Desirability
How: Obtain access to customer service logs if they exist, see if you can listen in on calls, or even take a call yourself. If that is not possible, brief stakeholder interviews with customer service team members are also an option.
Why: Customer service personnel are on the front lines with users and are constantly learning how users see and use your product as well as the frustrations they encounter. Even though typically negative in nature, customer service logs can provide excellent data for validation.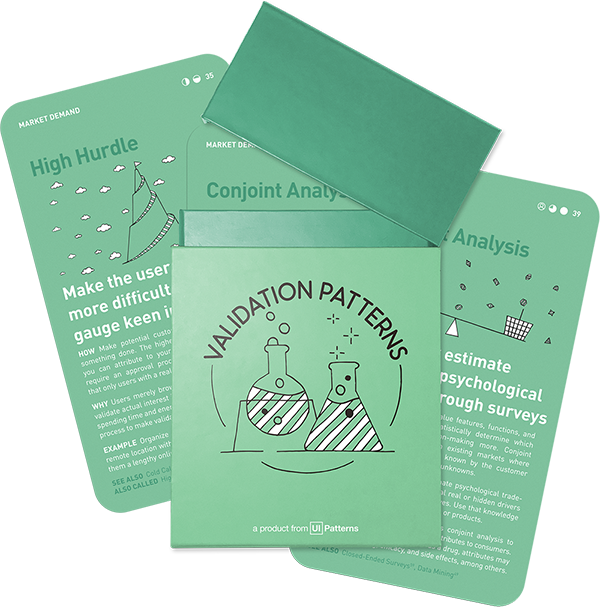 This experiment is part of the Validation Patterns printed card deck
A collection of 60 product experiments that will validate your idea in a matter of days, not months. They are regularly used by product builders at companies like Google, Facebook, Dropbox, and Amazon.
Get your deck!
Before the experiment
The first thing to do when planning any kind of test or experiment, is to figure out what you want to test. To make critical assumptions explicit, fill out an experiment sheet as you prepare your test. We created a sample sheet for you to get started. Download the Experiment Sheet.
An alternative to user tests and stakeholder interviews
UX is about observing and talking to users to gather insights and then applying your research to your designs. However, sometimes the budget and opportunities aren't for UX research by the book. Diving into customer service logs is a great way to do UX research when you can't get direct access to your users. It's a great way to quickly gather qualitative data about your users' wants, needs, and pains.
You might not have access to your users directly. However, you're in luck. Customer service and help center staff are constantly on the front line, helping users with specific struggles as they use your product. Customer service is constantly learning how users see the product and go about using it. Why shouldn't you as well?
Read customer service logs to gain insights
Getting access to custoemr service logs sometimes come with a bit of trouble. User information can be sensitive, and laws like the European GDPR can prevent you from obtaining the records for other purposes than directly helping the specific users. Check whether you need to have a disclaimer in place as a message played to all users calling in.
If you can't get access to the customer service logs, check to see if conducting a few brief stakeholder interviews with customer service team members is an option.
Whether you have direct access to the logs or have to conduct interviews with team members, the feedback you will gain will be predominantly negative: problems and complaints. Even so, the data can still provide great data, highlighting specific parts of the customer journey that needs attention or even internal routines that could use a check-up.
Or even better, take calls yourself
Consider either listening in on live calls or taking a few calls directly with customer yourself. At first thought, it can sound like a waste of time. You'll be surprised. Not only will it give you access to users directly and let you ask followup questions, but you will also add an extra layer to the data: tone of voice.
After the experiment
To make sure you move forward, it is a good idea to systematically record your the insights you learned and what actions or decisions follow. We created a sample Learning Sheet, that will help you capture insights in the process of turning your product ideas successful. Download the Learning Sheet.