Run a One Night Stand play
Also called: Lemonade Stand, Pop-Up Store
Difficulty: Intermediate
Evidence strength

Relevant metrics: Acquisition, Activation, Customer feedback, Use cases discovered, Cost
Validates: Feasibility, Viability, Desirability
How: Create a complete service experience without the infrastructure required by a permanent solution, and in an extremely narrow geographic scope and time frame, but in the same real-life situation where the product or service will be used.
Why: Avoid large infrastructure investment until validating market interest and actual use.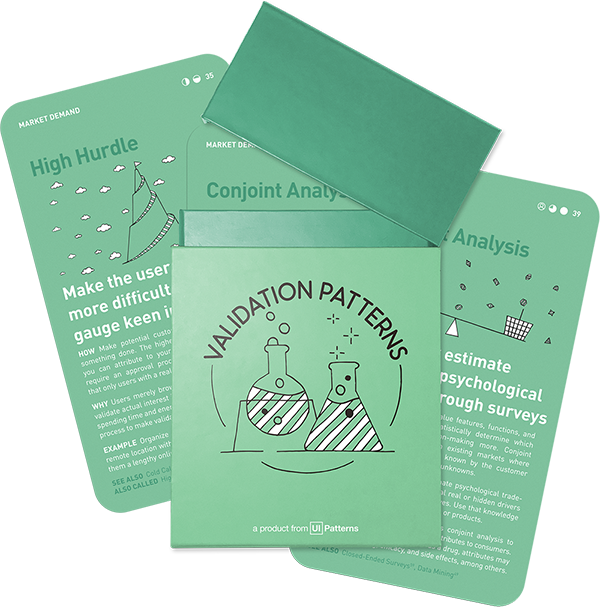 This experiment is part of the Validation Patterns printed card deck
A collection of 60 product experiments that will validate your idea in a matter of days, not months. They are regularly used by product builders at companies like Google, Facebook, Dropbox, and Amazon.
Get your deck!
Before the experiment
The first thing to do when planning any kind of test or experiment, is to figure out what you want to test. To make critical assumptions explicit, fill out an experiment sheet as you prepare your test. We created a sample sheet for you to get started. Download the Experiment Sheet.
Validate in real-life before scaling up
When a specialized facility can be replaced in a trial for a temporary setup, you might want to consider conducting a one-night stand experiment, where you simulate the customer experience you want to end up with, but only for a limited time. The experiment is especially useful to validate large homogeneous markets before scaling up.
Examples of successful one-night stand experiments are:
Rent a tent in a parking lot of an existing store
Rent a stall or a kiosk in a farmers market or flea market
Lease a retail location for only a few months (on purpose)
After the experiment
To make sure you move forward, it is a good idea to systematically record your the insights you learned and what actions or decisions follow. We created a sample Learning Sheet, that will help you capture insights in the process of turning your product ideas successful. Download the Learning Sheet.