Run a Pretend to Own play
Evidence strength

Relevant metrics: Customer feedback, Cost, Cycle time
Validates: Feasibility, Viability, Desirability
How: Find a way to use tools, equipment, locations, server space, or anything else needed to test your product before committing to a significant purchase.
Why: If your product or service requires major upfront investment, borrowing or renting expensive items for your experiment will quicken validation. Don't commit to a 5-year lease until you are sure your idea is viable. Be a cheapskate until your idea is validated.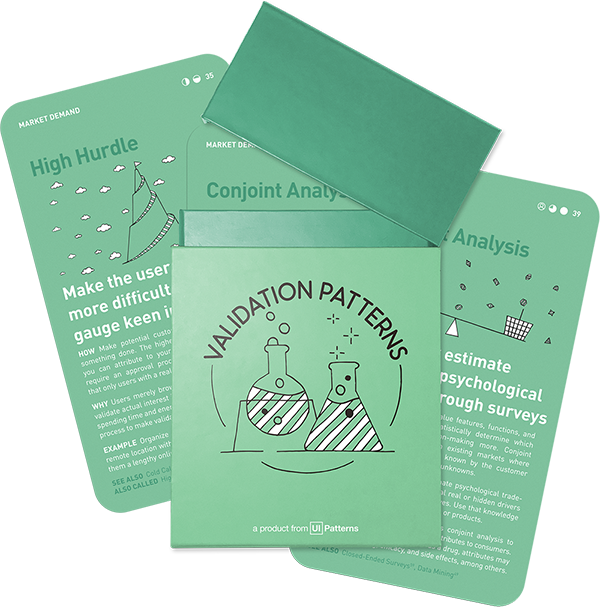 This experiment is part of the Validation Patterns printed card deck
A collection of 60 product experiments that will validate your idea in a matter of days, not months. They are regularly used by product builders at companies like Google, Facebook, Dropbox, and Amazon.
Get your deck!
Before the experiment
The first thing to do when planning any kind of test or experiment, is to figure out what you want to test. To make critical assumptions explicit, fill out an experiment sheet as you prepare your test. We created a sample sheet for you to get started. Download the Experiment Sheet.
After the experiment
To make sure you move forward, it is a good idea to systematically record your the insights you learned and what actions or decisions follow. We created a sample Learning Sheet, that will help you capture insights in the process of turning your product ideas successful. Download the Learning Sheet.
Examples
Leases
Don't commit to a 5-year lease until your idea is viable, but go for a 3-month deal instead or try to get it for free.