Evidence strength

Relevant metrics: Acquisition, Activation, Cycle time, Customer feedback, Cost
Validates: Feasibility, Viability, Desirability
How: With the least effort possible and without much regard to scalability or internal quality, build just enough of a feature to be able to test it with your target audience. Identify the epicenter and core of your product and implement just enough for users to understand its value and purpose.
Why: Disregarding scalability, code quality, and even design quality will allow you to build a simple, but working version of the feature you want to test, faster than building the real product.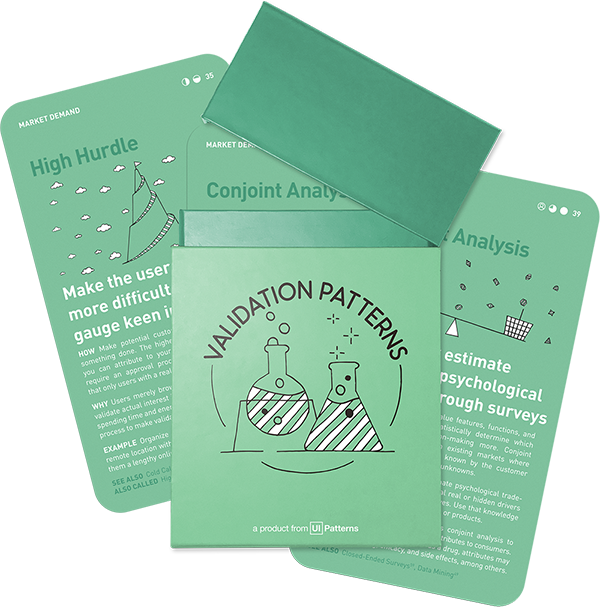 This experiment is part of the Validation Patterns printed card deck
A collection of 60 product experiments that will validate your idea in a matter of days, not months. They are regularly used by product builders at companies like Google, Facebook, Dropbox, and Amazon.
Get your deck!
Before the experiment
The first thing to do when planning any kind of test or experiment, is to figure out what you want to test. To make critical assumptions explicit, fill out an experiment sheet as you prepare your test. We created a sample sheet for you to get started. Download the Experiment Sheet.
After the experiment
To make sure you move forward, it is a good idea to systematically record your the insights you learned and what actions or decisions follow. We created a sample Learning Sheet, that will help you capture insights in the process of turning your product ideas successful. Download the Learning Sheet.