Run a Journey Mapping play
Also called: Customer Journey Mapping, User Journey Mapping
Timing: Planning
Origin: Ron Zemke and Chip Bell
Why: Discover why and when customers make choices, are filled with emotions, and what part of the product is more valuable
When: Useful to build a shared understanding of what the customer journey and align on how you help make it better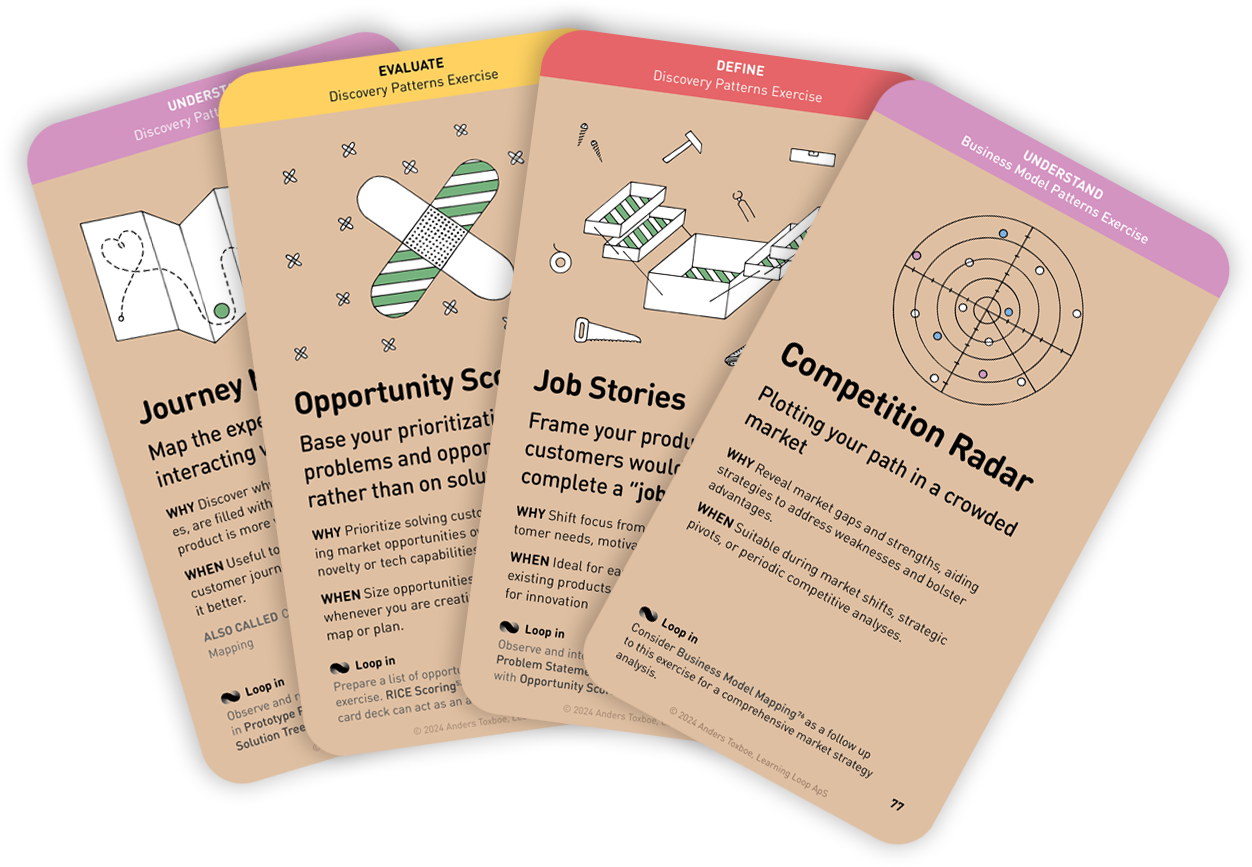 This workshop exercise is part of the Workshop Patterns printed card deck.
A collection of workshop exercises that will help you ditch dull meetings and facilitate with confidence. It will help you master the design process and have more productive time with your team. The card deck will be ready for purchase in the end of 2023 and is now undergoing rigorous testing.
Reserve your deck!
Instructions for running this play
Draw the following on a large surface and post sticky note a and b:

Conduct a 10 minute Silent Storming with the group on the steps a user takes before, in between, and after point a and b and have participants Playback their results.
Discuss each note and its position on both x and y axes. Your goal is to emphasize, highlight, and elaborate critical intersections between customer expectations and business requirements.
Write How Might We…questions for the most critical steps.
Instructions for running this play
Setup the exercise. Draw a large timeline on your surface representing the user's journey from product discovery to purchase. Mark three points on it: Discovery (a), Evaluation (b), and Purchase (c).
Introduce the exercise and its purpose: To map out the entire user experience from product discovery, evaluation, to purchase, identifying key touchpoints, and opportunities for improvement.
Silent Storming. Instruct the group to conduct a Silent Storming session, where they write down the steps a user takes from point 'a' (Discovery) to point 'b' (Evaluation), and finally to point 'c' (Purchase).
They should consider all possible interactions the user might have with the product or service during this journey.
Playback Results. **Have each participant present their results to the group. As they explain their user journey, they should post their sticky notes along the timeline at the appropriate stages.
Discussion. Discuss each note and its position on the timeline. The goal here is to identify, highlight, and elaborate on critical interactions between customer expectations and the product or service. These intersections could be moments of joy, pain points, areas of confusion, etc.
Identify solutions. Write How Might We…questions for the most critical steps.
Tips to perfect this play
Master and adapt the play to fit your context and needs.
Tip
Maps are for creating a shared understanding across disciplines – between you, your team, and your stakeholders. Invite everyone relevant.